Chorafali, also known as Chorafali Fafda or Chorafali Chakri, is a beloved crispy Gujarati snack. It is often relished during festivals, such as Diwali, or as a delightful accompaniment to a cup of tea. Chorafali is crafted from a mixture of gram flour (besan), urad dal flour, and an assortment of spices, resulting in a savory and crispy snack. The texture, flavor, and preparation method of chorafali closely resemble that of papad or chips. It is typically served with a special chutney and can be easily prepared and stored in an airtight container for up to a week after frying.
I'll be happy to provide you with a crispy chorafali recipe with the perfect ingredient ratios and some fail-safe tips to help you achieve fluffy chorafali on your very first attempt.
The key to making perfect chorafali at home are
Firstly, make the chorafali dough using fine besan and urad dal flour. I recommend using store-bought besan (gram flour) because it is sticky and contains starch. Also, sieve both flours to incorporate air particles into the mixture.
To make fluffy and crispy chorafali, I use baking soda, but you can also use papad khar as an alternative. However, I strongly advise against using turmeric powder as it may react with baking soda, causing the chorafali to turn red during frying.
The chorafali dough should be firm. Knead the dough for 4-5 minutes until it becomes smooth and starchy. This will make it easier to stretch and roll into thin chapati-like sheets.
Finally, fry the chorafali on high heat until it becomes crispy. Store it in an airtight container, and it will remain fresh for 1-2 months.
Please do visit my other related recipe collection like
Recipe video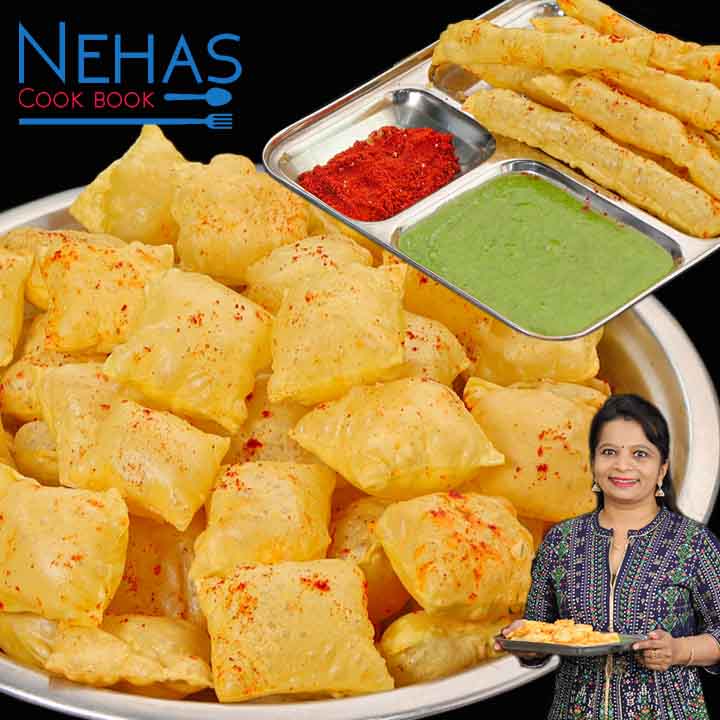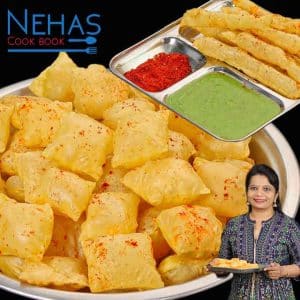 Chorafali recipe | choraphali recipe | Gujarati chorafali recipe
Ingredients
For chorafali
200

grms or 2 cup besan/chickpea flour

100

grms or 1 cup urad dal flour

½

cup

+ 2 tbsp water or as required

salt or to taste

½

tsp

baking soda

2

tsp

oil + for frying

Rice flour for dusting
For masala
1

tsp

black salt

2

tsp

red chilli powder
For chorafali chutney
2

tbsp

coriander leaves

2

tbsp

mint leaves

2-

inch

chopped ginger

4-5

spicy green chilli

½

tsp

black pepper powder

Salt to taste

Ice cubes and cold water to grind chutney

2

tbsp

besan

1

cup

water

1/8

limbu na phool
Instructions
For chorafali
In a mixing bowl, sift 2 cups (200 grams) of besan and 1 cup and 100 grams of urad dal flour.

Now, in a separate bowl, add ½ cup of water, ½ tsp of baking soda, salt to taste, and 2 tsp of oil. Whisk it until the oil and water are well combined.

Add the prepared oil-water mixture to the flour and knead it into a tight dough for chorafali.

Divide the dough into two equal parts. Take one part of the dough and add ½ tsp of oil to it. Knead the dough well.

The dough should be kneaded thoroughly until it's no longer sticky. It should be starchy, smooth, and slightly change its color.

Shape the dough into a log and cut it into equal parts.

Take a lemon-sized ball of dough and, using rice flour, roll it thinner than a chapati.

Dry the chapati for 5-10 minutes, making sure not to over-dry it.

Meanwhile, in a separate bowl, combine red chili powder and black salt to make the masala. Set it aside.

After 10 minutes, cut the chapati into long strips or squares.

Heat oil for frying and fry the chorafali over medium-high heat until it turns a light pink color. This should take about 1-2 minutes.

Remove the chorafali from the oil and immediately sprinkle a generous amount of the prepared masala over it.
For the chutney
In a mixing jar, add coriander leaves, mint leaves, green chili, ginger, black pepper powder, salt, and some ice cubes. Grind them to make a chutney and set it aside.

In a pan, add 2 tbsp of besan, a pinch of salt, 1/8 tsp of limbu na phool, and 1 cup of water. Mix well.

Place the pan on the stove and stir continuously until the mixture slightly thickens.

Turn off the heat and let the besan mixture cool down.

Add the ground paste to the cooled besan mixture and mix it well.

Serve the chutney with the chorafali.
Notes
Sieve both flour so air particles incorporate in it and become slightly fluffy.
 Whisk the oil and water together to help them easily combine.
Knead the dough for chorafali until it becomes firm.
Continue kneading and starching the dough until it changes color slightly and becomes smooth.
Roll out the chorafali into a thin sheet; avoid making it too thick.
Fry the chorafali on high heat; avoid frying on low or medium heat.
Subscribe to our Youtube Channel
Click here to subscribe our Youtube Channel and stay updated with our latest video recipes