Dudhi nasta is a simple and delicious snack recipe prepared with bottle gourd (lauki), soaked rice, and common spices. It is a nutritious snack that can be relished throughout the day, making it suitable for both kids and teenagers. While this recipe can be served on its own, it pairs exceptionally well with a choice of spicy chutney or tomato sauce. Give this speedy and healthful dudhi nasta a try
The key to making tasty dudhi nasta at home are
Firstly, I prepared nasta with dudhi (lauki), some onion, and coriander leaves. You can also add different vegetables like grated carrot and radish to make it even healthier.
The nasta batter should have a thick and pourable consistency, so avoid adding too much water while grinding the batter. If the batter is slightly thin, you can add some fine rava (semolina) to thicken it.
Cook the nasta on medium-low flame to ensure it cooks evenly inside and becomes crispy outside. Avoid cooking it on high flame.
Lastly, dudhi nasta tastes best when served hot and crispy.
Please do visit my other related recipe collection like
Recipe Video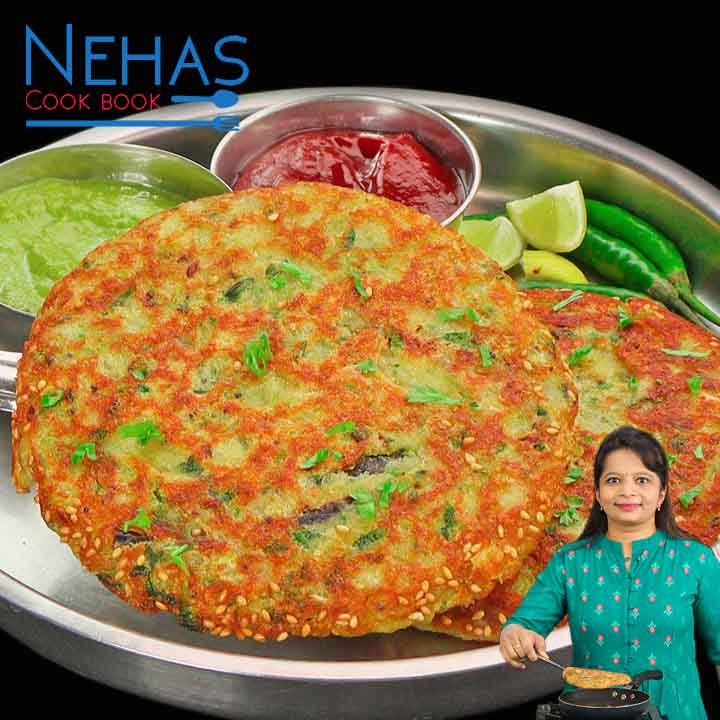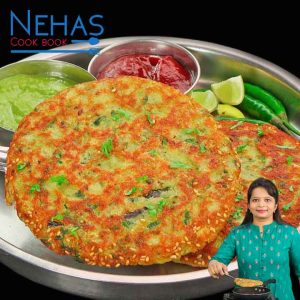 Dudhi nasta | lauki ka chilla | bottle gourd pancakes
Ingredients
1

cup

grated lauki

-

dudhi

1

cup-soaked rice

1

medium size boiled potatoes

¼

cup

curd

1

inch

ginger

4-5

spicy green chilli

½

cup

water

½

cup

chopped onion

½

cup

coriander leaves

Salt to taste

1

tbsp

oil

1

tsp

mustard seeds

1

tsp

cumin seeds

2

dry red chilli

Some curry leaves

½

tsp

baking soda

Oil for roasting

Some sesame seeds
Instructions
Take a medium-sized lauki and grate it using a grater with large holes. Set it aside.

Next, soak 1 cup of rice for 2 hours. After soaking, drain the rice water and place the rice in a blender.

Add 1 medium-sized boiled potato, ¼ cup of curd, 1-inch piece of ginger, 4-5 spicy green chilies, and ½ cup of water to the blender. Grind the ingredients until you achieve a thick, pourable batter. Avoid adding additional water while grinding.

Transfer the ground batter to a mixing bowl and then add 1 cup of grated lauki, ½ cup of chopped onions, along with some coriander leaves and salt. Mix the ingredients thoroughly.

In a separate pan for tempering (tadka), heat 1 tablespoon of oil. Add 1 teaspoon of mustard seeds, 1 teaspoon of cumin seeds, 2 dry red chilies, and some coriander leaves. Sauté the tempering mixture and then add it to the batter. Mix well.

Now, add ½ teaspoon of baking soda to the batter and mix until it becomes slightly frothy and puffed up.

Heat oil in a pan and sprinkle some white sesame seeds in it. Pour the batter into the pan and spread it evenly.

Cook for 5-7 minutes over low to medium heat until the base is thoroughly cooked. Then, flip it over and cook the other side for 3-4 minutes.

Your "lauki ka nashta" is ready to be served. Enjoy it with tomato ketchup or chutney.
Notes
Grate the dudhi with a large-holed grater.
Soaking rice adds crispiness to the nasta.
Do not add excess water while grinding the batter.
The batter should be thick and pourable.
If the batter is slightly thin, you can add some fine rava.
Cook the nasta on medium-low flame. Avoid high heat.
Subscribe to our Youtube Channel
Click here to subscribe our Youtube Channel and stay updated with our latest video recipes