Khajoor biscuits are healthy and tasty and made with crunchy wheat flour biscuits and dates. Khajoor (dates) contains natural glucose, several nutrients, and an anti-oxidant, all of which provide various health benefits. It has the healthiest and provides the necessary heat and warmth during winter.
I will share the perfect ingredient ratio and a few no-fail tips to help you to make the ideal khajur biscuit on the first attempt. Do try this!
The key to making tasty kajur biscuits at home are
first, to use moist and seedless dates which are perfect for this recipe. If you have dry dates at home, then grind it slightly on the pulse and make it soft for khajoor biscuit.
roast dry fruits on low flame for more crunchy bites. add dry fruits of your choice, and adjust the proportion accordingly. Also, you can use roasted peanut powder instead of dry fruits.
I use wheat flour-based biscuits for the recipe. Do not use cream based instead of it.
It also has a long shelf life and can be stored in an airtight container for 15-20 days in winter.
Please do visit my other related recipe collection like
Recipe video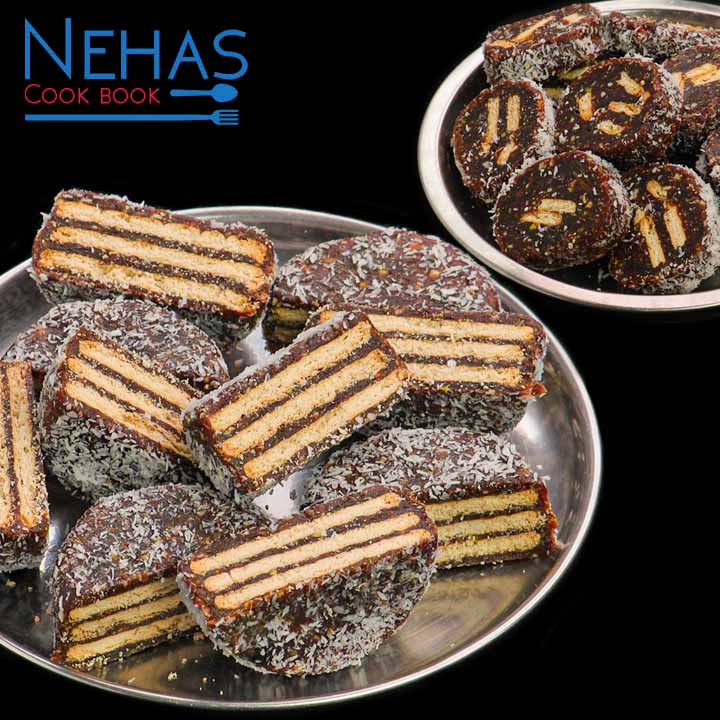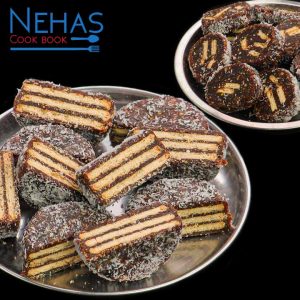 Khajoor biscuit recipe | khajoor biscuit roll | khajur biscuit recipe | dates biscuit
Ingredients
500

grm dates

-

khajoor

2

tbsp

ghee

3

tbsp

cashews

3

tbsp

almonds

3

tbsp

pistachio

15

+5 marigold biscuit

Some Desiccated coconut
Instructions
Remove seeds from dates and keep them aside.

In a pan, add almonds, cashews, and pistachio. Roast on low flame until the dry fruits turn golden and crunchy.

Cool down roasted dry fruits and grind them into fine powder on pulse grinding.

Then, add deseeded dates in a pan and roast until the dates become soft, and scratchy and ghee ooze out from their sides.

Switch off the flame and add the mixture into the mixing bowl.

Then add dry fruit powder and sugar. Mix well. The khajoor-dry fruit mixture is ready. Divide it into two parts.

From one part, roll kajur mixture into a thin sheet and cut it into a round shape. (Refer to video).

Then, assemble 1 biscuit and 1 kajur mixture sheet on top of each other and make three layers for khajoor biscuits. (refer to video).

Now coat khajoor biscuit with desiccated coconut. Make all in the same way.

For another part, spread kajoor mixture layer and add some biscuit pieces into the center.

Join two edges of the mixture and make a medium thick roll.

Then coat the roll with desiccated coconut and set it in refrigerator for 30 minutes.

Cut the khajoor biscuit roll into pieces.

Serve khajur biscuit roll or store in an airtight container for 15-20 days or month in the refrigerator.
Notes
Use soft and seedless khajoor.
If khajoor is slightly hard, then slightly grind it into a mixture jar.
Roasted dry fruit in ghee gives its crunchy taste to khajoor biscuit.
Roast khajoor on low flame, till it leaves the sides of the pan and becomes starchy.
Grind dry fruits on pulse grinding, so the oil will not release from them.
Subscribe to our Youtube Channel
Click here to subscribe our Youtube Channel and stay updated with our latest video recipes