It is a crispy and perfect evening snack made with leftover roti dough and spiced gram flour batter. This recipe is a great way to use up any extra dough you may have, and it's super easy to prepare. To make this snack, we roll out the leftover roti dough into thin circles and then apply a spiced gram flour batter on top. The circles are then layered on top of each other, cut into small pieces, and fried until crispy and golden brown.
The key to making this delicious snack at home are:
Firstly, use leftover roti dough that has been refrigerated overnight for best results. The cold dough is easier to roll out into thin circles, which is important for achieving crispy layers.
Secondly, the spiced gram flour batter is the star of this recipe. It is made with a combination of gram flour, spices, and water to form a thick paste. You can adjust the amount of spice mix to the spice level you are looking for.
Thirdly, the layered circles should be cut into small pieces before frying to ensure even cooking and crispiness. Also, fry the pieces in hot oil until they are golden brown and crispy.
Lastly, serve these crispy snacks with your favorite dipping sauce, such as mint chutney, tamarind chutney, or ketchup. These snacks are perfect for a tea-time snack or can be served as an appetizer at a party.
Please do visit my other related recipe collection like
Recipe video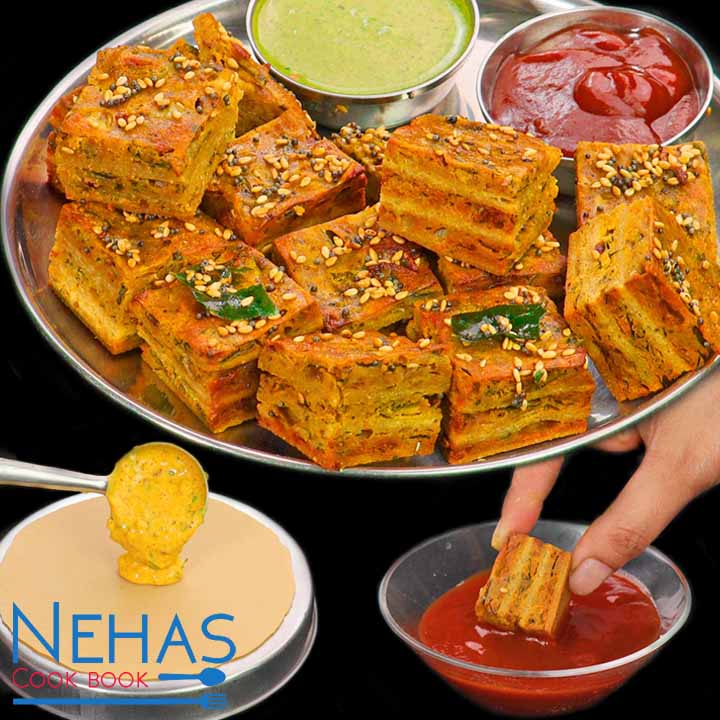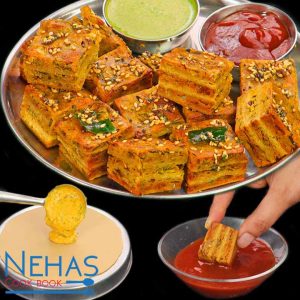 Leftover roti dough snacks recipe | snacks with leftover roti dough | crispy snacks recipe
Ingredients
1

cup

left over roti dough

1.5

cup

gram flour

-

besan

½

cup

water

Salt to taste

½

tsp

turmeric powder

1

tsp

red chilli powder

1

tsp

cumin powder

½

tsp

black pepper powder

½

tsp

garam masala

1

tsp

dry mango powder

Pinch

of hing

½

tsp

ajwain

½

cup

chopped onion

2-3

chopped green chilli

¼

cup

chopped coriander leaves

Water for steaming
For tempering
3

tbsp

oil

1

tsp

mustard seeds

1

tbsp

sesame seeds

Some curry leaves

2

chopped green chilli
Instructions
Take 1 cup of roti dough and make 3 medium size dough balls from it.

Then roll 3 medium thick roti from the dough ball. Keep it aside.

Now in a mixing bowl, take 1.5 cups besan and add water gradually to make medium thick and spreading consistency of the batter.

Whisk the batter for 2 minutes so it will become light and fluffy.

Then add salt, turmeric powder, red chilli powder, cumin powder, black pepper powder, garam masala, dry mango powder, hing, ajwain, chopped onion, spicy green chilli and coriander leaves. Mix well. Batter is ready.

Now take a plate and grease it with oil.

Place one rolled roti on plate and spread an even layer of besan batter.

Now place 2 nd rolled roti on the batter and spread besan batter on it.

Then place 3 rd rolled roti on the batter and spread besan batter on it. (refer to video).

Now boil 2-3 cup of water in a vessel. Place a hole plate on it. now place nasta plate on it and steam it for 15 minutes on high flame.

Then cool down the steam nasta and cut it into square pieces.

Then in a pan, add oil, mustard seeds, sesame seeds, curry leaves and chopped green chilli. saute it.

Add nasta pieces and cook them on low-medium flame till they crisp from both sides.

Serve crispy nasta with chutney or tomato ketchup.
Notes
Besan batter should be thick and spreading consistency. Do not add more water while preparing the batter.
Whisk batter in one direction, so air particles incorporate in it and it will become light and fluffy.
Make even and medium thick besan layer on rolled roti.
Steam nasta on high flame for 15 minutes, so it will be properly cooked.
If the knife comes out clean means nasta is properly cooked.
Cut nasta into square pieces.
Coat nasta with tempering enhances its flavor and make it crispier.
Subscribe to our Youtube Channel
Click here to subscribe our Youtube Channel and stay updated with our latest video recipes