It is a delicious and flavorful masala rotlo made with bajra flour and stuffed with spicy methi stuffing. I also share the recipe for bharela marcha, which pairs perfectly with the rotlo. This dish is traditionally enjoyed for breakfast, but can also be served for lunch or dinner.
To make the perfect masala rotlo and bharela marcha at home, follow these key tips:
Bharela marcha:
Choose fresh and medium-sized green chillies for bharela marcha. Remove the seeds and veins and rub salt on the inside to decrease the spiciness.
Make the masala with besan and regular spices. Steam the stuffed green chillies to ensure the besan is cooked thoroughly and not raw from the inside.
Lastly, sauté the masala chillies in a tadka to enhance their taste and flavour.
Masala rotlo:
For the rotla stuffing, use fresh methi-coriander leaves, crushed peanuts, and regular spices. Adding peanut powder absorbs water and makes the stuffing dry.
The rotla dough should be soft and smooth. Do not knead it tightly. Use a rolling pin to make the rotla if you find it difficult to make it with your bare hands.
Bharelo rotlo should be thicker compared to normal rotlo. If rolled too thin, it may start to have cracks and disintegrate.
Cook the rotlo on medium flame and sprinkle some water on top of the raw rotla once it is transferred to the tawa. The moisture will help the rotis turn soft and fluffy.
Overall, this recipe is easy to make with simple ingredients found in most kitchens. Don't hesitate to give it a try!
Please do visit my other related recipe collection like
Recipe Video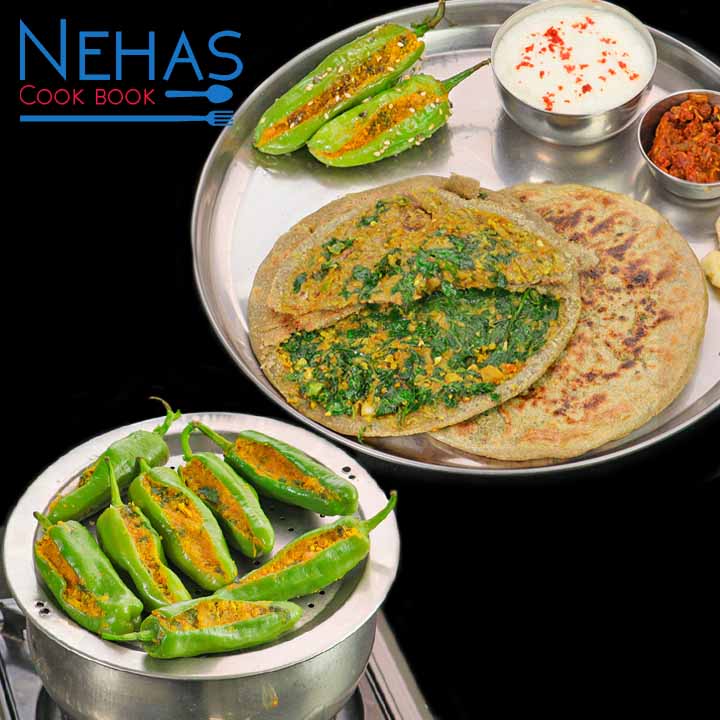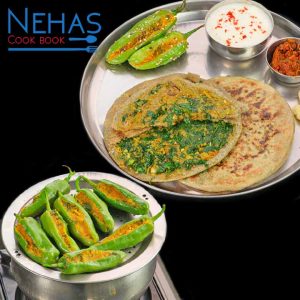 Masala rotlo recipe | kathiyawadi masala rotlo recipe | bharela marcha recipe | stuffed chilli recipe
Ingredients
For masala rotlo
2

cup

bajra flour

Salt to taste

1

cup

water or as required

Ghee for serving
For stuffing
1

cup

methi leaves

1

cup

coriander leaves

2

green chilli

1

inch

ginger

6

garlic cloves

1

tsp

jeera

Salt to taste

1

tsp

red chilli powder

¼

tsp

turmeric powder

1

tsp

coriander powder

3

tbsp

crushed peanuts

1

tbsp

oil
For bharela marcha
150

grm or 7-8 medium size green chilli

1

cup

gram flour

½

tsp

turmeric powder

Pinch

of hing

½

tsp

ajwain

½

tsp

red chilli powder

1

tbsp

coriander powder

Salt to taste

½

tsp

garam masala

1

tbsp

sugar

2

tbsp

lemon juice

Some coriander leaves

3

tbsp

oil

Water for steaming

For chilli tempering

2

tbsp

oil

½

tsp

mustard

1

tbsp

sesame seeds
Instructions
Making masala rotlo
In a mixture jar, add green chilli, ginger, garlic cloves, salt and jeera. Grind it into a coarse paste. Keep it aside.

Now in a mixing bowl, add methi leaves and coriander leaves. Roughly chop it.

Then add salt, grinded green paste, red chilli powder, turmeric powder, coriander powder, crushed peanut powder and oil and mix well. The stuffing is ready.

Now in a mixing bowl, add water and salt. Mix well.

Then add bajra flour gradually and knead soft dough.

Now sprinkle some water and knead the dough for 2-3 minutes till it becomes smooth.

take a medium size ball and flatten it out between your palm. Add 3 tbsp stuffing into the center of the circle.

Bring the edges of the circle towards the centre and fold over to cover the entire filling; making sure the edges are all sealed well by pinching them together if there is any opening.

Flatten the stuffed dough; dust over a little flour and pat gently into a 6-inch diameter circle taking care not to put too much pressure as the stuffing can come out of the dough.

Heat the tawa on medium flame, then stuff rotla onto the tawa to cook until golden brown on both sides.

Serve the stuffed masala rotlo hot with ghee smeared on the top.
For bharela marcha
Wash and make slits into green chilli. remove its seeds and slightly sprinkle some salt into the inner part of the chilli.

Now in a mixing bowl, add besan, turmeric, hing, ajwain, red chilli powder, coriander powder, salt, garam masala, sugar, lemon juice and oil. mix well. Masala is slightly bind together.

Then stuff chill with masala and place chilli on hole plate.

Now steam chilli on high flame for 7-8 minutes. Do not over steam it.

Cool down chilli slightly and keep it aside.

Heat oil in a pan, add mustard seeds, and sesame seeds and slightly saute it.

Add chillies and saute it on medium-high flame for 2 minutes.

Bharela marcha is ready. Serve with masala rotla.
Notes
For bharela marcha
Choose medium-size and fresh green chili.
Sprinkle some salt on chili veins to decrease their spiciness.
Steam chilies for only 7-8 minutes on high flame. Do not oversteam it.
For masala rotla
Chop roughly methi and coriander leaves. Do not finely chop it.
Peanut powder absorbs water from the masala and gives a nutty flavor to it.
Knead soft dough for rotla.
Sprinkle a little water drop and knead bajra dough till it becomes smooth and crack-free.
Cook rotla on medium flame.
Subscribe to our Youtube Channel
Click here to subscribe our Youtube Channel and stay updated with our latest video recipes