Meetha Ghughra is a deep-fried sweet dumpling prepared with a mixture of rava, mawa, coconut, and dry fruits as the stuffing. It is a popular Gujarati sweet enjoyed during the Diwali festival. In India, Ghughra is also known as Gujiya or Karanji in different states. In fact, it is made with various fillings, each with its unique purpose and rationale. I'll share the ideal ingredient ratios and some foolproof tips to ensure you can make perfect Meetha Ghughra on your very first attempt. This festival season, give it a try!
The key to making tasty meetha ghughra at home are
Firstly, I made the outer layer of ghughra using maida (all-purpose flour). A key technique for achieving a crispy and flaky texture involves adding hot ghee to the plain flour during the kneading process. Knead the dough tightly and make sure it's smooth, but avoid kneading it too softly. Also, ensure that the dough is moist.
I made the ghughra stuffing with rava, mawa, and dry fruits. Roasting the rava is a key point to make tasty stuffing. Roast the rava on low flame until it slightly changes its color and becomes aromatic. You can also vary the stuffing according to your preference.
Seal the ghughra well; otherwise, there is a chance it may open while frying. If you cannot fold or seal the gujiya as shown in the video below, seal the two edges and pinch it with the backside of a fork.
Lastly, a crucial tip for ensuring a crisp and crunchy ghughra is to deep fry them over a medium-low flame. While this method may be time-consuming, it is the only way to achieve the desired outcome, as there are no shortcuts. Also, store them in an airtight container for better shelf life.
Please do visit my other related recipe collection like
Recipe video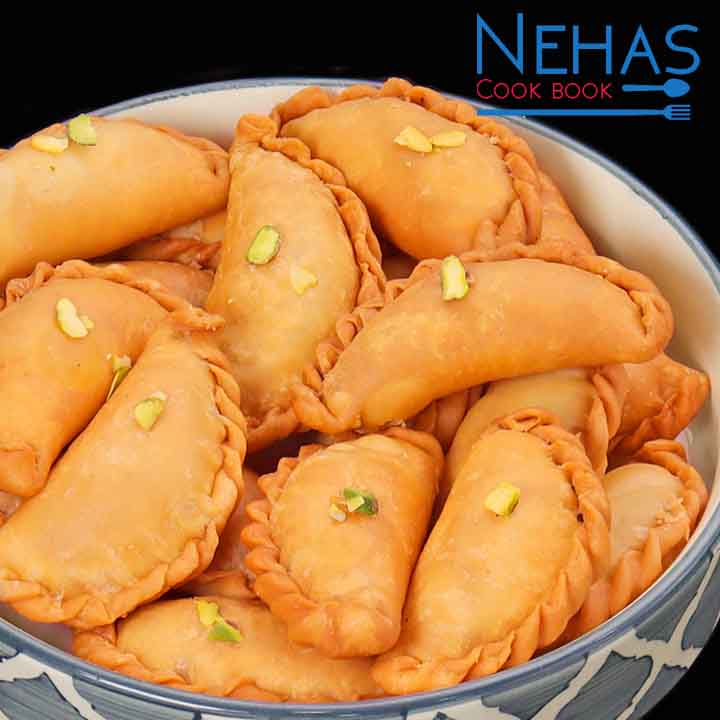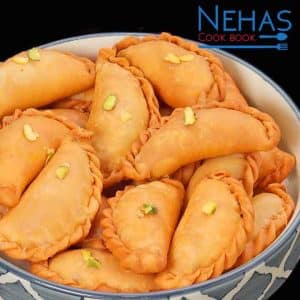 Meetha ghughra recipe | Gujarati meetha ghughra
Ingredients
For outer layer
2

Cup

Maida

-

All Purpose Flour

Pinch

of salt

4

Tbsp

Melted Ghee

-

Clarified Butter

2

tbsp

powder sugar

-

optional

½

cup

Water or as needed

Oil for deep frying
For stuffing
4

tbsp

ghee

10-12

cashews

10-12

almonds

10

pistachios

¼

cup

fine rava

½

cup

or 125 grm mawa

¼

cup

dry coconut

½

tsp

cardamom powder

¾

cup

sugar or as per your taste
Instructions
Preparing the Dough:
In a bowl, combine Maida (All-Purpose Flour) and a pinch of salt. Add hot Ghee (Clarified Butter) and mix thoroughly.

Next, incorporate 2 tablespoons of powdered sugar into the mixture. Adding sugar to the dough caramelizes during frying, giving the Ghughra a perfect brown color.

Gradually add water to the mixture and knead it until you achieve a tight and smooth dough.

Cover the dough and allow it to rest for 15 minutes.
Preparing the Stuffing:
In a pan, melt Ghee (Clarified Butter), and add the dry fruits. Roast them until they are well-toasted, then cool them down and coarsely crush them using a pulse grinder. Transfer them to a mixing bowl.

In the same pan, add Fine Sooji / Rawa / Semolina and cook it over low heat for about 5-6 minutes, until it turns light pink. Add the roasted Sooji to the mixing bowl.

Now, add Mawa to the pan and roast it over low flame. Once it's roasted, turn off the heat and add desiccated coconut, roasting it for a minute. Transfer this mixture to the mixing bowl.

Allow everything to cool down properly. Then, add powdered sugar and cardamom powder, and mix everything together. Your Ghughra stuffing is now ready.
Preparing the Ghughra:
Knead the dough for about 1 minute.

Take a small portion of the dough and form smooth round balls.

Using one dough ball, roll it into a medium-thick puri.

Place about 1-3 tablespoons of the prepared stuffing in the center.

Dampen the edges of the puri with a little water and fold it over to cover the mixture, pressing the sides together.

Take the Ghughra in your hand and gently press the edges between your fingers to create pleats for a Ghughra design. You can also use a fork to make a design on the Ghughra.

Repeat the process for the remaining Ghughra.

Heat oil for frying the Ghughra. Once the oil is hot, reduce the flame to low and fry 6-7 Ghughra at a time.

Fry the Ghughra until they become a light golden color, which should take around 10-12 minutes per batch.

Once they are done, remove them from the oil and place them on a paper napkin to remove excess oil.

Allow the Ghughra to cool down completely and then store them in an airtight container.
Notes
roast rava on low flame till it changes its color.
add sugar after the mixture is completely cooled down.
rub ghee with your fingers until it is well incorporated with the flour.
If flour forms a shape between your palms means ghee is enough and well incorporated.
make tight and smooth dough; do not make soft dough.
roll the puri evenly and medium thick.
seal ghughra properly with water.                                      
fry ghughra on medium-low heat.
Subscribe to our Youtube Channel
Click here to subscribe our Youtube Channel and stay updated with our latest video recipes