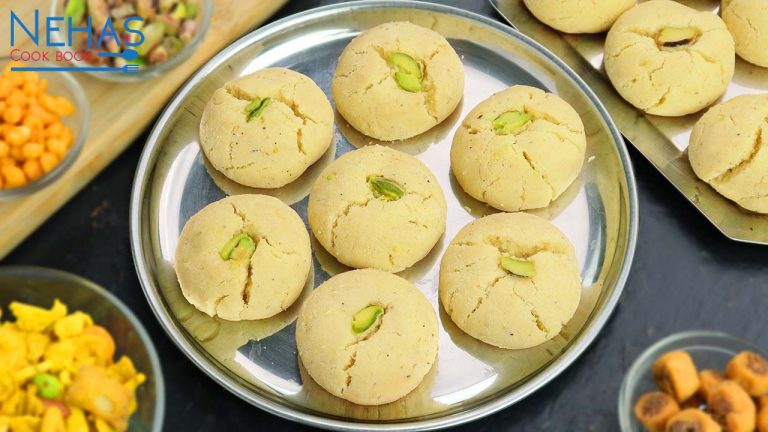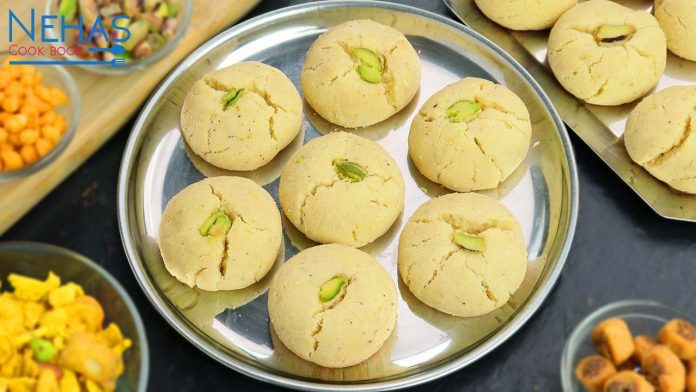 Nankhatai is deliciously rich, lightly sweet with crisp, flaky, and melt-in-your's-mouth texture Indian cookies. The word Nankhatai is derived from the Persian word "Naan" meaning bread and "Khatai" meaning Biscuit. It can be easily prepared with basic ingredients you probably have in your pantry at the moment! It is served for various occasions including festivals or any party celebrations. Do try this!
The key making bakery-style nankhatai at home are:
Firstly, a good amount of ghee (or fat) in the recipe makes it flaky and delectable. So do not alter the measurements mentioned in the recipe.
Also using room-Temperature Ghee is the key here. It should neither runny nor melted; perfectly granular in a semi-solid state. (If during summers you find that the room temperature ghee is liquid just put it in the fridge for a couple of minutes and it will solidify a bit).
Make sure to beat the sugar and ghee mixture well as it helps to make the cookie soft.
In this recipe, I have used a combination of maida, besan, and rava. Besan gives for smoothness and rava gives crispiness to nankhatai. But you may avoid besan and rava and add only plain flour if you wish to.
I refrigerate the dough for 10-15 minutes, by chilling the dough you are basically solidifying the fat which is ghee in this case. So when the cold fat enters the hot oven it takes a little longer to melt as compared to a room temperature one. This would ensure that your cookies do not go flat by spreading way too much while baking thereby retaining their shape.
Lastly, in this recipe, I have shown these cookies bake in preheat kadai on low flame for 22 minutes. You may bake it in a preheated oven at 180 degrees celsius for 17-18 mins depending upon your oven. Do not overbake nankhatai otherwise, it will become hard.
Please do visit my other related recipe collection like
Recipe video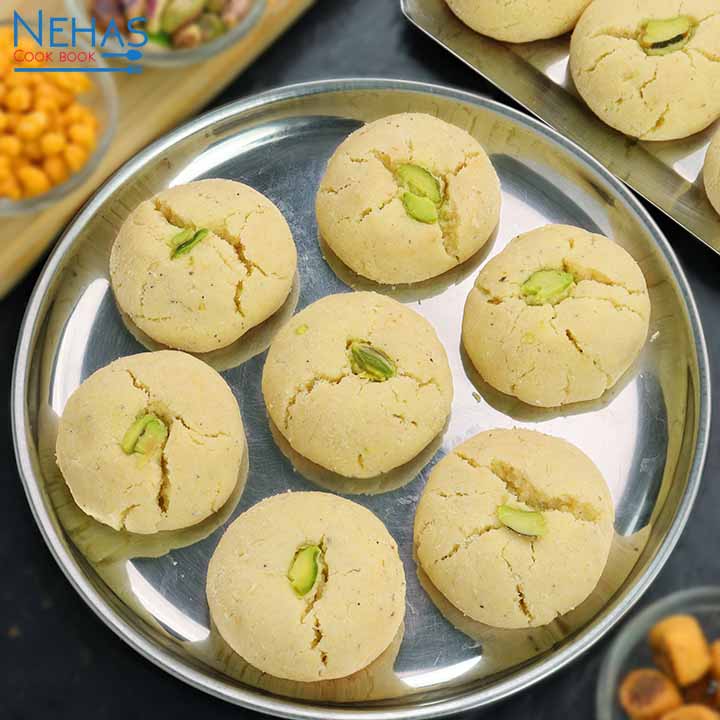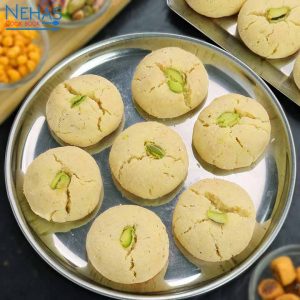 Recipe card for nankhatai
Ingredients
120

grm or 1 cup all purpose flour

maida

60

grm or ½ cup gram flour

besan

40

grm or ¼ cup fine rava

100

grm or ½ cup powder sugar

100

grm or ½ cup ghee

½

tsp

baking powder

½

tsp

baking soda

Pinch

of salt

½

tsp

cardamom powder

1

tbsp

milk or as required

1

tbsp

pistachio slits
Instructions
In a bowl take ½ cup ghee and ½ cup sugar. whisk to beat the ghee and sugar until the mixture turns creamy and whitish.

Place a sieve and add 1 cup maida, ½ cup besan, ¼ cup rava, ½ tsp baking powder, ½ tsp baking soda, ½ tsp cardamom powder and pinch salt.

Sieve the flour making sure everything is well combined.

crumble and mix making sure the flour is moist. if the flour is dry add 1 tbsp milk and mix. get the mixture together forming a soft dough.

Cover and refrigerator dough for 10 minutes.

to prepare nankhatai in kadai, add 1½ cup of salt and place rack, and close with the big plate.

Preheat kadai on medium heat for 10 minutes.

Also preheat the oven to 180 degrees celsius for 10 minutes.

Take out the dough from the refrigerator, now pinch the ball-sized dough and roll.

Add pistachio slits on the center and arrange cookies on greased aluminum plate and giving good space in between.

Place the plate into preheated kadai and cook on a low flame for 22 minutes.

Also in preheat the oven and bake at 180-degree celsius for 17-18 minutes. time may varies depending upon your oven. Do not overbake it.

the cookie will be soft initially. cool completely and the nankhatai cookie turns crisp and crunchy.

Serve or store the nankhatai in an airtight container and enjoy it for a week.
Notes
the proportion of ghee and powder sugar should be equal.
for the flaky texture of nankhatai, do not reduce the amount of ghee.
whisk the ghee-sugar mixture till it changes its color and becomes airy and fluffy.
rava gives crispiness to nankhatai.
for perfect results, use baking powder and baking soda in equal amounts.
just bind everything in nankhatai, do not knead the dough.
refrigerate the dough for 10 minutes, so it will set properly.
Do not overbake nankhatai otherwise, it will become hard.