It is a quick and interesting pakoda recipe made with onion slices, besan, and regular spices. I know there are lots of variants when it comes to this recipe; the most common way to prepare this pakoda is to have a thin coating of spiced besan batter to form crispy fritters. It is easy to cook and gets ready in less than 10 minutes. it is a foolproof recipe of super crisp pakoda, Do try this!
The key to making crispy onion pakoda at home are
Firstly, Cut onion into long, medium thick, and uniform slices, also squeeze the onions with masala well to release the juice from them. Add very less water to bind the onion and flour mixture.
secondly, as an alternative to rice flour, you can also use cornflour for the same purpose. But if you have access to rice flour, do use it for better results.
the pakora has to be deep-fried in a medium flame for even distribution of heat and eventually to cook it evenly. also, double frying makes it more crispy and brittle in texture.
Lastly, onion pakoda tastes great when served hot and crispy.
Please do visit my other related recipe collection like
Recipe video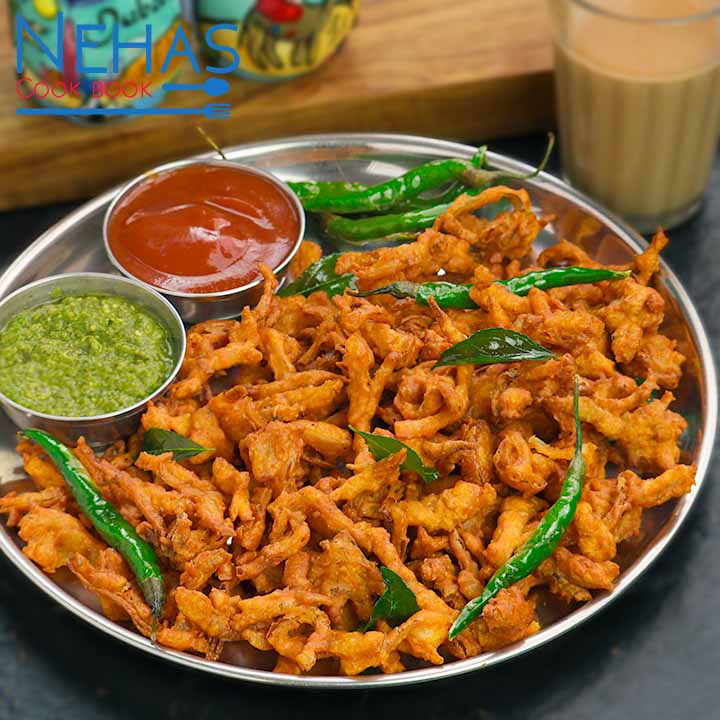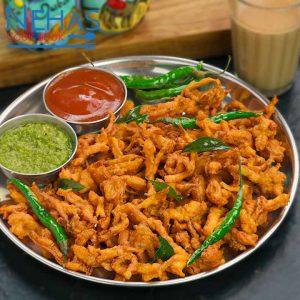 Onion pakoda | crispy onion pakodi | how to make onion pakoda | onion pakora
Ingredients
300

grm or 6 medium size onin

Salt to taste

1

tsp

ginger garlic paste

3

chopped green chilli

1

tbsp

red chilli powder

1

tbsp

coriander powder

½

tsp

turmeric powder

1

tsp

ajwain

1

tsp

crushed coriander seeds

½

tsp

amchur powder

¼

tsp

garam masala

¼

tsp

black salt

1

tsp

lemon juice

1

tbsp

rice flour

1

cup

gram flour

besan
Instructions
Cut onios into long and medium thick slices. make sure to slice of uniform thickness as it helps to fry easily.

Then transfer the sliced onion into a large bowl. add salt, ginger-garlic paste, green chilli slits, red chilli powder, coriander powder, turmeric powder, ajwain, crushed coriander seeds, amchur powder, garam masala, black salt and lemon juice. Now squeeze and mix well making sure all the spices are well combined and onions release moisture.

Then add rice flour and besan. Mix well and coat with onion slices.

Now add only 1 tbsp water and bind mixture.

Then heat oil and drop pakoda mixture with your fingers (refer video).

fry on medium flame stirring occasionally.

Remove pakoda from oil and cool down slightly.

Then again fry it for super crisp texture.

lastly, drain off the pakoda and enjoy with hot tea and fried chilli.
Notes
Cut onion into long and medium thick slices. Do not cut into very thin slices.
Squeeze onion slices and mix masala with your hand. So Onion slices release its water and masala easily stick with it.
Rice flour gives crispiness to pakodi
Add gram flour gradually and coat with onion slices.
Add very little water to bind pakodi mixture.
Fry pakodi on medium flame.
Double fry pakodi on high flame for its crispy and crunchy texture.