Poha chivda is an easy and market-style namkeen recipe where all the ingredients are deep fried and tossed with a spice mixture. It is also know as jada poha chivda or fried poha chivda. In this recipe, I made a special masala mix that gives market-style 'chatpata' and a balanced flavor of sweet and tangy to chivda. It has a very long shelf life and can be stored in airtight containers for months. It is extremely simple and can be prepared within minutes. So, do try it!
The key to making market-style poha chivda at home are;
Firstly, for chivda namkeen, I use thick poha (Jada poha) which is easily available in any Indian grocery store. Do not use thin poha (nylon poha) in chivda namkeen.
I made a special spice mix, which gives chatpata and a balanced flavor of sweet and tangy to chivda. In spice mix, you may vary the amount of spices according to your taste.
I have used fried green chili for the spiciness, you can also add dry red chili to increase the spice level.
I roast spice mix into slightly hot oil and then add it to fried poha. This process gives perfect masala coating in chivda namkeen.
Lastly, store the chivda in an airtight container once cooled completely; the moisture may turn the poha soggy.
Please do visit my other related recipe collection like
Recipe video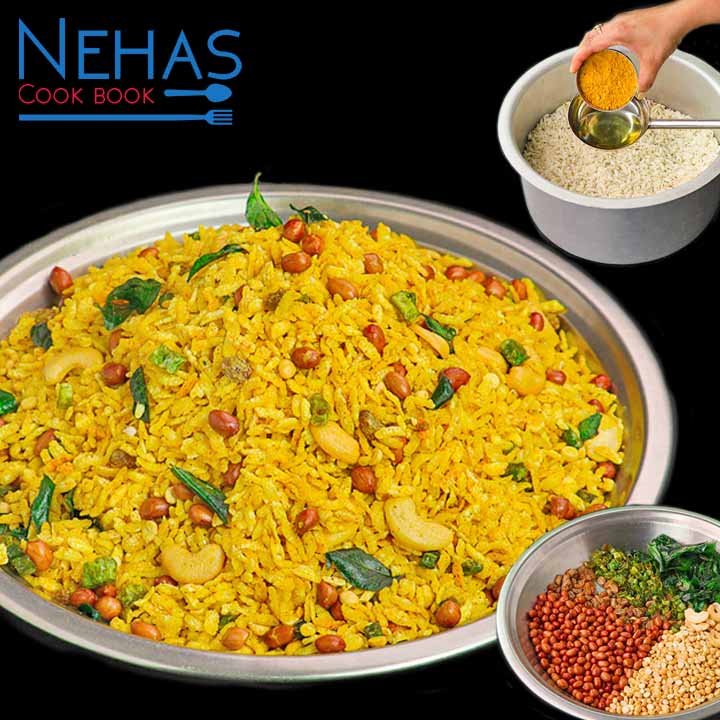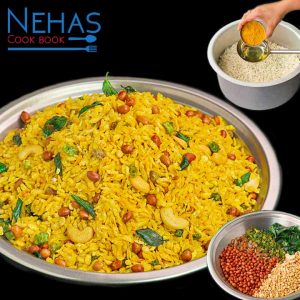 Poha chivda recipe | chivda namkeen recipe | khatta-meetha poha chivda | market style poha chivda
Ingredients
For special masala
1

tbsp

turmeric powder

2

tbsp

red chilli powder

1

tbsp

fennel seeds

1

tbsp

coriander seeds

1

tbsp

cumin seeds

Salt to taste

Pinch

or ¼ tsp citric acid

-

or 1 tsp dry mango powder

3

tbsp

sugar
For poha chivda namkeen
500

grm poha

125

gram

or ¾ cup peanuts

60

gram

or ½ cup roasted chana dal

25

gram

or 12-14 cashews

25

gram

or 3 tbsp kismis

-

dry grapes

9-10

chopped green chili

Some curry leaves

3

tbsp

oil+ oil for deep frying
Instructions
In a mixture jar, add turmeric powder, hing, red chili powder, fennel seeds, coriander seeds, cumin seeds, salt to taste, and limbu na phool. Grind it into fine powder. Keep it aside.

Then in a mixture jar, add sugar and grind it. Keep it aside.

Now heat oil in a pan, add take peanuts in a sieve, and immerse the sieve in the oil. Fry the peanuts till they are light brown. Remove them to a large bowl.

Then next fry roasted chana dal or dalia in the same way and remove them to the same bowl.

Now fry cashews slices and remove them to a bowl.

Then lower the gas flame and fry raisins. Within seconds, they will get plump up. Immediately remove them.

Then fry green chili and curry leaves. And take it out into a plate; do not mix them with chivda mixture.

Lastly, fry poha in batches on high flame till they are expanded in size. No need to brown them.

Keep frying and keep collecting them in a bowl till you are finished with all the poha.

Now in a tadka pan, add 3 tbsp oil and heat it. Cool down slightly and add masala mix into the oil and mix well.

Then add masala into poha and mix well. Poha is properly coated with the masala.

Now add powdered sugar and mix well.

Then add fried peanuts, chana dal, cashews, and raisins. Mix well.

Lastly, add fried curry leaves and green chili. mix well.

Let it cool down completely.

Serve or store poha chivda in an air-tight container.
Notes
Do not use thin poha (nylone poha) for chivda.
Limbu na phool (citric acid) gives market style taste to chivda. You can use amchur powder instead of limbu na phool.
Do not add sugar while grinding masala.
Fry green chilli till it becomes crisp and has no moisture in it.
Fry poha on high flame so it will nicely puff up. Do not fry it on low flame.
Mix masala into slightly hot oil, so it will properly coat to fried poha.
Chivda namkeen tastes great when it is properly coated with masala and balanced flavor or sweet and spicy.
Subscribe to our Youtube Channel
Click here to subscribe our Youtube Channel and stay updated with our latest video recipes