Sabudana vada is a popular Indian snack that is not only delicious but also holds cultural significance, particularly among those observing fasts or during religious festivals. This crispy and savory dish originates from Maharashtra, a state in western India, and has gained popularity throughout the country. It is made with sago pearls, potatoes, peanuts, and spices. These vadas are crispy on the outside and soft on the inside. When served with chutney, they make for a delightful snack that complements tea or coffee perfectly.
To ensure that you make perfect crispy sabudana vadas on your first attempt, I share the correct ingredient ratios and a few fail-safe tips.
The key to making crispy sabudana vada at home are
Firstly, soaking the sabudana is extremely important for this recipe. I use a 1:1 or equal ratio of sabudana to water to soak it. If the sabudana is not soaked properly, it may burst and explode while frying.
Dry the soaked sabudana and add crushed peanut powder to it so that its moisture will evaporate and the pearls will be separate in the vada mixture.
The proportion of grated potatoes should be half the quantity of soaked sabudana. Also, cool down the boiled potatoes so that there is no moisture in them. If the potatoes are slightly wet, the vada will absorb more oil while frying.
I add some arrowroot powder (tapkir) to the vada mixture, as it gives binding and a crispy texture to the vada. It also helps the vada absorb less oil while frying.
I have shared a sabudana vada recipe that is eaten during vrat, but you can also add finely chopped nuts to make it tastier.
Lastly, fry the sabudana vada on medium flame until it becomes crispy on both sides.
Please do visit my other related recipe collection like
Recipe video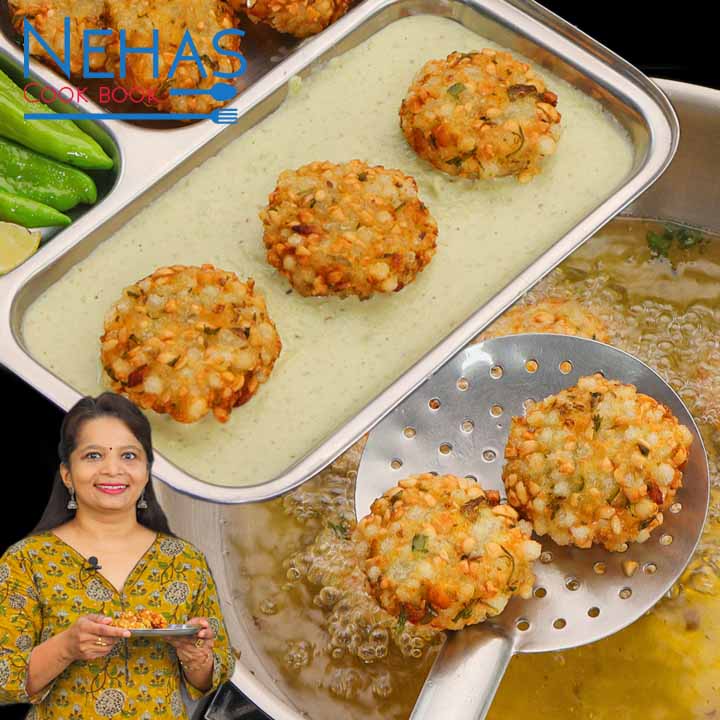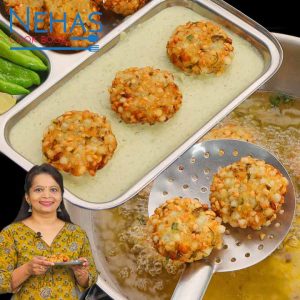 Sabudana vada recipe | crispy sabudana vada | how to make sabudana vada
Ingredients
For sabudana vada
2

cup

sabudana or sago pearls

2

cup

water

1.5

cup

roasted peanutes

2

cup

boiled and mash potatoes

3

tbsp

green chilli paste

Salt to taste

1

tbsp

cumin seeds

2

tbsp

sugar

2

tbsp

lemon juice

2

tbsp

arrowroot powder

-

tapkir or corn flour

Some coriander leaves

Oil for frying
For farali chutney
½

cup

grated coconut

½

cup

roasted peanuts

3-4

green chilli

1

tsp

cumin seeds

Salt to taste

1

tsp

sugar

1

tsp

lemon juice

1

cup

water
Instructions
For sabudana vadas
Rinse 2 cups of sabudana well until the water turns clear.

Soak it in 2 cups of water overnight or for 4-6 hours.

After the soaking time, the sabudana would have absorbed all the water. It should be soft, press it with a finger to check if it crushes easily.

Now, in a mixer jar, add roasted peanuts and pulse grind them to a coarse powder.

Add the crushed peanut powder to the sabudana and mix well.

Next, add 2 cups of mashed potatoes, green chilli paste, salt, cumin seeds, arrowroot (tapkir) or cornflour, sugar, lemon juice, and coriander leaves. Mix everything well.

Make sure the vada mixture is properly bound together (refer to the video).

Take some mixture, flatten it a bit, and shape it into a round shape.

Heat oil in a pan, then add the vadas to the oil one by one and fry them on medium heat until they turn golden brown and crispy on both sides.

Drain the fried vadas on a wire rack. Repeat the frying process for all the vadas in the same way.

Serve the sabudana vada with farali chutney.
For farali chutney
In a mixture jar, add grated coconut, roasted peanutes, green chilli, cumin seeds, salt, sugar and lemon juice.

Add 1 cup water and grind it into smooth paste

Farali chutney is ready serve with sabudana vada.
Notes
Use an equal proportion of sabudana and water while soaking sabudana.
Crush roasted peanuts into a coarse powder.
Mix the coarsely crushed peanut powder with the soaked sabudana so that it absorbs the water and becomes dry.
The proportion of potatoes should be half that of soaked sabudana.
Fry the sabudana vada on medium-high heat. Do not fry it on a low flame.
Subscribe to our Youtube Channel
Click here to subscribe our Youtube Channel and stay updated with our latest video recipes