"Samosas are popular deep-fried snacks. These triangular pastries are filled with a delicious mixture of spiced potatoes, peas, and various aromatic spices. Samosas are cherished for their crispy outer shell and savory, flavorful filling.
I'll share the perfect ingredient ratio and some fail-proof tips to help you make the perfect khasta samosa on your first attempt. This delightful and satisfying snack can be enjoyed at any time of the day. Give it a try!
The key to making khasta market-style samosas at home is as follows:
Firstly, prepare the samosa filling with potatoes, peas, and an array of spices. The stuffing boasts a subtle spiciness and a tangy element, which can be adjusted according to personal taste.
Secondly, craft the samosa using all-purpose flour (maida). A crucial technique for achieving a crispy and flaky texture involves adding ghee to the plain flour during the kneading process. Alternatively, hot oil can also be used for this purpose.
Lastly, a crucial tip for ensuring a crisp and crunchy samosa is to deep-fry them over medium-low heat. While this method may take some time, it's the only path to achieving the desired outcome, as there are no shortcuts to it."
Please do visit my other related recipe collection like
Recipe video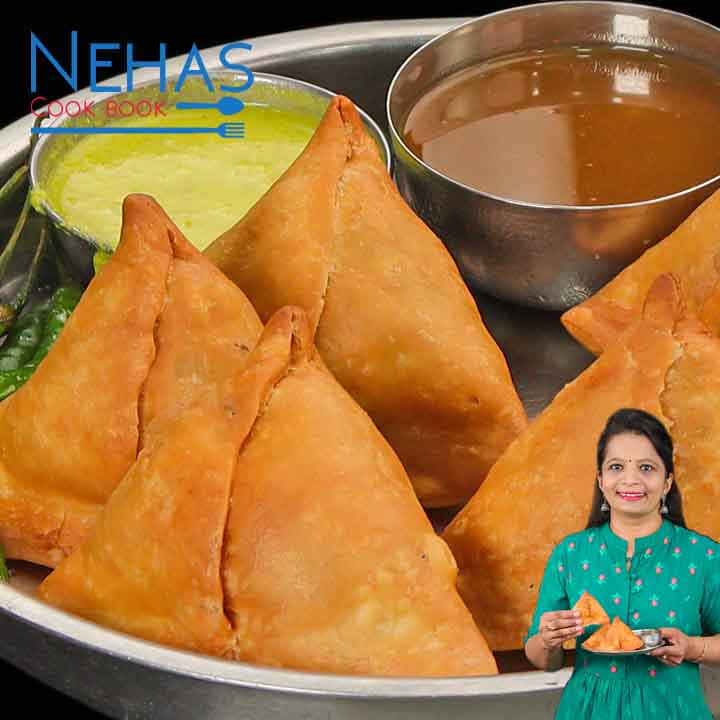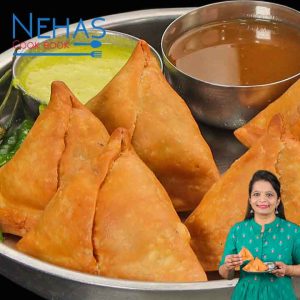 Samosa recipe |aloo samosa | how to make samosa
Ingredients
For samosa dough
2

cup

or 250 grm maida

-

all purpose flour

Salt to taste

½

tsp

ajwain

¼

cup

melted ghee

6-7

tbsp

water or as required
For masala
1

tbsp

coriander seeds

1

tsp

cumin seeds

1

tbsp

fennel seeds

1

tsp

black pepper

3

tbsp

oil

1

tsp

chopped ginger

2-3

chopped green chilli

500

gram

boiled and roughly mash potatoes

½

cup

green peas

1

tsp

coriander powder

½

tsp

red chilli powder

½

tsp

garam masala

½

tsp

amchur powder

Salt to taste

Coriander leaves
Instructions
For Samosa Dough:
In a mixing bowl, combine maida, salt, ajwain, and ghee. Mix well.

Gradually add water and knead until you have a tight and smooth dough.

Cover the dough with a damp cloth and let it rest for at least 30 minutes.
For Samosa Stuffing:
In a pan, dry roast coriander seeds, cumin seeds, fennel seeds, and black pepper on low flame. Transfer to a plate and let them cool slightly.

Grind the roasted spices into a coarse powder using a grinder or food processor. Set aside.

In another pan, heat oil and sauté chopped ginger and green chili.

Add the coarsely ground spice mixture and sauté.

Mix in boiled and roughly mashed potatoes, green peas, coriander powder, red chili powder, garam masala, amchur powder, salt, and chopped coriander leaves. Stir well to combine.

Your samosa stuffing is now ready.
Assembling the Samosas:
Take a dough ball and flatten it with a rolling pin into a thin, large chapati.

Cut the chapati in half, creating two semi-circles.

Take one semi-circle and fold it to create a cone shape. Seal the edges with a little water.

Fill the cone-shaped cavity with the prepared potato mixture, ensuring there are no gaps.

Stretch the unfolded side over the top to cover the filling, and seal the samosa. Make a few slits on the backside.

Repeat this process for all the samosas.
Frying the Samosas:
Heat oil in a deep pan. To check if it's hot enough, add a small piece of dough; it should rise to the surface.

Reduce the flame to low-medium and carefully add 5-6 samosas at a time.

Fry the samosas until they turn golden brown in color.

Remove them from the oil and place them on a wire rack or kitchen paper to drain excess oil.

Enjoy your hot samosas with chutney or a cup of tea.
Notes
For Samosa Stuffing:
Roast the dry spices on low flame until they become aromatic.
Grind the spices into a coarse powder; avoid making it too fine.
Allow the boiled potatoes to cool down before incorporating them into the spice mixture.
For Samosa Dough:
Ghee imparts a khasta (crispy) texture to the outer layer of the samosa.
Rub the ghee into the flour using your fingers until it's well incorporated.
If the mixture holds a shape when pressed between your palms, it means the ghee is sufficiently incorporated.
Create a smooth and tight dough for the samosa.
For Frying Samosas:
Seal the edges of the samosa with water, ensuring a proper seal; this prevents the samosas from opening in hot oil.
Fry the samosas over low to medium heat.
Subscribe to our Youtube Channel
Click here to subscribe our Youtube Channel and stay updated with our latest video recipes