Sandwich dhokla is a popular Gujarati farsan made with a fermented batter of rice and urad dal. In this recipe, I will be sharing three essential tips and the fermentation method required to achieve the perfect soft and spongy texture of dhokla. Despite the limited number of ingredients used in this recipe, it is crucial to execute the steps accurately to attain the best results. I encourage you to give this recipe a try and experience the deliciousness of well-made sandwich dhokla.
The key to making perfect sandwich dhokla at home are
Firstly, I strongly recommend using small-grain old rice for the dhokla batter. The rice-to-urad dal ratio should be 3:1. Adding soaked poha while grinding the batter helps achieve a softer and fluffier dhokla.
The batter plays a critical role; ensure it is ground thoroughly and smooth to make the dhokla soft. The batter should be of medium thickness and have a ribbon-like consistency, neither too thick nor too thin.
To expedite the fermentation process, place the batter in a warm area. I prefer fermenting the batter in a pressure cooker. If you're in a cold climate, you can warm the oven and place the batter inside or use an instant pot for fermentation.
Lastly, steam the dhokla over a high-medium flame; avoid steaming on low flame. Dhokla tastes best when served hot and accompanied by tempering.
Please do visit my other related recipe collection like
Recipe video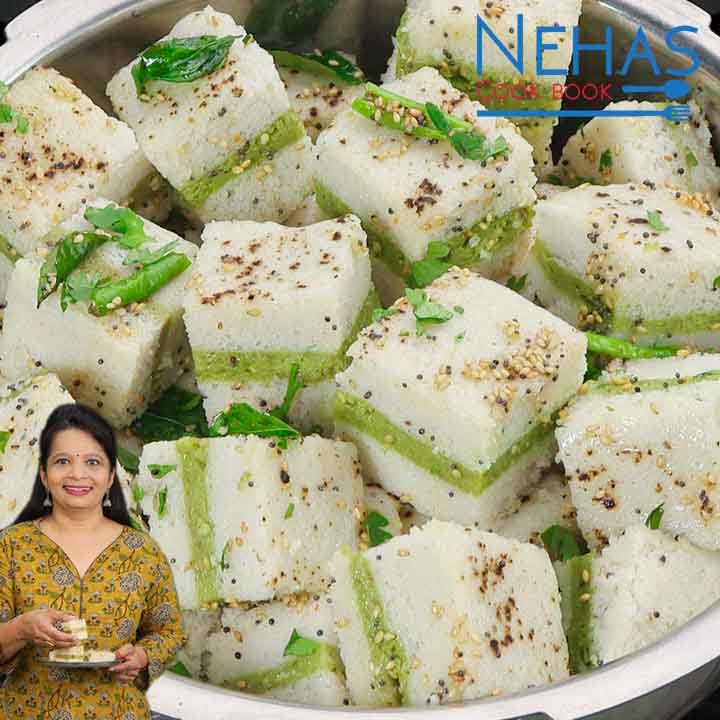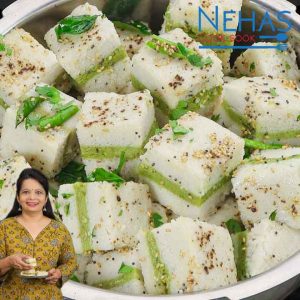 Sandwich dhokla recipe | Gujarati sandwich dhokla | sandwich dhokla in cooker
Ingredients
For sandwich dhokla
1.5

cup

small grain rice

½

cup

urad dal

½

tsp

methi dana

½

cup

soaked poha

1.5

cup

Water or as required

Salt to taste

Pinch

of hing

1

tbsp

sugar

-

optional

Oil water mixture

-

2 tbsp oil + 2 tbsp water

¼

tsp

baking soda

Green chutney
Dhokla tempering
2

tbsp

oil

1

tsp

mustard seeds

1

tsp

sesame seeds

Pinch

of hing

Some curry leaves

2

chopped green chilli
For green chutney
1

cup

coriander leaves

4-5

green chilli

1

inch

ginger

1

tbsp

peanutes

¼

tsp

cumin seeds

1

tsp

lemon juice

1

tbsp

sugar

Salt to taste

Some ice cubes

¼

cup

water or as required
Instructions
In a mixing bowl, combine 1.5 cups of small-grain rice, ½ cup of urad dal, and ½ tsp of methi dana (fenugreek seeds). Wash and soak this mixture for 4-5 hours. Drain the soaking water and set it aside; you'll use some of this water while grinding the batter. Also, wash and soak ½ cup of poha (flattened rice).

Next, place the soaked grains, soaked poha, and some water into a blender. Grind the mixture into a smooth batter with a ribbon-like consistency. Transfer the batter to a mixing bowl.

In a pressure cooker, whisk the batter in one direction (refer to the video). Cover the cooker with a lid and keep the batter in a warm place to ferment. After 8 hours, the batter should be properly fermented.

Now, add salt, hing (asafoetida), and 1 tbsp of sugar to the fermented batter. Mix these ingredients well.

In a tadka pan, mix 2 tbsp of water and 2 tbsp of oil, and heat the mixture. Add ¼ tsp of baking soda and mix well. Incorporate this mixture into the batter; the baking soda gets activated in the hot oil and water mixture.

Set aside a portion of the batter for the middle chutney layer.

To make sandwich dhokla, pour 2 cups of the dhokla batter into a greased mold. Steam the first layer of dhokla in a pre-heated cooker for 5 minutes on high flame, without placing the whistle on the lid.

Meanwhile, prepare the green chutney. In a blender, combine 1 cup of coriander leaves, 4-5 green chillies, 1-inch piece of ginger, 1 tbsp of peanuts, ¼ tsp of cumin seeds, 1 tsp of lemon juice, 1 tbsp of sugar, salt to taste, some ice cubes, and water. Blend the ingredients into a thick paste. Set aside the green chutney.

Mix 3-4 tbsp of the green chutney into 1 cup of batter. Once the first layer of dhokla is steamed, spread this chutney layer on it. Steam the chutney layer for an additional 5 minutes on high flame.

Now, spread 2 cups of dhokla batter on top of the chutney layer. Sprinkle some black pepper powder over it. Cover and steam the dhokla for 15 minutes on medium-high flame.

Once the dhokla is properly steamed, remove it from the steamer and allow it to cool completely. De-mold the sandwich dhokla and cut it into pieces.

For the tempering, heat oil in a pan and add mustard seeds, white sesame seeds, hing, curry leaves, and chopped green chillies. Sauté for a minute and then pour this tempering over the dhokla.

Your sandwich dhokla is now ready to be served with the prepared chutney.
Notes
Use small-grain rice for the dhokla batter.
The proportion of rice to dal should be 3:1, meaning 3 parts of rice and 1 part of urad dal.
Methi seeds enhance the fermentation process.
Grind the batter into a smooth paste; avoid grinding it too coarse. Also, ensure that the consistency of the batter is ribbon-like.
Whisk the batter in one direction to incorporate air particles into it.
The temperature inside the cooker remains constant, facilitating easy fermentation of the batter.
Steam the dhokla over high flame.
Subscribe to our Youtube Channel
Click here to subscribe our Youtube Channel and stay updated with our latest video recipes