Wheat flour Chakli is a popular snack in Gujarat and Maharashtra. It is spiral-shaped, crispy, and simply melts in your mouth, making it an ideal tea-time treat. This delicious recipe is made with steamed wheat flour, a blend of regular spices, and buttermilk or curd. I'm here to share the perfect ingredient ratios and a few no-fail tips that will help you create the perfect Chakli on your first attempt. Additionally, it boasts an extended shelf life, making it easy to store in an airtight container for months. Be sure to give it a try!
The key to making crispy and melt-in-mouth wheat flour chakri at home are
Firstly, steamed wheat flour is a necessary step for achieving the crispy yet melt-in-the-mouth chakli texture. Additionally, knead the chakli dough with buttermilk to make it light and softer after frying. You can use yogurt and some water to knead the chakli dough.
Secondly, knead a medium-soft dough for chakli. Do not knead a hard dough or a very soft dough for chakli. I recommend adding buttermilk in batches while kneading to keep it under control.
Lastly, heat the oil to a sufficient temperature and drop the chakli into the hot oil over high flame. When the chakli retains its shape, reduce the flame to medium and fry it until it becomes crispy and golden brown. Once it cools down, store them in an airtight container for a longer shelf life.
Please do visit my other related recipe collection like
Recipe video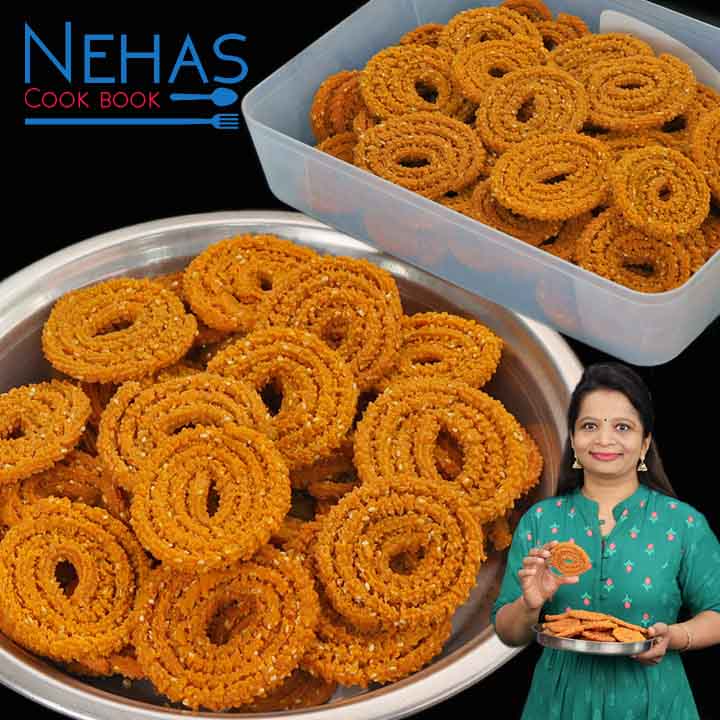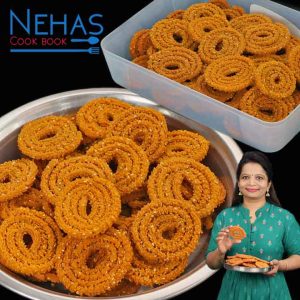 Wheat flour chakli recipe | aate ki chakli | ghau na lot ni chakri
Ingredients
4

cup

or 450 grm whole wheat flour chapatti atta

½

tsp

turmeric powder

2

tbsp

red chilli powder

½

tsp

hing

Salt to taste

6

tbsp

white sesame seeds

2

tbsp

green chilli-ginger paste

1

tbsp

oil +Oil for deep frying

2

cup

butter milk or

-

3/4 cup yogurt + some water
Instructions
Steamed flour
Take 4 cups of whole wheat flour (chapatti atta) and place it in a cotton cloth.

In a pressure cooker, add 3-4 cups of water and place a stand and plate inside. Put the flour on the plate and cover the pressure cooker lid without the whistle.

Steam the flour for 20 minutes over medium-high flame.

The flour will become hard during steam cooking.

Break up the flour lumps and sieve the flour for an even texture.
For making chakli
in a mixing bowl, take wheat flour, turmeric powder, red chili powder, hing, salt, white sesame seeds, cumin seeds, oil, and green chili ginger paste. Mix well.

Gradually add 2 cups of buttermilk to knead the dough to a medium-soft consistency. If necessary, add more water or buttermilk to bind the dough. Do not knead the dough too hard or too soft for chakli.

Now, divide the dough into equal parts and shape them into ovals.

Take a chakli machine with an attached star-shaped hole in a round disc.

Grease the chakli machine with a little oil.

Add chakli dough to the machine and close the lid.

On a board or greased steel plate, move the chakli machine in a circular motion. First, create straight strings of dough by twisting the handle, and then form round-shaped chakli with your hand.

Join the ends to prevent the chakli from opening while frying.

Heat the oil over medium flame. Put a small portion of dough into it. If it immediately rises to the surface without browning, the oil is ready for frying.

Fry 5-6 chakli at a time in hot oil and deep-fry them until they are crispy and golden brown in color.

Fry evenly on both sides and remove them onto a kitchen paper towel or a wire rack to absorb the excess oil.

Allow the chakli to cool to room temperature and they are ready to be served or stored in an airtight container.
Notes
Use a medium-high flame and steam for 20 minutes. Avoid steaming on low flame. To check if the flour is properly steamed, it should become hard.
Sieve the grinded flour to ensure even particle size.
Do not add excess oil to the chakli flour.
Knead the chakli dough with a mixture of buttermilk or curd and water. Aim for a medium-soft dough; do not knead it too hard.
Heat the oil thoroughly and maintain a high flame when you drop the chakli into the oil.
Once the chakli starts to fry and retains its shape, reduce the flame to medium.
Subscribe to our Youtube Channel
Click here to subscribe our Youtube Channel and stay updated with our latest video recipes