Cabbage paratha is a unique breakfast recipe that combines cabbage and various flours. It is crispy on the outside, soft on the inside, and bears resemblance to the popular Maharashtrian dish thalipeeth. Typically, it is served with plain yogurt or curd, accompanied by either tomato sauce or pickle as a side dish. Enjoy this nutritious and flavorful dish as a wholesome meal or snack. Give it a try!
The key to making tasty cabbage paratha at home are
Firstly, ensure you use fresh cabbage for the paratha. You can either finely chop the cabbage using a knife or use a food processor to achieve the desired consistency. I personally prefer using the pulse grinding function in a mixture jar for convenience.
Secondly, cabbage paratha is a versatile dish that allows for creativity. Feel free to incorporate additional ingredients such as grated carrots, spinach, or spices of your choice to enhance its nutritional value and taste.
Lastly, when cooking the paratha, it's important to maintain a medium flame. This allows the paratha to become crispy and golden brown on both sides while ensuring it is thoroughly cooked from the inside. Avoid cooking it on high flame, as it may remain raw within. It tastes great when it is serve hot.
Please do visit my other related recipe collection like
Recipe video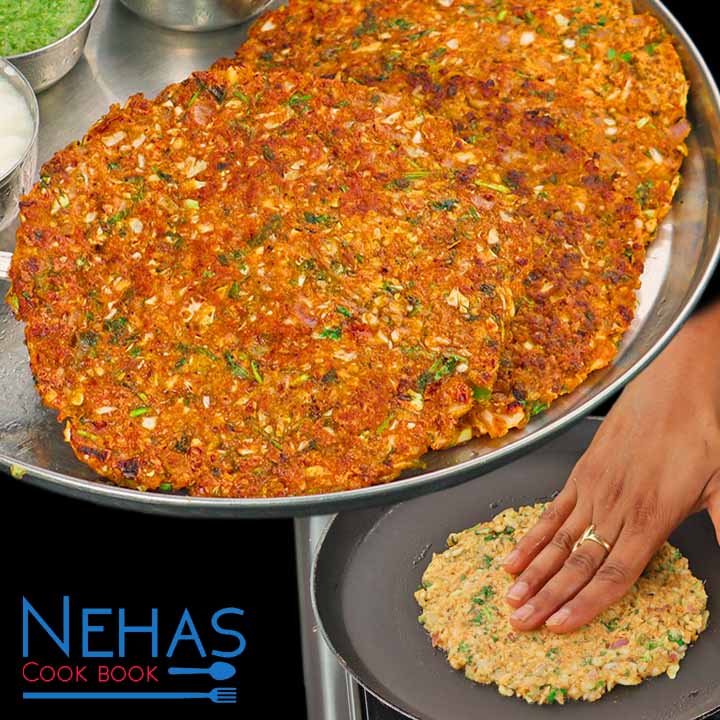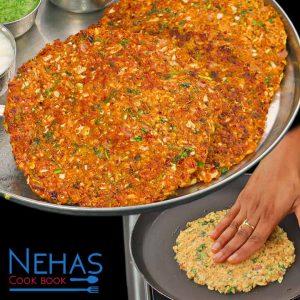 Cabbage paratha recipe | kobi na paratha | cabbage thalipeeth recipe
Ingredients
3

cup

finely chopped cabbage

3-4

green chilli

1

inch

ginger

5

garlic cloves

1

tsp

cumin seeds

Pinch

of salt

1

cup

chopped onion

1

cup

chopped coriander leaves

1

tbsp

red chilli powder

1

tbsp

black pepper powder

Salt to taste

1

tsp

dry mango powder

½

cup

gram flour

-

besan

½

cup

tapkir /arrarrot powder or corn flour

Oil for roasting
Instructions
Take 350 grams of small-sized cabbage and cut it into rough pieces. Add it to a small mixer jar and use the pulse grinding function to finely chop it. Set it aside.

Next, in a separate mixer jar, add green chillies, ginger, garlic cloves, cumin seeds, and salt. Crush them into a coarse paste. Set it aside.

Then, in a mixing bowl, combine the chopped cabbage, ground paste, chopped onion, chopped coriander leaves, red chilli powder, black pepper powder, salt, and dry mango powder. Mix well.

Gradually add besan and tapkir/arrowroot powder or cornflour to the mixture and mix well until the mixture binds together when pressed between your hands.

Heat a tawa on medium flame and sprinkle some water on it to decrease its temperature. Place a dough ball on the tawa and spread it with slightly wet hands (refer to the video).

Apply some oil on the sides and cook the paratha on medium flame until it becomes crispy on both sides.

Alternatively, you can take a small ball of dough and start patting it on a wet cotton cloth or oiled butter paper.

Heat a tawa and spread some oil on it. Gently place the cloth upside down over the hot griddle. Sprinkle some water and slowly peel off the cloth without breaking the paratha.

Additionally, smear some oil over the paratha and cook both sides on medium flame until they turn slightly golden brown.

Serve the cabbage paratha with tomato sauce and curd.
Notes
Finely chop the cabbage using a pulse grinding method.
Mix the masala with your hands to allow the water to release from the cabbage and onion.
Gradually add flour until the cabbage mixture binds together in your hand.
Allow the tawa to cool slightly, then spread the paratha on it.
Cook the paratha over medium heat. Avoid cooking it on high heat.
Cabbage paratha taste great when it is serve hot.
Subscribe to our Youtube Channel
Click here to subscribe our Youtube Channel and stay updated with our latest video recipes