Surti Khaja Puri, also known as Farsi Puri, is a delectable snack that hails from the Surat region of Gujarat, India. This crispy and flaky delicacy is made with all-purpose flour (maida), ghee, and a blend of regular spices. With its melt-in-your-mouth texture, aromatic flavors, and versatile serving options, Surti Khaja Puri has become a favorite tea-time snack and a delightful accompaniment to dishes like aam ras.
I share perfect ingredient ratio and few no fail tips helps you to make perfect surti khaja puri (farsi puri) on first attempt. It also has a very long shelf life and can be store it in airtight container for months. Do try this!
The key making crispy surti khaja puri (farsi puri) at home are
Firstly, I always recommend using maida (all-purpose flour) for puri dough because khaja puri is known for its crispiness and flakiness, which can only be achieved with maida. However, if you want to attempt using wheat flour, it is possible.
Ghee should be perfectly incorporated into the flour, giving the flour a crumbly texture that holds its shape between hands. Knead the puri dough firmly and smoothly. I recommend adding water in batches while kneading to keep it under control.
Beat the puri dough until it becomes smooth and pliable. Additionally, brush it with ghee and make folds into the dough. This process will help create crispy and soft khaja puri. You can vary the number of layers according to your preference while preparing khaja puri.
Lastly, fry the puris in small batches over medium-low heat. Once deep-fried, store them in an airtight container for a longer shelf life.
Please do visit my other related recipe collection like
Recipe video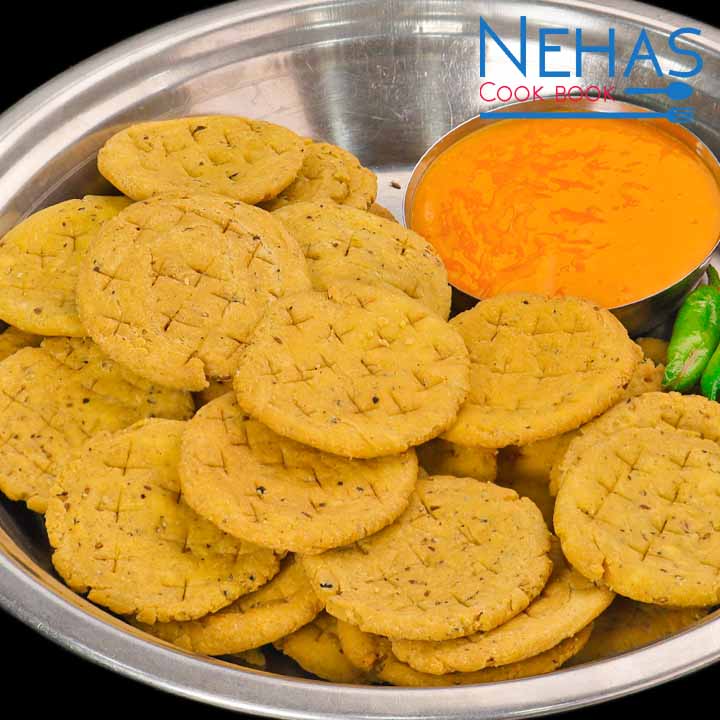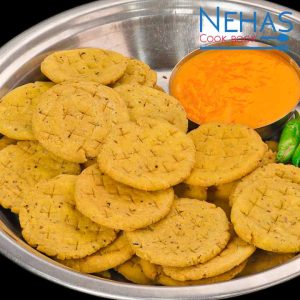 Farsi puri recipe | surti khaja puri | how to make khaja puri
Ingredients
250

grm or 2 cup all-purpose flour

-

maida

¼

cup

fine rava

½

cup

melted ghee

1

tsp

black pepper

1

tsp

cumin seeds

-

jeera

½

tsp

turmeric powder

Salt to taste

½

cup

water or as required

Oil for frying
Instructions
In a pan, add 1 tsp black pepper and 1 tsp cumin seeds (jeera). Roast them on low flame until they turn slightly golden brown.

Transfer the roasted spices into a mortar and pestle, and grind them into a coarse powder. Set it aside.

In a mixing bowl, add 2 cups maida, ¼ cup rava, the coarsely ground masala, ½ tsp turmeric powder, and salt. Mix well.

Gradually add ghee and mix it well into the flour. The flour should become slightly crumbly and bind together with the ghee. Approximately 2-3 tbsp of ghee will remain; keep it aside.

Apply ghee on the dough, cover it, and let it rest for 20-25 minutes.

On a kitchen platform or chopping board, place the dough and spread it with a rolling pin or pestle. Apply some ghee and fold the dough in half (refer to the video).

Repeat this process three times: spread the dough with a pestle, apply ghee, and fold the dough.

Now, shape the dough into a log and cut it into equal parts.

Take one part of the log, lightly dust it with starch, and cut it into 1-inch pieces.

Take one of the cut pieces and gently flatten it with your palm.

Roll it again to make a medium-thick puri. There's no need to roll it too thin. Repeat this process for the rest of the puris.

Heat oil for frying and add the puris. Fry them on low-medium flame until they turn slightly golden brown, which should take about 5-7 minutes.

Remove the puris from the oil and let them cool down completely on a wire rack.

Serve the surti khaja puri with aamras or store them in an airtight container for a longer shelf life.
Notes
Roasting the masala on low flame enhances its flavor.
Crush the masala into a coarse powder.
Rava gives crispiness to the puri.
Mix the ghee into the flour until it becomes crumbly and binds between your hands.
Knead a tight and stiff dough for the puri. Do not knead a soft dough.
Beat the puri dough to make it soft and pliable.
Roll the puris slightly thick. Do not make them too thin.
Subscribe to our Youtube Channel
Click here to subscribe our Youtube Channel and stay updated with our latest video recipes