This gujarati style chana methi sour and spicy pickle and easy to make. It is made with chana(black or white chickpea), dry methi seeds, and raw mango pieces perked up with a large assortment of spices and preserved with oil. Here I used the homemade Achar Masala, but one can use store-bought also. Glass jars are the best way to store these pickles which increases self life of this pickle for years, even without a refrigerator.
It is important to dry out the main ingredients and get rid of the moisture. If this isn't done well, the pickle may go bad. Also, when storing the pickle, one needs to ensure that it's covered with a layer of oil on the top, it will help store it for a long without getting any fungus. This pickle is preserved in this fashion and will easily survive for 12 months.
Please do visit my other related recipe collection like
Recipe video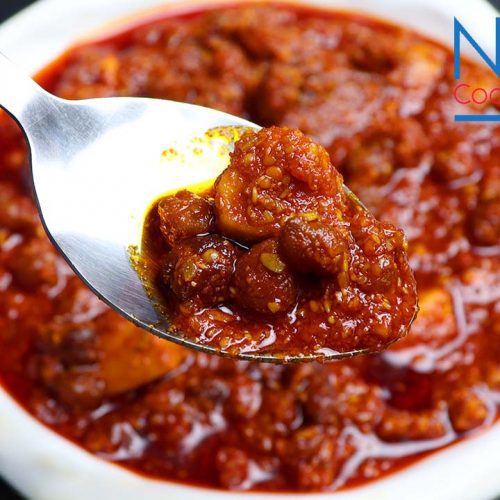 Gujarati chana methi keri pickle recipe | how to make chana methi athanu| Gujarati pickle
Ingredients
500

g

or 1 raw mango

100

g

or ½ cup black chana

50

g

or ¼ cup methi dana

300

ml

oil
For pickle masala
100

g

or ½ cup split mustard seeds

50

g

or ¼ cup split fenugreek sedds

50

g

or ¼ cup fennel seeds

1

tbsp

asafetida

-

hing

2

tbsp

oil

2

tsp

turmeric powder

3

tbsp

salt

½

cup

red chilli powder
Instructions
Wash the mangoes and peel the skin of the mangoes and then cut them into medium-sized pieces.

Combine the mango pieces with salt and turmeric powder and leave aside overnight or for 10 hours. Also soaked dry chana and methi dana with some water.

After a day, mango pieces released some water and completely marinated. Even chana and methi also puff up very well.

Then sieve water from mango pieces and dry them on muslin cloth for 4-5 hours or till they become completely dry.

Then add chana and methi into turmeric-salt water for 5-6 hours.

Then sieve water from chana and methi and dry them on muslin cloth for 2-3 hrs.

For pickle masala, add coriander seeds, split mustard seeds, split fenugreek seed, fennel seeds, cloves, black pepper and asafetida in the center.

Now heat oil and allow it to cool for some time. Then add to the masala and cover masala with another plate.

Then add turmeric powder and mix well. When the mixture is completely cooled down add salt and red chilli powder. Mix well. Pickle masala is ready.

In a large vessel, add dry chana, methi, raw mango pieces and pickle masala.  Mix well

Cover the vessel with a plate and leave it for 7-8 hrs so pickle masala flavored with all chana, methi and mango pieces.

Finally, add chana methi keri pickle into sterilized glass bottle and pour oil into glass jar.

After 5-6 days gunda keri pickle is ready to eat.

Serve pickle with theplas, bhakris and khakras.
Notes
Cut mango into medium sized pieces
Combine mango pieces with turmeric powder and salt so mango released its water.
Soaked chana and methi into turmeric-salt water so it will absorb the flavor of the water.
Fill pickle tightly into an air-tight sterilized glass bottle.
Completely immerse the pickle in oil to preserve it for a whole year.
Subscribe to our Youtube Channel
Click here to subscribe our Youtube Channel and stay updated with our latest video recipes