These three chutney recipes are must require when you are making a tasty Indian chaat recipe. A combination of green chutney, tamarind chutney, and red chutney would complete any chaat recipe. All three chutneys are different in taste and color.
There are many different styles of the recipe for green chutney. It may vary with the proportion of coriander leaves, mint leaves, and garlic. Coriander leaves and mint leaves give green color to chutney while garlic balance the strong smell of pudina or mint. To increase the shelf life of chutney I add lemon juice and further balancing the green chutney taste I add powdered sugar.
In tamarind (Imli) chutney I soaked imli for 2 hours, after 2 hours imli become soft so I sieve imli water mixture. Tamarind (Imli) chutney is always a combination of sweet and sour taste. While making it I used some amount of sugar in it. So this chutney is a balance of sweet and sour taste, it's perfect khati mithi chutney for your chaat.
Lastly, red garlic chutney, the color, and texture of red garlic chutney give the impression of being very spicy, but it is not. I have to remove the seeds of dry red chill and soaked them in water for 30 minutes. Then remove the water of red chill and grind it with garlic and ginger gives a fine taste of chutney. If you still feel it is too spicy, you can add peanuts while grounding. It should lower the spiciness.
Please do visit my other related recipe collection like
Recipe video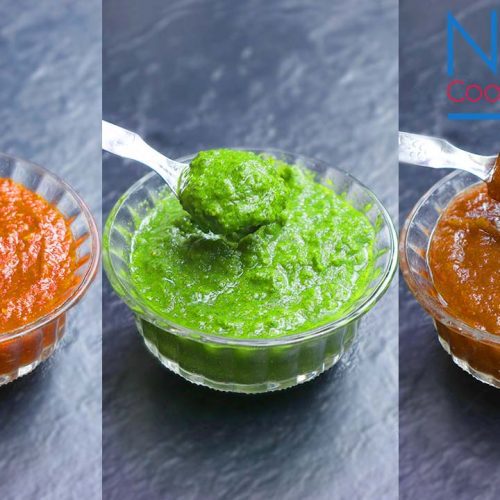 Indian chaat chutney recipe | chutneys for Indian street foods
Ingredients
For Tamarind Chutney -
1

cup

tamarind

1

cup

dates

1/2

cup

jaggery

1

tsp

black salt

1

tsp

roasted cumin powder

1

tsp

red chili powder

1

tbsp.

dry ginger powder
For Green Chutney
1

cups

fresh coriander leaves

1/2

cup

fresh mint leaves

1/2

inch

ginger

5-6

cloves

of garlic

2-3

nos green chilli

4

nos Garlic cloves

1/4

tsp

Roasted cumin powder

1

tsp

Lemon juice

1/2

tsp

Chaat masala

1

tsp

Black salt

1/4

tsp

Sugar
For Red Garlic Chutney
6-7

nos. dried red chili

6-7

cloves

of garlic

juice of half a lemon

1/2

' piece of ginger

salt to taste
Instructions
How to make Tamarind Chutney
Add dates, tamarind and jaggery in a pan along with 3 cup of water

Mix all the things and cook on medium heat for about 15-20 minutes or until dates and tamarind have softened.

Now in a mixture add 1 tsp red chilli powder, 1 tsp roasted cumin powder, 1 tsp rock salt, 1 tsp dry ginger powder, salt and mix well.

Let this mixture cool down a bit. Mix well and strain the mixture through a fine-mesh sieve.

Tamarind chutney is ready.
How to make Green Chutney -
Clean and wash coriander and mint leaves. Drain all the water well.

Now add 1 cup coriander leaves, 1/2 cup mint leaves, 2-3 nos green chilli, 1/2 inch ginger, 4 nos garlic cloves, 1/4 tsp roasted cumin powder, 1 tsp lemon juice, 1/2 tsp chaat masala,1 tsp black salt and 1/4 tsp sugar in mixture jar

Then add 2 ice cubes to grind chutney.

Now grind it and make smooth paste like texture.

Store the chutney clean glass or porcelain bottle.

This chutney can store in refrigerator for up to 3-4 days.
How to make Red Garlic Chutney -
Deseed dried red chilies.

Soak them in water for a minimum of 30 minutes.

Drain the chilies and add them in blender jar.

Also add garlic pods, lemon juice, salt and ginger to the blender jar.

Add water and blend until smooth.

Store the chutney clean glass or porcelain bottle.

This chutney can store in refrigerator for up to 10 days.
Notes
In green chutney use fresh coriander leaves and mint leaves. Then you can skip the use of garlic in this recipe but garlic balance the strong mint flavor.
In tamarind (imli) chutney you can use dates in this chutney to natural sweet flavor or you can use jaggery in place of sugar use.
In red garlic, chutney uses dry Kashmiri red chili of color and less spiciness in chutney. I deseeded the dry red chili for 30 for making it less spicy. You can also use peanuts while grounding the chutney.