Crispy Jeera Puri is a traditional Gujarati-style Farsi Puri crafted from all-purpose flour (maida) and infused with the aromatic flavor of jeera (cumin). This delightful snack is a popular choice for deep-fried indulgence during evening tea time. Not only is it easy to prepare, but it also maintains its crispiness when stored in an airtight container for up to a month after frying. I will share the perfect ingredient ratios and a few foolproof tips that will assist you in achieving a crispy and flavorful outcome on your first attempt. Give it a try!
The key to making tasty jeera puri at home are
Firstly, for thin and crispy texture of jeera puri, I made the dough with Maida; you can use wheat flour as an alternative.
Secondly, knead a tight and smooth dough for jeera puri. Avoid kneading a soft dough. I recommend adding the sugar-water mixture in batches while kneading to keep it under control. Also, knead the dough until smooth and starched to achieve the thin and crispy texture of jeera puri.
Lastly, as jeera puri is very thin, fry it on medium-high flame until it becomes crisp. Avoid frying it on a low flame. Once it cools down, store them in an airtight container for a longer shelf life.
Please do visit my other related recipe collection like
Recipe video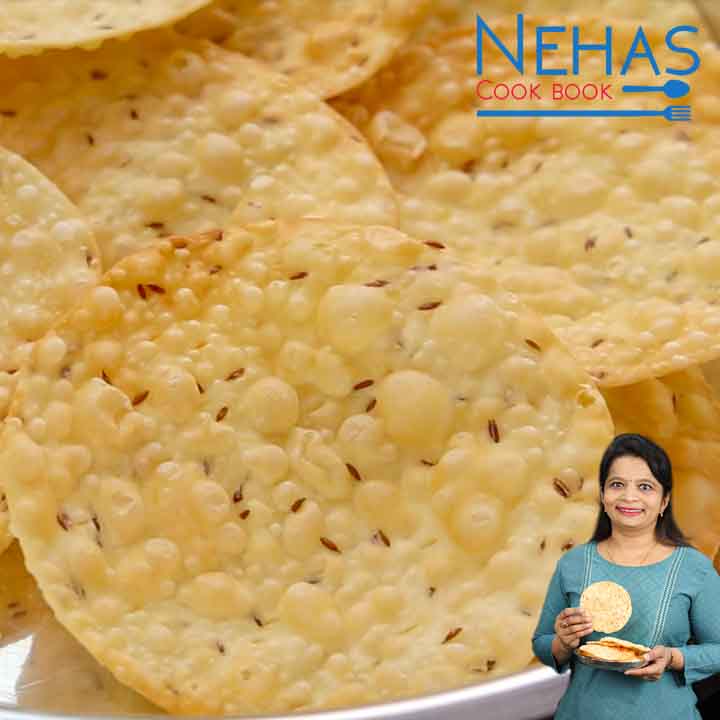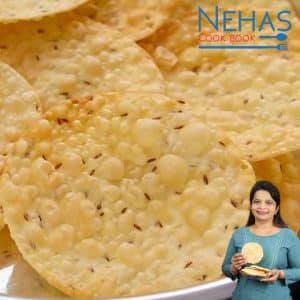 Jeera puri recipe | Gujarati jeera puri recipe | how to make jeera puri
Ingredients
500

grm or 4 cup maida

3

tbsp

oil

1

tbsp

cumin seeds

1

cup

+ ¼ cup water or as required

Salt to taste

Dry flour for dusting

Oil for frying
Instructions
In a mixing bowl, combine 4 cups and 500 grams of all-purpose flour (maida).

In a pan, heat 3 tablespoons of oil. Add cumin seeds and sauté. Pour water into the tempering, switch off the heat, then add salt and mix well. Cover the tempering and let it cool for 5-7 minutes.

Transfer the tempered water to a bowl. Gradually add it to the flour, kneading to form a tight dough for jeera puri.

Add some oil to the dough and knead for 5-7 minutes until it becomes smooth and stretchy.

Cover and let the dough rest for 10-15 minutes. Cut the dough into equal parts. Take one part, roll it into a log, and cut it into equal portions.

Take a lemon-sized ball, dusted with some flour, and roll it thinner than a chapati.

Heat oil for frying, add jeera puri, and fry on medium-high heat until crispy and golden brown on both sides. Remove and place on a wire rack. Repeat for all jeera puris.

Serve or store the jeera puri in an airtight container for an extended shelf life.
Notes
You can use wheat flour instead of maida.
Adding cumin (jeera) to hot oil gives an aromatic flavor to puri.
Knead a tight and smooth dough for jeera puri.
Knead the dough for 5 minutes until it becomes elastic, allowing you to roll thin puris.
Puris should be thin and rolled to an equal thickness.
Fry the puris on medium-high flame; do not fry them on low flame.
Subscribe to our Youtube Channel
Click here to subscribe our Youtube Channel and stay updated with our latest video recipes