Raw mango candy is yummy little squares made with raw mango pulp, sugar and regular spices. They are tasty and juicy squares that are totally addicting! The great thing about this recipe it is easy to make and you are not just limited to using mangoes, but you could also try it with other fruits. This condiment is a combination of juicy and tangy raw mango candies. Do try this!
The key to making tasty mango candy at home are
Firstly, I made candy with raw mango, you are not just limited to using mangoes but you could also try it with apples, plums, apricots, peaches, berries.
I would heavily recommend using juicy raw mangoes for this recipe. I.e. thotapuri are most preferred ones according to me.
The amount of sugar depends on the sourness of the mango. You can use mishri (Sakar) instead of sugar.
Lastly, the mango candy recipe tastes great when served in summer. It can be stored in the refrigerator in an airtight container for a week.
Please do visit my other related recipe collection like
Recipe video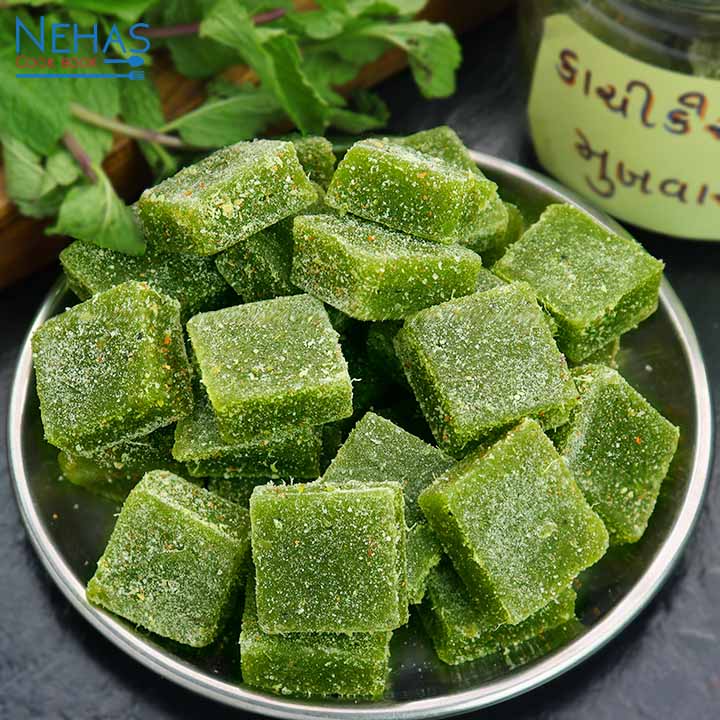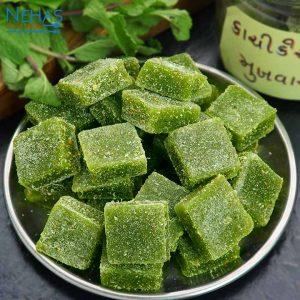 Kachi keri no mukhwas | raw mango candy | khatti meethi mango candy | mango toffee
Ingredients
600

grm raw mangoes

¼

cup

mint leaves

1

cup

or 200 grm sugar

1

tsp

cumin powder

½

tsp

black pepper powder

½

tsp

black salt

½

tsp

salt

Coated with – powder sugar and chat masala
Instructions
Peel and cut mangoes into small pieces.

Now in a mixture jar, add mango pieces, mint leaves, and some water. Grind it into a smooth paste.

Meanwhile, grease a plate with little ghee and keep it aside.

Now in a pan, add mango pulp, sugar, cumin powder, black pepper powder, black salt, and salt. mix well.

Place pan on gas and stir consciously.

cook on medium flame until the mixture starts to thicken and leaves the pan. it will take between 15 to 20 minutes depending on the water contained in the pulp.

Remove from the heat and pour immediately into a greased plate.

Allow to cool and Cover the mixture with a wire net and dry for 2 days or until it is set.

Once the candies are completely dry, cut them into small squares with a knife.

Lastly, they can be rolled in granulated sugar and chaat masala. The sugar makes them easier to store and stack, as it prevents them from sticking together.
Notes
Grind mango pieces and mint leaves into a fine paste.
you can use Mishri (sakar) instead of sugar.
cook mixture till water contains evaporates from it and it turns into lump form.
dry the mixture till it will not stick to your hands.
Subscribe to our Youtube Channel
Click here to subscribe our Youtube Channel and stay updated with our latest video recipes