Kathiyawadi style varadiya marcha is also called bharela marcha. Its combination of hot chilies and mild tangy stuffing makes it very flavourful. The stuffing is made from gram flour usually spiced with some Indian spices. Generally "bhavnagari green chili" was used to make this recipe, but if it is not available, I shared simple tips to decrease its spiciness. It is a really simple recipe and adds great taste to the meal. It is very popular in gujarati households and is usually served as a side dish with chapattis and dal.
Recipe Video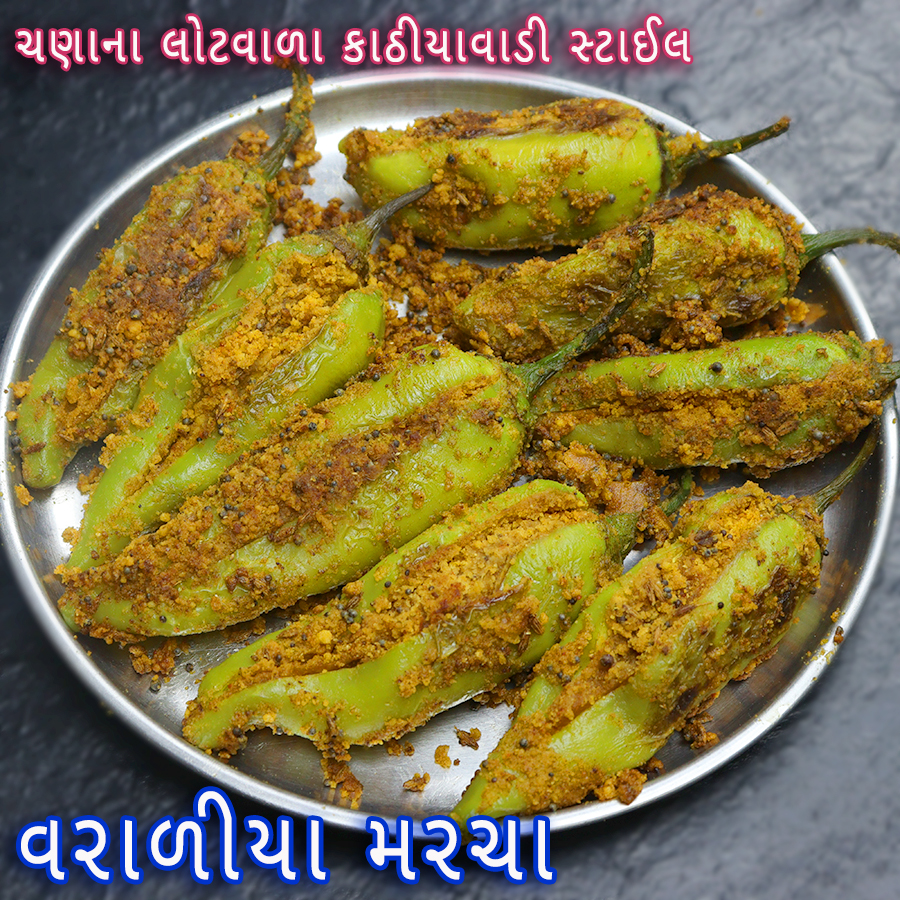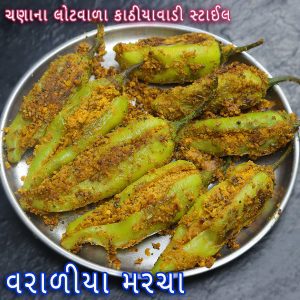 Kathiyawadi style varadiya marcha | how to make bharwa mirch | besan stuffed bharwa mirch
Ingredients
8-10

green chilli

Salted water

6

tbsp

oil

1

cup

gram flour

-

besan

½

tsp

turmeric powder

3

tsp

coriander powder

¼

tsp

of hing

3

tsp

sugar

Salt to taste

4

tsp

lemon juice

1

tsp

mustard seeds

1

tsp

cumin seeds

Water to sprinkle
Instructions
Firstly, make a slit on 8-10 green chili and remove veins and seeds of chilies.

Then in a bowl, take 2 cups hot water and add salt to it. Dip all chilies in it for 10-15 minutes.

In a pan, add 2 tbsp oil and 1 cup of gram flour in it. Roast till gram flour changes its color and turns aromatic.

Take roasted gram flour into a bowl and then add ¼ tsp turmeric powder, 3 tsp coriander powder, a pinch of asafetida, ½ tsp garam masala, 3 tsp sugar, 4 tsp lemon juice, salt to taste, and ½ tsp kashmiri red chili powder. Mix well. Then add oil and with your fingertip mix oil with gram flour.

Take out green chili from hot water and dry it. Then stuff masala into slits of chilies.

Heat 2 tbsp oil in a pan, add 1 tsp mustard seed, 1 tsp cumin seed, and a pinch of hing.

Add stuffed chilies and sprinkle some water on them. Cover and cook for 1-2 minutes.

When chilies are adequately cooked, then add ¼ cup gram flour masala and cook for another 1 minute.

Serve tasty bharela marcha with roti or dal.
Notes
Dip silted chili into hot salted water to decrease its spiciness.
Roast gram flour till it changes color.
The shelf life of masala is 8-10 days in the refrigerator.
Subscribe to our Youtube Channel
Click here to subscribe our Youtube Channel and stay updated with our latest video recipes