Lauki Vadi, also known as Dudhi Vadi or Bottle Gourd Fritters, is a delightful Maharashtrian dish. This delectable snack is not only a crispy and slightly spicy treat but also versatile enough to fit into any part of the day's menu, whether it's breakfast, lunch, or dinner. What's more, this culinary gem is a no-fuss recipe, requiring only a handful of readily available ingredients, making it a favorite go-to for those craving a quick and flavorful snack. Give it a try!
The key to making crispy lauki vadi at home are
Firstly, I prepared lauki vadi using a combination of grated dudhi (lauki), common spices, gram flour (besan), and added some rice flour to achieve a crispy texture.
I steamed the vadi in a deep vessel, creating pressure between the boiling water in the deep vessel and the plate, allowing the vadi to steam on the plate. Alternatively, you can use an idli steamer or kadai for this purpose.
Steam the vadi over a high-medium flame; avoid steaming them over low heat.
Fry the vadi over medium heat until they become slightly crisp. If you are conscious of your diet, you can also choose to shallow fry them.
Lastly, lauki vadi tastes best when served hot with green chutney.
Please do visit my other related recipe collection like
Recipe video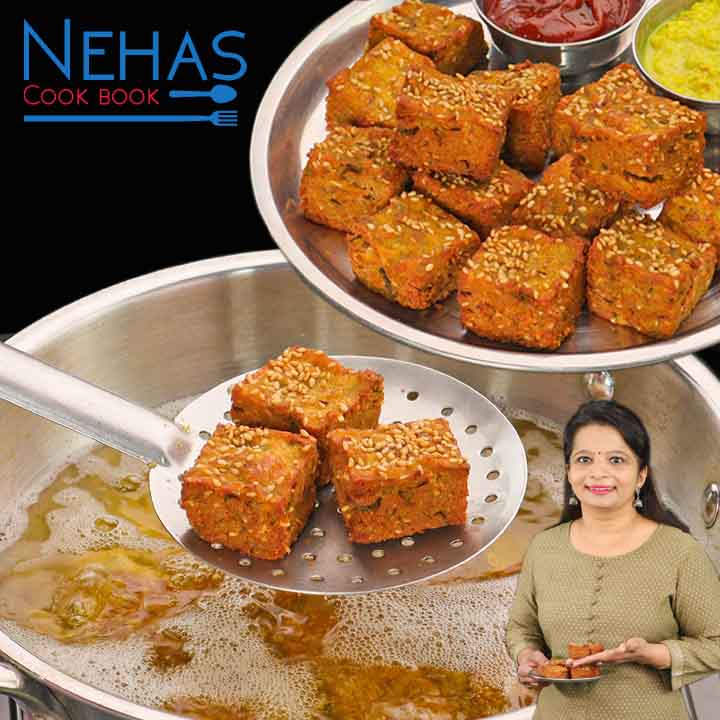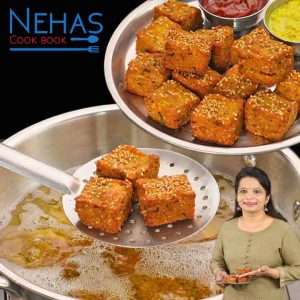 lauki vadi recipe | dudhi vadi | bottle gourd fritters
Ingredients
2

cups

grated lauki

-

dudhi / bottle gourd

4-5

spicy green chilli

1

inch

ginger

6-7

garlic cloves

1

tsp

cumin seeds

1.5

cup

besan

½

cup

rice flour

¼

tsp

ajwain

½

tsp

turmeric powder

Pinch

of hing

½

tsp

red chilli powder

½

tsp

garam masala

2

tbsp

sesame seeds

Salt to taste

Some chopped coriander leaves

1

tsp

jaggery

½

tsp

lemon juice

2

tbsp

oil

Oil for frying
Instructions
Wash and peel the lauki with a peeler. Then grate the lauki using a medium-sized grater.

In a mortar and pestle, combine green chilli, garlic cloves, cumin seeds, and a pinch of salt. Crush them into a coarse paste.

In a mixing bowl, add the grated lauki, coarsely crushed green chilli-ginger-garlic paste, besan (gram flour), rice flour, ajwain, turmeric powder, a pinch of hing (asafoetida), red chili powder, garam masala, sesame seeds, salt, chopped coriander leaves, jaggery, lemon juice, and oil. Mix everything well until you have a thick vadi mixture.

In a deep vessel, add 3 cups of water and bring it to a boil. Place a perforated plate over it and grease the plate with oil.

Spread the vadi dough onto the greased plate using slightly wet hands. Sprinkle some sesame seeds and press them lightly into the dough.

Cover and steam the vadi over high flame for 15 minutes or until a toothpick comes out clean when inserted.

Allow the cooked vadi mixture to cool down, then cut it into square pieces.

Heat oil over medium flame and fry the vadi pieces until they turn slightly golden brown on both sides.

Serve crispy lauki (dudhi) vadi with chutney or tomato sauce.
Notes
Grate the dudhi with a medium or small-sized grater.

Rice flour adds crispiness to the vadi.

Do not add excess water when binding the vadi mixture.

Pressure will build up between the boiling water and the plate, allowing the vadi mixture to cook easily on the plate.

Steam the vadi mixture over high flame for 15 minutes.

Fry the dudhi vadi on medium-high flame until it becomes crispy and turns slightly golden brown.
Subscribe to our Youtube Channel
Click here to subscribe our Youtube Channel and stay updated with our latest video recipes