Mohanthal is a popular Indian sweet, especially in the state of Gujarat. It is a fudge made with besan (chickpea flour), ghee, and sugar, often flavored with cardamom and nutmeg, and garnished with nuts. It has a grainy texture. I also add mawa/khoya to give it a halwai-style taste and texture. Mohanthal is commonly prepared during festivals like Diwali, Raksha Bandhan, and Holi, as well as on special occasions like weddings and family gatherings.
This recipe is incredibly straightforward, and I'm here to share the perfect ingredient ratios along with some fail-proof tips that will help you achieve the perfect Mohanthal on your very first try. Give it a shot; you won't be disappointed!
The key to making delicious Mohanthal at home are
First, use coarse besan flour for mohanthal. Roasting the besan (gram flour) is a crucial step in making perfect mohanthal. Roast the besan on low heat until it slightly changes color and becomes aromatic. Avoid roasting the besan on high heat, as it may burn and impart a bitter taste.
Second, I add some mawa to provide softness and a rich flavor to the mohanthal. Alternatively, you can use fresh malai as a substitute.
Lastly, for mohanthal barfi, it's essential to ensure that the sugar syrup reaches a one-thick string consistency. If the sugar syrup only reaches half-string consistency, the mohanthal will not set properly.
Please do visit my other related recipe collection like
Recipe video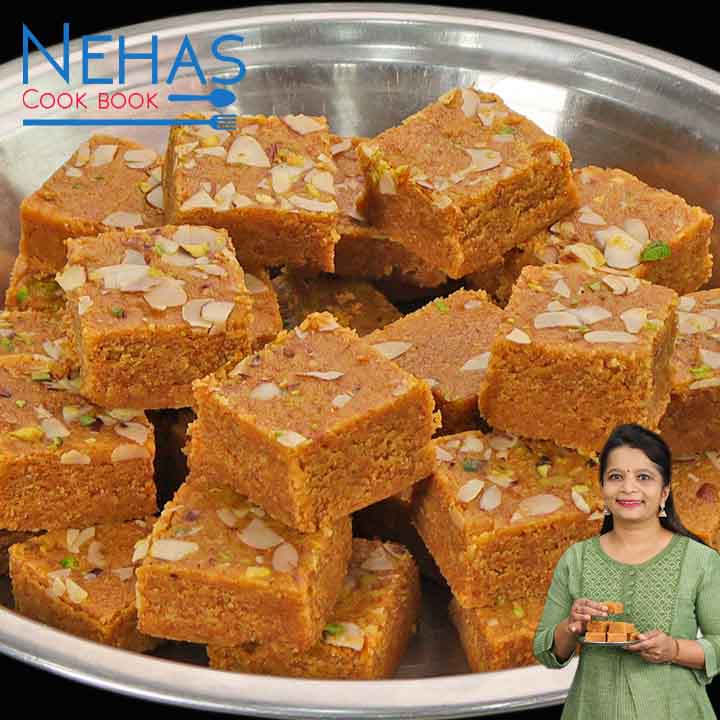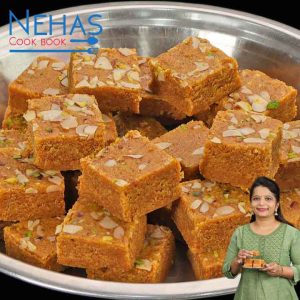 Mohanthal recipe | Halwai style mohanthal | Gujarati mohanthal
Ingredients
500

grm coarse besan

500

grm ghee

400

grm sugar

100

ml

or ½ cup milk

100

grm mawa

-

optional

½

tsp

cardamom powder

1/4

tsp

nutmeg powder

Pinch

of orange food color

-

optional

1

cup

water
Instructions
Making Danedar Besan:
Take coarse besan and place it in a mixing bowl.

In a pan, combine 100 grams of ghee and 100 grams of milk. Heat the mixture.

Pour the hot mixture into the besan and crumble it, mixing until the besan becomes moist.

Continue to rub and work the mixture until the besan reaches a grainy texture.

Cover the mixture and let it rest for 30 minutes.

After resting, sieve the besan using a sieve with large holes. Set it aside.
Roasting Besan for Mohanthal:
In a large kadai, add half of the 400 grams of ghee (approximately 2.5 cups).

Add the coarse besan and roast it over low flame.

When the besan is slightly roasted, add the remaining ghee in batches and stir continuously until the besan changes its color.

After roasting for 10-12 minutes, the besan will turn golden brown, and ghee will start releasing from the sides.

Now, add ½ cup of mawa and mix continuously. The mixture will become frothy, forming a more grainy texture.

Continue cooking the besan until the mawa is completely absorbed.

Switch off the heat and let the roasted besan mixture cool down.
Making Sugar Syrup:
In a pan, add 400 grams (2 cups) of sugar and 1 cup of water.

Boil the mixture until it reaches a thick string consistency of sugar syrup.

Optionally, add a pinch of saffron food color and mix well to enhance the color of the burfi.

Add the sugar syrup to the roasted besan mixture and mix thoroughly to ensure the besan is well combined.

Stir continuously until the mixture starts to separate from the pan (refer to the video).

Also, add ½ tsp of cardamom powder and ¼ tsp of nutmeg powder. Mix well.

Transfer the mixture into a tray lined with baking paper.

Tap and level it to create an even top, and garnish with almond and pistachio slits.

Let it rest for 6 hours, or you can refrigerate it to set more quickly.

Once the burfi has set completely, unmold and cut it into pieces.

Finally, enjoy Mohanthal for 10-15 days when refrigerated.
Notes
Use coarse besan for mohanthal.
The proportion of ghee should be equal to the amount of besan in grams.
Mixing hot ghee and milk creates a coarse and granulated texture in the besan.
Cook the mixture until the besan slightly changes its color.
You can use fresh malai as a substitute for mawa.
Achieve a 'one-thread' consistency in the sugar syrup for mohanthal.
Subscribe to our Youtube Channel
Click here to subscribe our Youtube Channel and stay updated with our latest video recipes