Mohanthal, a traditional Gujarati sweet, holds a special place in the hearts of those with a penchant for rich, flavorful desserts. Among its various regional variations, Jaggery Mohanthal stands out as a delightful specialty hailing from the western state of Gujarat, India.
To make Jaggery Mohanthal, the process begins with roasting chickpea flour, also known as "besan," in ghee until it exudes a nutty aroma and turns a beautiful golden color. The roasted besan is then combined with jaggery and an assortment of aromatic spices, such as cardamom. This amalgamation of flavors creates a symphony of tastes that dance on the taste buds. The mixture is then carefully set in a greased tray and left to cool and solidify. Afterward, it is cut into diamond-shaped or square pieces, depending on personal preference.
I will share the perfect ingredient ratio and a few tips to make perfect Mohanthal with jaggery on your first attempt. Do try this!
Please do visit my other related recipe collection like
Recipe video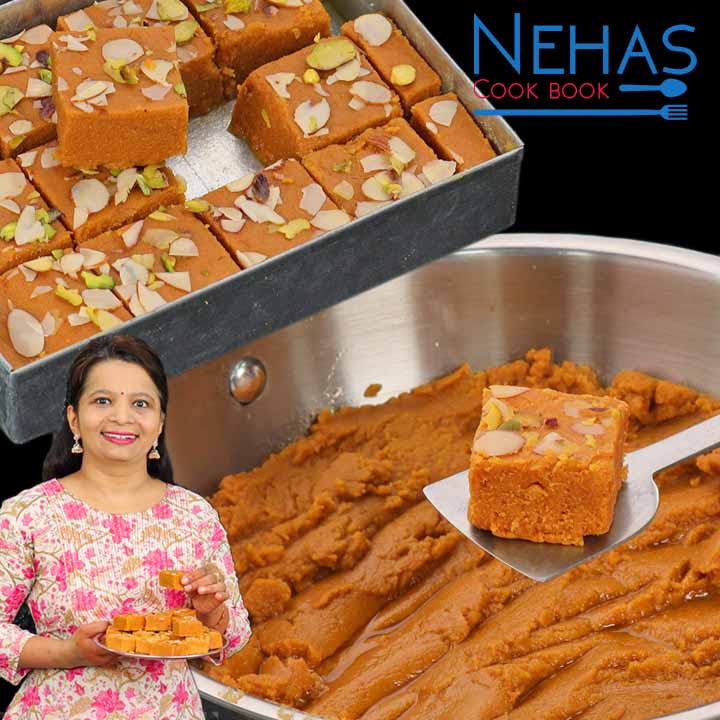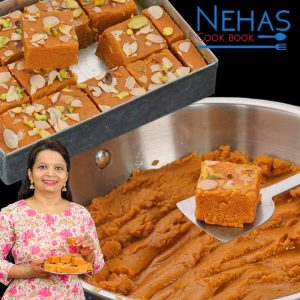 Mohanthal recipe | mohanthal with jaggery | how to make mohanthal
Ingredients
1

cup

melted ghee

2

cups

fine besan

-

gram flour

1

cup

malai

3

tbsp

milk

¾

cup

jaggery or as per your taste

½

tsp

cardamom powder

Garnish with almond and pistachio slits
Instructions
In a kadai, add 1 cup ghee and 2 cup besan. Mix well.

Besan absorbs ghee and become slightly liquidy.

Now add 1 cup malai and mix well.

Mixture become slightly coarse and danedar. Stir consciously on low flame.

Now add 3 tbsp milk gradually into hot mixture.

Then mixture become slightly frothy.

Stir consciously till besan changes its color and become aromatic.

When besan changes its color, switch off gas. Stir for 1 minutes.

Add jaggery and cardamom powder. Mix well.

Then jaggery melts and mixture become thick.

Spread mixture into grease plate and cool down for 2 hrs.

Mohanthal is properly set, then cut it into square shape.
Notes
Use fine besan for mohanthal.
The proportion of melted ghee should be half of the besan.
Malai gives a coarse and dhanedar texture to besan.
Cook the mixture till the besan slightly changes its color.
Cut jaggery into small pieces, so it will easily melt into the mixture.
Switch off the gas and add jaggery to the mixture.
Subscribe to our Youtube Channel
Click here to subscribe our Youtube Channel and stay updated with our latest video recipes