Naan bomb is a non-fried snack recipe prepared with wheat flour and pizza-flavored stuffing. Generally, naan bombs are baked in the oven, but in this recipe, I cooked them in a regular tawa or tea pan. it is the perfect tea time snack served with chutney or tomato sauce. They are soft, spongy, and cheesy from the inside and you will never be able to stop yourself from eating just one. It is definitely very addictive. Do try this!
The key to making tasty naan bomb at home are
Firstly, for the outer layer of naan bomb with wheat flour to make it healthier. You can use all-purpose flour (maida) instead of it.
In stuffing, you can add veggies of your choice to make them nutritious. Also, adjust the amount of spice level according to your taste.
i have used iron tawa with naan bomb stuck to the base of it. you may also use your tea pan or old pressure cooker and stick the naan bomb to the sides of it. make sure not to use nonstick tawa as the naan bomb will slip and will not stick to tawa.
lastly, once the naan bomb is cooked or baked, apply butter and seasoning on top of it, so that it does not become brittle. do not apply before cooking or while it is cooked.
Please do visit my other related recipe collection like
Recipe video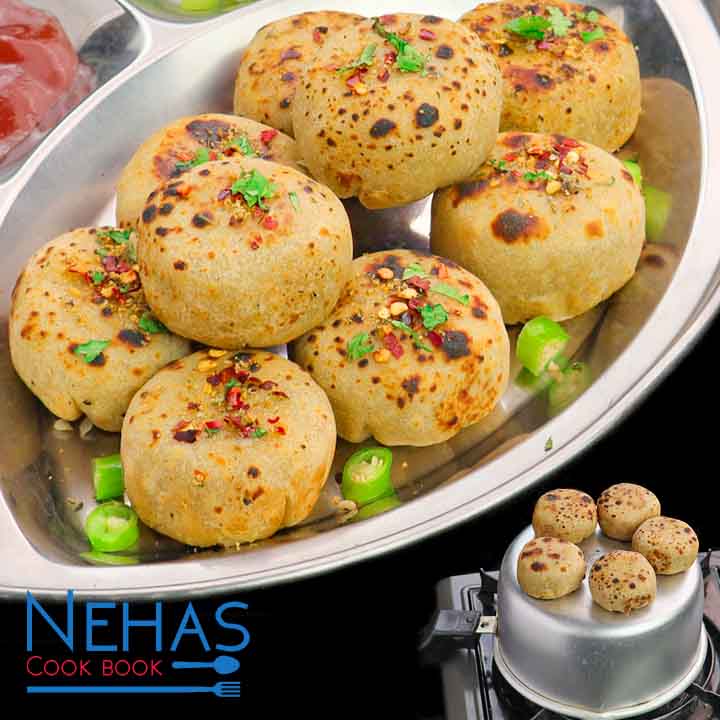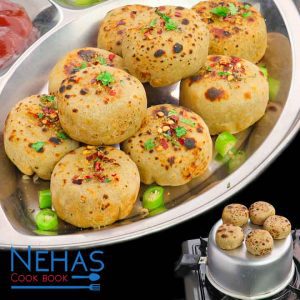 Naan bomb recipe | stuffed naan bomb | naan bomb without oven | snacks recipe
Ingredients
For stuffing
2

tbsp

oil

¾

cup

chopped onion

¾

cup

boiled corn

¼

cup

green capsicum

¼

cup

red capsicum

-

optional

¼

cup

yellow capsicum

Salt to taste

½

tsp

black pepper powder

1

tsp

red chilli flakes

1

tsp

oregano

½

cup

coriander leaves

½

cup

mozzarella cheese
For naan bomb
2

cup

wheat flour

Salt to taste

½

cup

curd

1

tsp

sugar

2

tbsp

oil

1

packet eno

6-7

tbsp

water or as required

Stuffing

Garnish with butter

-

red chilli flakes and oregano
Instructions
In a mixing bowl, add wheat flour and salt. Mix well and make well into the center.

Now in the center, add curd, sugar, oil, and lemon flavor eno. Mix well.

Then add water gradually and knead the soft and starchy dough for the outer layer.

Now cover and rest the dough for 30 minutes.

Then in a pan, add 2 tbsp oil and chopped onion. Sauté till the onion is slightly translucent.

Now add ginger-garlic paste and chopped green chili. Sauté it.

Then add boiled corn, red-yellow-green capsicum, and salt. Sauté vegetables on high flame.

Now add black pepper powder, red chili flakes, and oregano. Mix well.

Switch off the gas and cool down the stuffing.

Then add coriander leaves and cheese. Mix well.

Stuffing is ready.

after resting time, knead the dough again making sure the dough is soft.

Divide the dough into two parts. Take one part, sprinkle some dry flour on it and roll it into a big size roti. Then cut it into a round shape with a lid.

Then roll the edges of the round shape puri and make it slightly thin. (refer to video)

Now place 1-2 tbsp stuffing into centre. make a plate and seal the stuffing. Also gave a round bomb shape to it.

heat the tawa or tea pan on medium flame, and once the tawa is hot apply some water to the back side of the naan bomb and transfer then onto the tawa.

make sure the waterside is facing down. press gently, so that the naan bomb sticks to the pan.

cook for 2 minutes on low flame or until the naan bomb partially puffs up and the base gets cooked up.

now flip the tawa onto the flame and cook until the naan bomb is cooked uniformly.

don't worry if some black spots are appearing. it gives a tandoor effect.

scrape the naan bomb and make sure it is cooked completely from all sides.

finally, apply some butter and sprinkle some red chili flakes and oregano on the cooked naan bomb.

Serve naan bomb with tomato ketchup or mayonnaise.
Notes
You can use maida (all-purpose flour) instead of wheat flour.
Sugar helps to ferment the process into the dough.
You can use baking powder and baking soda instead of ENO.
Knead the soft and starchy dough for the outer layer of the naan bomb.
Stir fry vegetables on high flame. Do not overcook it.
Roll puri sides into slightly thin. Remove extra dough from the upper side and seal naan bomb properly.
Apply some water to the backside of naan bomb, so it will stick to hot tawa.
Cook lower side on low flame.
Flip tawa and cook the upper side of naan bomb on medium flame.
Naan bomb taste great when it is served hot
Subscribe to our Youtube Channel
Click here to subscribe our Youtube Channel and stay updated with our latest video recipes