Papad chavanu is an easy and market-style namkeen recipe where all the ingredients are deep-fried and tossed with a spice mixture. It is originated in the city of Khambhat, in Gujarat, and now popular all over India. In this recipe, I made a special masala mix that gives market-style 'chatpata' and a balanced flavor of sweet and tangy chavanu. It has a very long shelf life and can be stored in airtight containers for months. It is extremely simple and can be prepared within minutes. So, do try it!
The key to making market-style papad chavanu at home are
Firstly, ensure to use crisp and fresh puffed rice for chavanu. Dry roast or give some sunlight if the puffed rice is slightly soft. Also for the market-style chavanu texture, I fry murmura in oil, but instead of it, you can roast it with masala.
Secondly, I made a special spice mix, which gives chatpata and a balanced flavor of sweet and tangy to chavanu. In spice mix, you may vary the number of spices according to your taste. Also, I roast spice mix in slightly hot oil and then add it to fried poha. This process gives perfect masala coating in chavanu namkeen.
Lastly, store the papad chavanu in an airtight container once cooled completely; else the moisture may turn the murmura soggy.
Please do visit my other related recipe collection like
Recipe video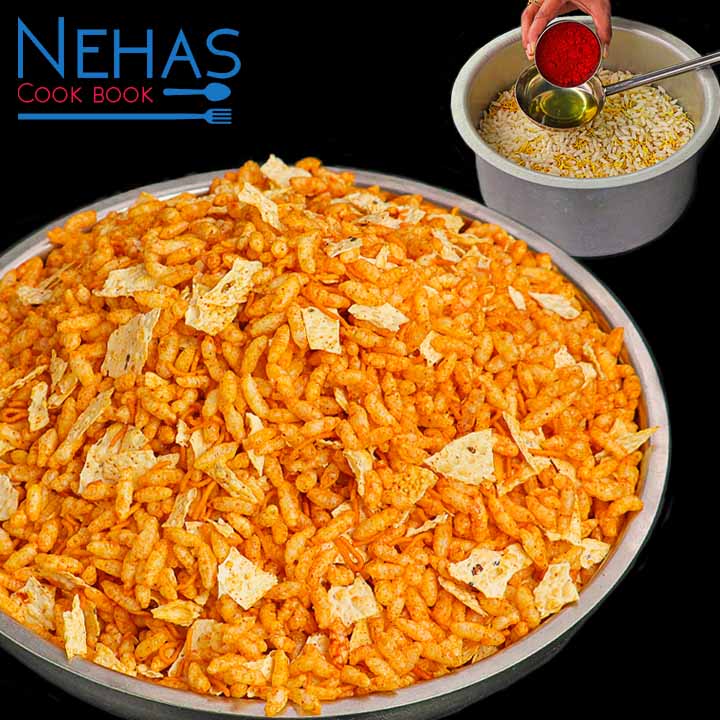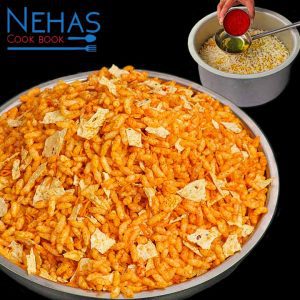 Papad chavanu recipe | papad chivda recipe | Khambhat famous papad chavanu | papad nu chavanu
Ingredients
For special masala
1

tsp

turmeric powder

2

tbsp

Kashmiri red chilli powder

1

tbsp

spicy red chilli powder

½

tsp

hing

Salt to taste

½

tsp

black salt

Pinch

or ¼ tsp citric acid

-

or 1 tsp dry mango powder

4

tbsp

sugar
For besan sev
1

cup

besan

Salt to taste

¼

tsp

black pepper powder

¼

tsp

turmeric powder

1

tbsp

hot oil

¼

cup

water or as required

Oil for frying
For papad chavanu
250

grm murmura

12

urad papad

2.5

cup

besan sev

3

tbsp

oil

Prepared spice mix

Powder sugar

Oil for frying
Instructions
Making spice mix for chavanu
In a mixture jar, add turmeric powder, Kashmiri red chili powder, spicy red chili powder, hing, black salt, salt to taste, and limbu na Phool. Grind it into fine powder. Keep it aside.

Then in a mixture jar, add sugar and grind it. Keep it aside.
Making besan sev
Then in a mixing bowl, add besan, salt, black pepper powder, turmeric powder, and hot oil. add water gradually and knead the soft dough for sev.

Now slightly wet your hand and rub the dough for 2-3 minutes till it slightly changes its color. (refer to video)

Then grease the hand with little oil then smooth out the dough.

Add sev dough into sev maker machine with a small size hole disk. Grease the inside of it with little oil.

Now fill the container with prepared dough and close it tightly.

Now heat the oil. Once the oil is hot enough hold the machine over the pan. Turn the handle and a thin sev will come out. As the sev falls into the oil, slowly move the machine into a circular motion.

As you complete one circle, stop there and reverse the handle a bit to stop the sev from coming out.

Fry sev from both sides and then remove from oil and place it on wire rack.

Now crush slightly fried sev and keep it aside.
Making papad chanavu
heat oil, and fry murmura in batches on medium-high flame till they are expanded in the size. No need to brown them.

Keep frying and keep collecting them in a bowl till you are finished with all the murmura.

Now fry papad on medium heat. Do not over-fry it. Keep it aside.

Then in a fried murmura bowl, add besan sev and mix well

Now in a tadka pan, add 3 tbsp oil and heat it. Cool down slightly and add masala mix into the oil and mix well.

Then add masala into the murmura-sev mixture and mix well. the mixture is properly coated with the masala.

Now add powdered sugar and mix well.

Then add medium size papad pieces and Mix well.

Let it cool down completely.

Serve or store papad chavanu in an air-tight container.
Notes
Limbu na Phool (citric acid) gives market style taste to chavanu. You can use amchur powder instead of limbu na Phool.
Do not add sugar while grinding masala.
Fry murmura on the medium-high flame so it will nicely puff up. Do not fry it on low flame.
Mix masala into slightly hot oil, so it will properly coat to murmura and sev
cut papad pieces into medium size.
Papad chavanu tastes great when it is properly coated with masala and balanced flavor or sweet and spicy.
Subscribe to our Youtube Channel
Click here to subscribe our Youtube Channel and stay updated with our latest video recipes