Peanut chikki or sing chikki is one of the popular indian sweet recipes prepared with brown or sticky jaggery and roasted peanuts. It is a very easy chikki recipe made from only 2 ingredients. It is made in winter as jaggery helps in relieving cough and other cold symptoms usually found during the months of November, December and January in India when the weather is cold. Thus, Chikkis is actually standard for enjoying sweets during these months in almost all households.
If you are a beginner or making chikki first time then with this easy-to-make recipe you can make crispy and soft sing chikki on the first attempt. Do try it this season!
Please do visit my other related recipe collection like
Recipe video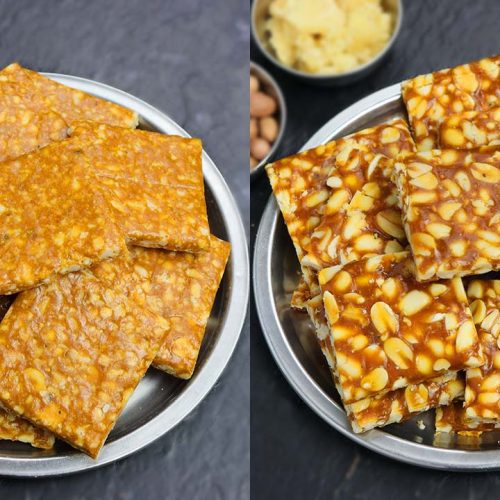 Peanut Chikki Recipe | sing dana chikki |  Moongfali Chikki | sing dana chikki
Ingredients
400

gram

or 4 cup peanuts

-

200 grm for each chikki

400

grams

or 4 cup chopped jaggery

-

200 grm for each chikki

2

+ 2 tsp ghee

½

+ ½ tsp cardamom powder
Instructions
In a pan, add 4 cups of peanuts and dry roast them on low flame for 2-3 minutes.

Switch off the flame and remove the cover of the peanuts with a kitchen towel.

Divide peanuts into 2 parts. The First 2 cups of peanuts break into pieces and second 2 cups of peanuts grind to a coarse powder.

Now in a pan, add 2 tsp ghee and add 2 cups of jaggery.

Keep stirring on medium flame till the jaggery melts completely.

Boil the jaggery syrup on low flame till the syrup turns glossy and thickens.

check the consistency, by dropping syrup into a bowl of water, it should form a hardball. Cook syrup for 1 minute for its darker color.

Switch off the gas, and add cardamom powder.

Do the same for another type of chikki.

Then add peanuts and peanut powder in different jaggery syrup.

Stir well making sure the jaggery syrup coats well. Then immediately pour the mixture over butter paper or onto a steel plate greased with ghee. be quick else the mixture turns hard and will be difficult to set.

Get together form a block, and then roll chikki with a rolling pin.

When it's still warm cut it into pieces. Then cool down chikki for at least 30 minutes.

Serve peanut chikki, or store in an airtight container and serve for a month.
Notes
proportion of peanut and gud should be equal in grams.
dry roast til on medium flame.
ghee gives shine and softness to chikki.
cook jaggery till it changes its color.
roll and cut chikki while its mixture is slightly hot.
Subscribe to our Youtube Channel
Click here to subscribe our Youtube Channel and stay updated with our latest video recipes