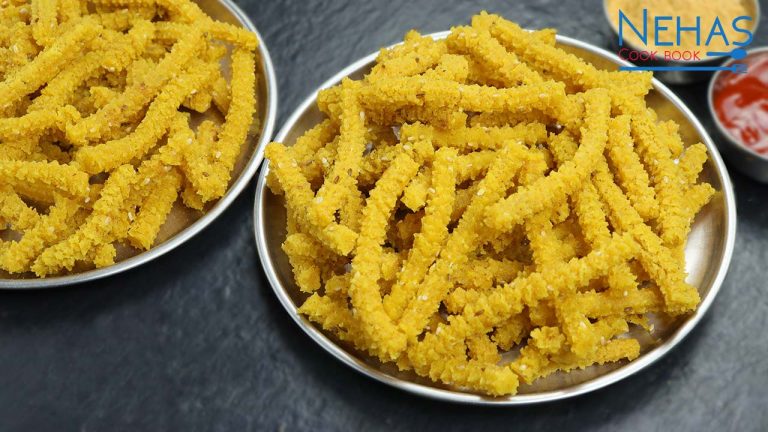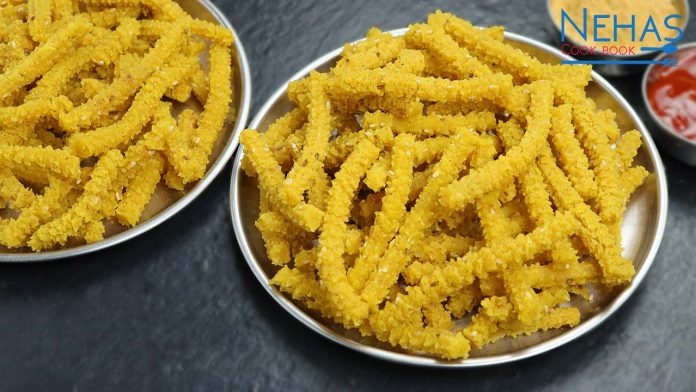 Poha sticks are crispy and tasty snacks made with poha, semolina (sooji), and regular spices. You can serve it as a tea-time snack with tomato ketchup. Sevai machine is used to prepare poha sticks at home. I recommend using star shape mold to make poha sticks. But in case, if you do not have sevai machine then with your hand make long strips from dough and cut it into equal size.
It is crispy, crunchy, and liked by all age groups. It also has a very long shelf life and can be store in an airtight container for months. Do try this!
Similar recipe collection
Watch video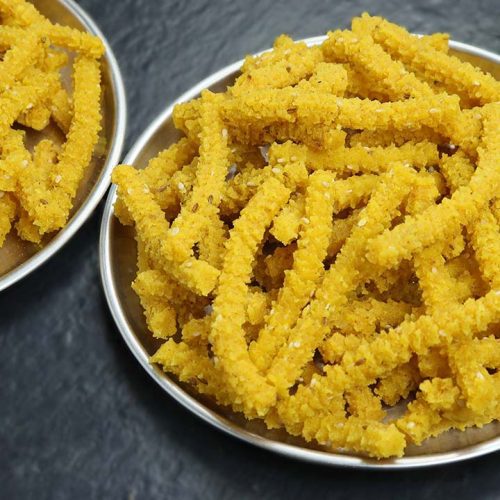 Recipe card for poha stick
Ingredients
2

cup

water

1

cup

fine rava

2

cup

poha

1

tbsp

ghee

¼

tsp

turmeric powder

1

tsp

red chilli powder

Salt to taste

Pinch

of hing

1

tsp

cumin seeds

2

tsp

white sesame seeds

½

water to knead dough or as required

Oil for deep frying

Chaat masala
Instructions
In a pan, add 2 cups of water and bring it to a boil.

Add rava gradually and cook till rava absorb water and form into dough.

Add ghee and mix well with rava. Cover rava for 2-3 minutes.

Now, in a mixture jar, add poha and grind it into fine powder.

Then in a mixing bowl, add poha powder, rava, turmeric powder, red chili powder, salt, hing, cumin seeds, and white sesame seeds. Mix well

Add slightly hot water gradually and make semi-soft and smooth dough.

Now divide dough into two equal parts and make a cylindrical shape out of dough.

Then take star mould and fix it to the chakli maker. Grease the chakli maker with some oil. this prevents the dough from sticking to mould.

add dough into grease chakli maker and close the lid.

Then tighten the lid and start preparing poha sticks on the grease surface.

Heat oil in a pan, add poha sticks into the hot oil.

flip the sticks and fry on medium flame till they turn crispy from both sides.

Furthermore, drain over a plate to remove excess oil.

Sprinkle some chaat masala on the top of fried poha sticks.

Once all poha sticks cooled enjoy them or store them in an airtight container for 15 days.
Notes
use fine rava for making poha stick.
ghee gives softness to poha sticks.
for soft and smooth dough, knead it for 2-3 minutes.
fry poha stick on medium flame.