Rice papdi, also known as chawal papdi or rice flour crackers, is a delightful and popular snack in Indian cuisine. It is made with rice flour, soaked moong dal, and a blend of traditional spices. These crackers are crisp, boasting a texture similar to the well-loved Gujarati farsi puri, but with a longer shelf life. This crispy treat is not only delicious but also versatile, making it a favorite among people of all ages.
I'm here to share the perfect ingredient ratio and a few fail-safe tips that will help you create perfect rice flour papdi on your first attempt. Give it a try!
The key to making crispy rice flour papdi at home are
Firstly, for the papdi dough, use fine rice flour and avoid coarse rice flour. The papdi should be slightly thin and crispy, and you can achieve that with fine rice flour.
I have added butter to make the papdi crispy and soft. Make sure to rub the butter properly into the dough. Alternatively, you can use hot ghee instead of butter.
The papdi should be smooth and semi-soft. Also, use slightly hot water while kneading the dough so that the rice flour easily absorbs it.
Lastly, store these in an airtight container for a longer shelf life. They should easily last for 1 month without losing their crispiness.
Please do visit my other related recipe collection like
Recipe video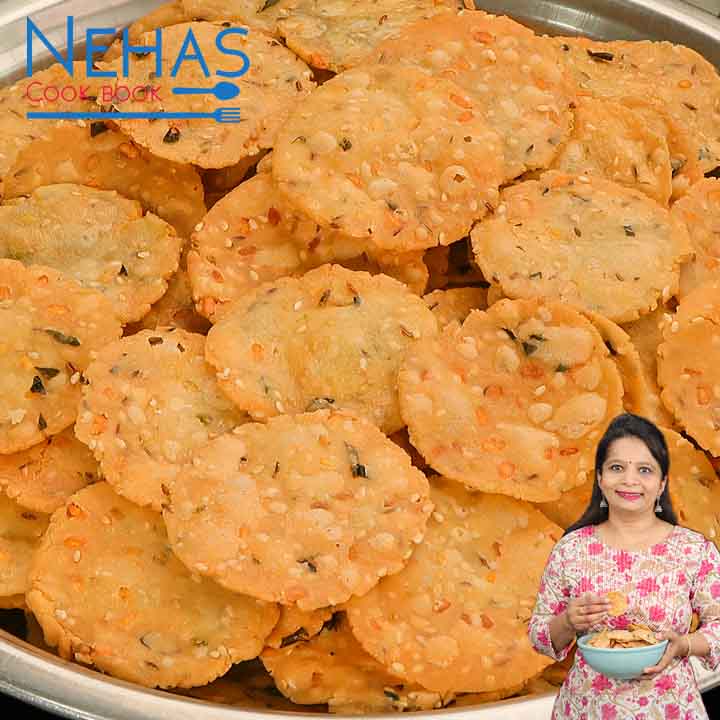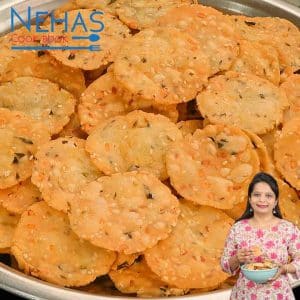 Rice papdi recipe | chawal ki papdi | chawal ki mathri
Ingredients
500

grm or 4.5 tight packed rice flour

100

grm or 8 tbsp butter

2

tbsp

cumin seeds

3

tbsp

white sesame seeds

¼

cup-soaked moong dal

2

tbsp

or 5-6 green chilli paste

1

tbsp

ginger paste

2

tbsp

chopped curry leaves

Salt to taste

2

cup

hot water or as required

Oil for frying
Instructions
In a mixing bowl, combine rice flour and butter. Mix thoroughly, and then use your hands to rub the butter into the rice flour until the texture becomes crumbly and binds together.

Next, add cumin seeds, white sesame seeds, soaked moong dal, green chili paste, ginger paste, chopped curry leaves, and salt. Mix everything together.

Gradually add 2 cups of slightly hot water and knead the mixture into a smooth, semi-soft dough for making papdi.

Take a plastic sheet or a zip-top bag and grease it with oil.

Place small, ball-sized portions of the dough onto the greased surface. Flatten them using a bowl or cup. Repeat this process for all the papdi.

Carefully place the papdi into hot oil, ensuring the flame is set to medium heat. Do not fry the papdi on low heat.

Fry the papdi on both sides over medium heat until they turn golden and crisp.

Remove the fried papdi and place them on a wire rack to allow excess oil to drain off.

Finally, store the rice papdi in an airtight container and enjoy them for up to 1-2 months.
Notes
Use fresh and fine rice flour for the papdi dough.
Ensure the butter is at room temperature.
To make khasta papdi, use butter or hot ghee; do not use oil as a substitute.
Use hot water while kneading the papdi dough; do not use cold water.
Fry the papdi on medium flame; avoid frying on low flame, as it may become hard.
Subscribe to our Youtube Channel
Click here to subscribe our Youtube Channel and stay updated with our latest video recipes