Sev Khamani is a delicious, tangy, and spicy dish made from chana dal, various spices, and topped with sev and chutneys. It is a popular Gujarati snack served as an appetizer or evening snack. In this recipe, instead of the traditional method, I prepared chana dal dhokla, crumbled it, coated it with tempering, and garnished it with sev and pomegranate seeds. This quick and easy recipe tastes just as good as the traditional style sev khamani, making it a great option for those short on time or new to cooking and wanting to try making a traditional Gujarati snack. Do give it a try!
The key to making tasty sev khamani at home is:
Firstly, the chana dal batter is critical to this recipe. It should be thick and pourable. Do not add more water while grinding the batter because if the batter is thin, the dhokla may be slightly sticky.
Secondly, for soft and fluffy dhokla, I have added Eno fruit salt, which can be easily replaced with baking soda if you prefer. However, I would strongly recommend skipping turmeric as it may react with baking soda and result in pink spots.
Lastly, sev khamani tastes great when it is slightly spicy, sweet, and sour, and served with green chutney.
Please do visit my other related recipe collection like
Recipe Video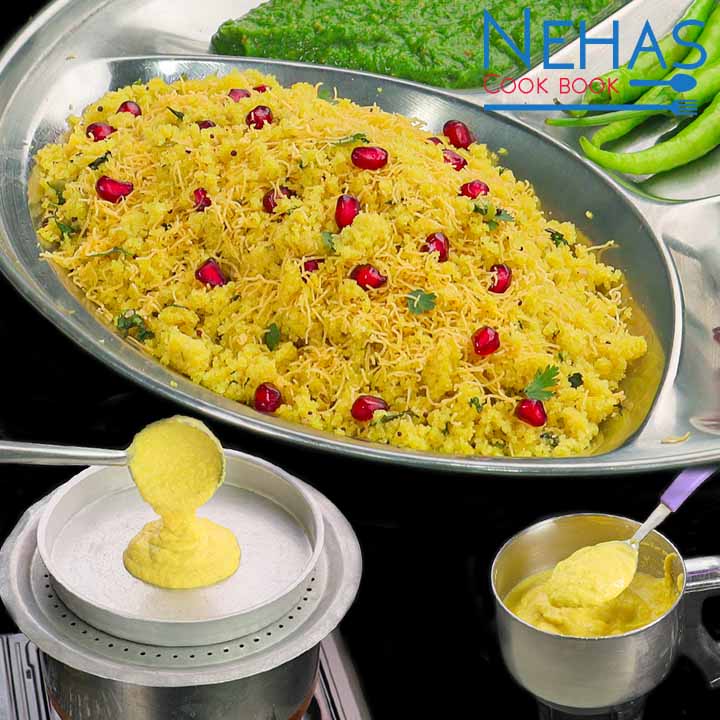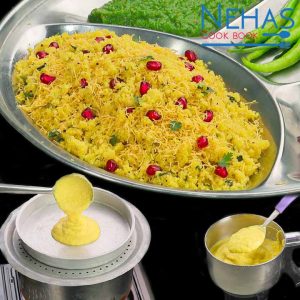 Sev khamani recipe | instant surti sev khamani recipe | Gujarati sev khamani recipe
Ingredients
½

cup

soaked chana dal

2

green chilli

1

inch

ginger

3-4

garlic cloves

Salt to taste

Pinch

of hing

1/8

or pinch of turmeric powder

Pinch

of limbu na phool or 1 tsp lemon juice

2

tbsp

sugar

¼

cup

water for grinding dal
For tempering
2

tbsp

oil

½

tsp

mustard seeds

½

tsp

sesame seeds

Pinch

of hing

Some curry leaves

2

chopped green chilli

¼

cup

water

1

tbsp

sugar

Pinch

of salt

Some coriander leaves
Instructions
Wash and soak chana dal for 5-6 hours.

Drain the water from soaked chana dal and add it into a mixer jar.

Add green chilli, ginger, garlic cloves, salt, hing, a pinch of turmeric (do not use more), a pinch of limbu na phool, sugar, and ¼ cup of water to the mixer jar.

Grind the mixture into a thick and coarse paste.

Take out the mixture into a mixing bowl and whisk it for 2 minutes.

Cover the batter and let it rest for 25-30 minutes.

Add Eno fruit salt into the batter and mix it in one direction.

Grease a mould or plate with oil and pour the batter in it.

Steam in an idli-dhokla steamer or kadai on high flame for 12-15 minutes.

Once done, take out the plate from the steamer and allow it to cool for 5-10 minutes.

Crumble the dhokla evenly with a grater.

In a pan, add oil, mustard seeds, white sesame seeds, hing, curry leaves, green chilli pieces and sauté it.

Then add water, sugar, and a pinch of salt. Bring it to boil for 2-3 minutes till the sugar completely dissolves.

Add the crumbled dhokla mixture and mix well.

Finally, add coriander leaves and mix well.

Serve and garnish with sev and pomegranate seeds.
Making chutney:
In a mixer jar, add coriander leaves, mint leaves, ginger, green chilli, cumin seeds, salt, sugar, lemon juice, and dhokla pieces.

Add some ice cubes or cold water and grind it into a smooth paste.

The chutney is now ready.
Notes
Soak chana dal for 5-6 hrs.
use only a pinch of turmeric powder, otherwise it more proportion create red spots in dhokla.
You can use lemon juice instead of limbu na phool.
Do not use more water while grinding batter.
Batter is slightly coarse and thick.
Whisk batter for 1-2 minutes so it will become light and fluffy.
If batter is thin, add some fine rava in it.
Steam dhokla on high flame for 12-15 minutes.
Cool down cooked dhokla completely, then crumble it.
Adding some sugar into tempering helps to sev khamani moist after it cools down.
Sev khamani taste great when it is slightly spicy, sweet and sour.
Subscribe to our Youtube Channel
Click here to subscribe our Youtube Channel and stay updated with our latest video recipes