Shrikhand is a popular Indian dessert made by straining yogurt and mixing it with sugar, saffron, dry fruits, and other flavorings. There are many types of shrikhand recipes which share the common base of hung curd. Hung curd is made by removing excess water from yogurt or curd by hanging it or placing it over a strainer so that the whey or curd water is drained. Shrikhand is a perfect combination of sweet, creamy, and tangy flavors that can be enjoyed on its own or paired with poori or even chapati. Do try it!
The key to making creamy shrikhand at home is:
Firstly, use fresh, thick and creamy curd for a rich flavor. It is recommended to use homemade curd because it is fresh and less sour in taste.
The amount of sugar depends on the sourness of the curd, and sugar is subject to individual taste preference, so you can increase or decrease its proportion accordingly.
Adding arrowroot powder (or corn flour) can give thickness to the shrikhand mixture. Alternatively, you can add some milk powder for richness and thickness.
Lastly, store the shrikhand in the fridge so that it does not turn sour. It tastes great when served chilled.
Please do visit my other related recipe collection like
Recipe video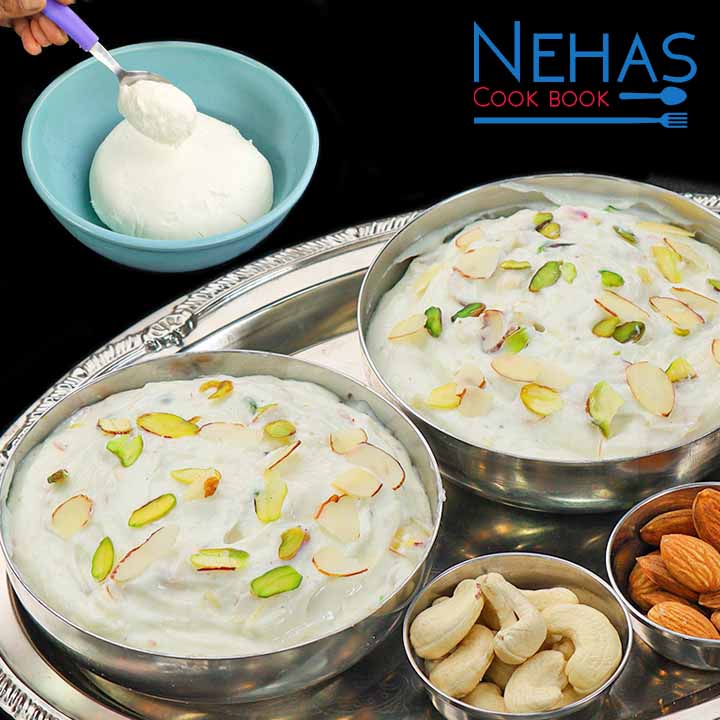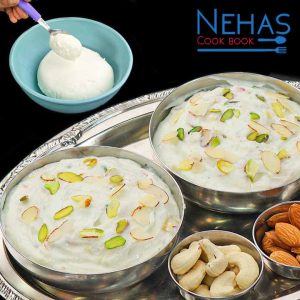 Shrikhand recipe | market style shrikhand recipe | how to make shrikhand | dry fruit shrikhand
Ingredients
For homemade curd
1.5

litre milk

2

tbsp

curd
For dry fruit shrikhand
Homemade Curd

4

tbsp

homemade malai

2

Tbsp

cornflour

some Strands of Saffron / Kesar

¾

Cup

Powdered Sugar or according to your taste

1/2

Tsp

Cardamom Powder

¼

tsp

jayphal powder

3

tbsp

almond slits

3

tbsp

cashews pieces

2

tbsp

pista slits
Instructions
To make shrikhand:
In a pan, add milk and bring it to a boil.

Lower the flame and let the milk boil for 5-10 minutes, until the water evaporates and the milk is slightly thick.

Switch off the gas and bring the milk to a lukewarm temperature.

In a bowl, add 2 tbsp curd and some milk. Mix well and add the mixture into the lukewarm milk.

Mix everything well and cover the bowl. Keep it in a dark place for 5-6 hours until the curd sets.

Refrigerate the curd for 2 hours before proceeding further.
To make dry fruit shrikhand:
Place a fine mesh strainer over a deep bowl and spread muslin cloth over the strainer.

Put the curd on the cloth and make a knot. Place some weight on it and cover the strainer.

Keep the strainer along with the bowl in the refrigerator for 12 hours. Water from the curd will drain into the bowl.

Take out the hung curd in a bowl and whisk it for 3-4 minutes until it becomes smooth and creamy.

In a separate bowl, mix malai and corn flour well.

Add powdered sugar and malai mixture to the shrikhand and mix well.

Add the soaked saffron strands, chopped dry fruits, jayphal powder, and cardamom powder. Mix well.

Put the shrikhand in the refrigerator for 1-2 hours.

The dry fruit shrikhand is ready to eat!
Notes
for thick curd, boil milk for 5-7 minutes, so water evaporate and milk become thick and creamy.
use cotton cloth to strain water from curd.
while water strain from curd, curd will remain in the refrigerator.
do not use electric blender while smoothing hung curd.
Arrowroot powder (tapkir) gives thickness to shrikhand.
Add some milk powder if shrikhand base is slightly sour.
Shrikhand taste great when it is serve chilled.
Subscribe to our Youtube Channel
Click here to subscribe our Youtube Channel and stay updated with our latest video recipes