Surti makhania biscuit is a popular tea-time snack, also known as makhan biscuit or jeera butter biscuit. It is a wholesome snack with a crisp exterior and a soft interior, making it an indulgent treat that can be enjoyed anytime. It has a mildly salty taste and a distinctively buttery flavor that is hard to resist.
I am sharing the perfect ingredient ratio and a few fail-proof tips to help you make the perfect makhania biscuit on your first attempt. It also has a very long shelf life and can be stored in an airtight container for months. Give it a try!
The key to making bakery-style surti makhania biscuit at home is as follows:
Firstly, using a good amount of makhan (homemade butter) in the recipe makes it flaky and delectable. So do not alter the measurements mentioned in the recipe. Alternatively, you can use salted butter.
Also, using room temperature homemade makhan and ghee is crucial. It should neither be runny nor melted; it should be in a perfectly granular, semi-solid state. (If during summers you find that the room temperature ghee is liquid, just put it in the fridge for a couple of minutes to solidify it a bit). Also, make sure to beat the makhan and ghee mixture well as it helps to make the biscuit soft.
In this recipe, I have used a combination of maida, wheat, and rava. Rava adds crispiness to the biscuit.
I refrigerate the dough for 20-25 minutes. By chilling the dough, you are essentially solidifying the fat. So, when the cold fat enters the hot oven, it takes a little longer to melt compared to room temperature fat. This ensures that your biscuit doesn't go flat by spreading too much while baking, thus retaining its shape.
Lastly, in this recipe, I have shown the biscuit being baked in a preheated appe pan on low flame for 35-40 minutes. Alternatively, you may bake it in a preheated oven at 180 degrees Celsius for 25-30 minutes, depending on your oven. Do not overbake the biscuit, otherwise, it will become hard.
Please do visit my other related recipe collection like
Recipe video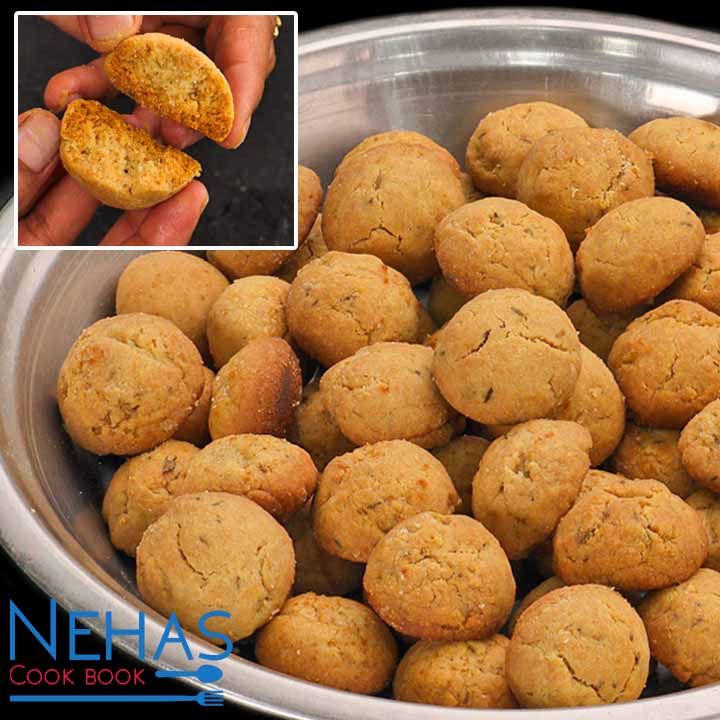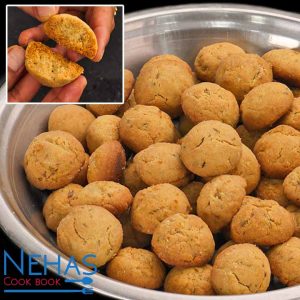 Surti makhania biscuit recipe | surti jeera biscuit recipe | farmas biscuit recipe | home-made butter biscuit
Ingredients
150

grm or ¾ cup home-made makhan or butter

150

grm dalda ghee

-

or desi ghee

1

tbsp

jeera

Salt to taste

2

tbsp

curd

1

tsp

baking powder

¼

tsp

baking soda

125

grm or 1 cup wheat flour

125

grm or 1 cup maida

2

tbsp

fine rava

Oil or ghee for greasing
Instructions
In a mixing bowl, add 125 grams of homemade makhan and 50 grams of ghee. Mix well and beat it for 2-3 minutes until it becomes light and fluffy.

Next, add 1 tablespoon of jeera, salt, 2 tablespoons of curd, 1 teaspoon of baking powder, and ¼ teaspoon of baking soda. Mix well.

Then, sieve 125 grams of wheat flour, 125 grams of maida, and 2 tablespoons of rava. Mix well and knead the dough.

Cover the dough with a plastic sheet and refrigerate it for 15-20 minutes.

Take out the dough from the refrigerator and pinch small ball-sized portions of dough. Shape the biscuits using a round-shaped spoon. Avoid shaping the biscuits with your hands.

To bake the biscuits in an appe pan, keep the gas flame on low-medium. Place a flame pan on the gas and arrange the appe pan on top.

Cover the lid and preheat the appe pan for 10 minutes.

Also, preheat the oven to 180 degrees Celsius for 10 minutes.

Place the biscuits into the preheated appe pan and cook them on low flame for 35-40 minutes.

Alternatively, if using the oven, bake at 180 degrees Celsius for 25 minutes. The baking time may vary depending on your oven. Avoid over-baking the biscuits, as they will become hard.

Initially, the biscuits will be soft. Allow them to cool completely, and they will turn crisp and crunchy.

Serve or store the biscuits in an airtight container and enjoy them for up to a week.
Notes
Whisk home-made white butter and ghee, so it becomes light and fluffy.
Curd gives flavor and helps to activate baking powder and baking soda.
The proportion of wheat flour and maida should be equal.
Rava gives a crumbly texture to biscuit
Just combine everything into biscuit dough, do not knead it.
Refrigerator biscuit dough for 20-25 minutes, so it will properly set.
do not give a smooth shape to the biscuit.
Pre-heat appe pan or oven before baking biscuit.
Do not overbake biscuit otherwise, it will become hard.
Cool down and bake the biscuit entirely and store it in an air-tight container.
Subscribe to our Youtube Channel
Click here to subscribe our Youtube Channel and stay updated with our latest video recipes