Homemade Sweet Potato chips are crispy and crunchy and so easy to make. All you need is a good slicer to make thin slices of sweet potato. Unlike potato chips, sweet potato chips have a little sweetness along with a savory taste that makes these chips tasty. These chips are not only salty, sweet, crunchy, and spicy, but also very crisp and a great evening time snack along with hot tea/coffee. I share two types of sweet potato wafers.  Do try this and enjoy it with your friends and family members.
I will share a few no-fail tips that helps you to make perfect crispy sweet potato chips on the first attempt.
Please do visit my other related recipe collection like
Recipe Video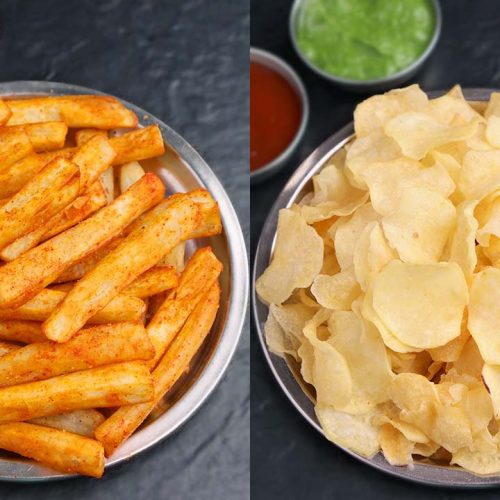 Sweet potato wafer | sweet potato French fries | how to make crispy wafer
Ingredients
1

kg

sweet potatoes

Oil for deep frying

Salt

Red chilli powder
Instructions
Wash and peel the sweet potatoes.
For sweet potato wafer
Heat oil in a pan, hold the wafer slicer above it and make thinly slice chips into the oil.

In a bowl, add salt and water. mix well and add salted water to hot oil.

Fry the wafer on medium heat, till it is slightly crispy.

Remove fried chips from the sieve.

Serve or store sweet potato chips in an airtight container.
For sweet potato French fries
Make a two-part of sweet potato. Now make 1 cm thick slices or to the size required.

Wash slices with cold water. this helps to get rid of excess starch from sweet potato and makes fries crispy.

Dry fries with kitchen towel.

Deep fry directly in medium hot oil till it softens and cooks the sweet potatoes through.

Cool the fried potatoes completely.

In the second fry, fry on high flame till sweet potatoes turn brown and crispy.

Drain the fries into wire racks once they are golden brown.

Sprinkle salt, red chilli powder or spices of your choice on French fries.

Serve hot with tomato ketchup.
Notes
keep peeled sweet potatoes in water, so they will not turn black.
salted water absorbs moisture from sweet potato wafers and makes them crisp.
fry wafers on medium flame.
For French fries, wash fries with cold water to remove starch from them.