Tikha gathiya is a crunchy, spicy deep-fried popular Gujarati snack made from gram flour(besan)and regular spices. The process of tikha gathiya same as the plain sev recipe. Tikha gathiya is an extremely simple recipe. I share the perfect ingredient ratio and a few no-fail tips to help you to make the perfect gathiya on the first attempt. It also has a very long shelf life and can be stored in an airtight container for months.
Please do visit my other related recipe collection like
Recipe video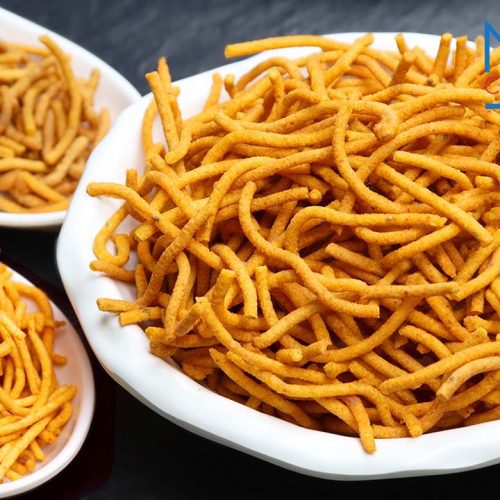 Tikha gathiya recipe | teekha gathiya recipe | how to make gathiya
Ingredients
2

cup

gram flour

-

besan

1

tsp

carom seeds

1

tsp

kashmiri red chilli powder

Salt to taste

¾

cup

+ ¼ cup water

-

for dough

1

tbsp

oil + for greasing + oil for deep frying

½

tsp

baking soda

Sprinkle black salt
Instructions
Sieve the gram flour in a large bowl. Add gram flour, carom seeds, kashmiri red chilli powder, and salt to it. Mix well

Then in a small pan, add water, oil and bring it to a boil. Switch off the gas and add baking soda to it. The water and oil mixture is ready.

Add water and oil mixture into the flour and combine to make dough.

Then knead the smooth dough by adding ¼ cup water. The dough should be soft. Grease the dough using little oil in a hand.

Use gathiya zara, sev machine or slicer machine to make gathiya.
With gathiya zara – grease zara with oil and rub gathiya dough with your hand.
With sev machine – use a mold (with big holes) to make gathiya. Place mold at the bottom of the machine and place dough in it. Close the machine tightly.
With the slicer – grease the back side of the slicer with oil and rub gathiya dough with your hand.
Heat oil in a frying kadai over medium flame. When oil turns hot, hold the machine, zara, or slicer over the oil and force the dough through the mold.

Fry gathiya until they become light brown for around 3-4 minutes. Remove gathiya from the oil and drain on kitchen paper. Sprinkle some black salt on the fried gathiya. Do the same process for the remaining dough.

Crispy tikha gathiya is ready. Keep it in an airtight container and store it in a cool and dry place for 15-20 days.
Notes
Do not use baking soda of more than ½ tsp.
Knead gathiya dough with the hot water-oil mixture.
fry gathiya on medium-low flame.
Subscribe to our Youtube Channel
Click here to subscribe our Youtube Channel and stay updated with our latest video recipes