Bharela Ravaiya is a delicious dry sabzi made with small-sized brinjals (baingan/ringan). It features a flavorful masala prepared with roasted gram flour (besan), peanuts, sesame seeds, dry coconut, and a blend of regular spices. This masala is cooked with baingan until it absorbs all the delightful flavors. The dish has a balanced taste with hints of sweetness, tanginess, and a medium level of spiciness, characteristic of Gujarati cuisine. Bharela Ravaiya is a fantastic option for tiffin and is commonly served as a side dish with rotis or chapatis. I highly recommend giving it a try!
The key to making tasty bharela ringan nu shak at home are
Firstly, the key ingredient for this recipe is the selection of ringan (eggplant). It is best to use tender and small brinjals for this recipe.
Secondly, I made it spicy, sweet, and sour. However, if you prefer a milder curry, you can reduce the amount of chili powder. I stuffed the masala powder inside the slit brinjals, but if you're short on time, you can fry the brinjals and sprinkle the masala on top to develop its flavor.
Lastly, bharela ringan sabzi tastes great the next day as it allows the masala to be absorbed well.
Please do visit my other related recipe collection like
Recipe video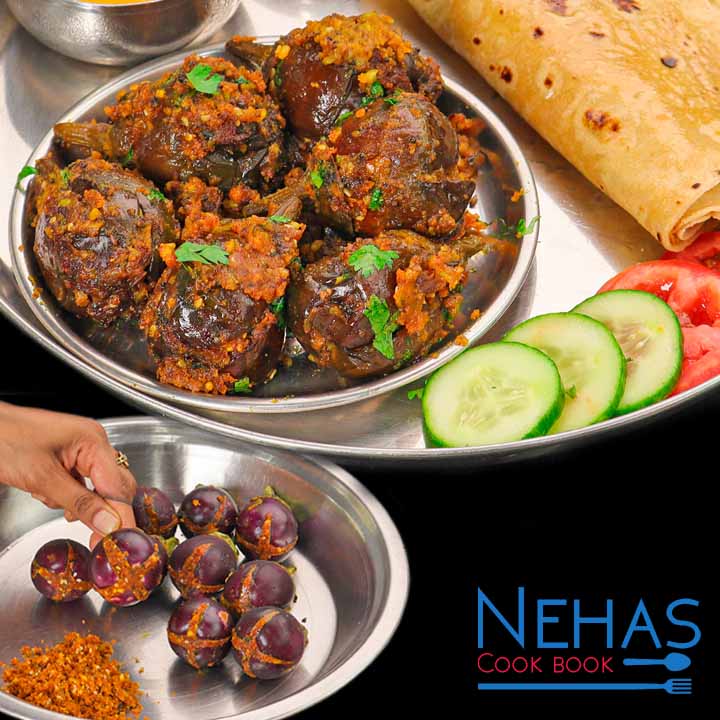 Bharela ravaiya nu shaak | Gujarati bharela rigan nu shaak | bharwa baigan sabzi
Ingredients
500

grm small size ringan

-

eggplants

¾

cup

gram flour

-

besan

3

tbsp

roasted peanuts

3

tbsp

white sesame seeds

2

tbsp

dry coconut

-

optional

2-3

green chilli

1

inch

ginger

5-6

garlic cloves

½

tsp

turmeric powder

Salt to taste

1

tbsp

coriander powder

1

tbsp

red chilli powder

1

tsp

cumin powder

½

tsp

garam masala

1

tbsp

jaggery

1

tsp

lemon juice

3

tbsp

oil

Some coriander leaves

6

tbsp

oil

1

tsp

mustard seeds

1

tsp

cumin seeds

Pinch

of hing

Some curry leaves

3-4

tbsp

water

Some coriander leaves
Instructions
Wash the brinjals and make a cross-cut on the upper part. Then, place the brinjals into salted water.

In a pan, add 1 tbsp oil and ¾ cup besan. Roast them on low flame until they slightly change color and become aromatic. Set them aside.

In a mortar and pestle, crush 3 tbsp roasted peanuts and 3 tbsp sesame seeds coarsely. Transfer them to a plate and set aside.

Using the same mortar and pestle, crush 2-3 chopped green chillies, 1 inch ginger piece, and 5-6 garlic cloves coarsely. Set this mixture aside.

In a mixing bowl, combine the roasted besan, crushed peanuts and sesame seeds, 2 tbsp dry coconut, crushed green chilli-ginger and garlic paste, ½ tsp turmeric powder, salt to taste, 1 tbsp coriander powder, 1 tbsp red chilli powder, 1 tsp cumin powder, ½ tsp garam masala, 1 tbsp jaggery, 1 tsp lemon juice, some coriander leaves, and 3 tbsp oil. Mix everything well.

Sprinkle some water on the masala and mix it thoroughly.

Now, stuff the masala into the cuts made in the brinjals and set them aside. There should be about ½ cup of masala remaining.

In a pan, heat 5-6 tbsp oil and add 1 tsp mustard seeds, 1 tsp cumin seeds, a pinch of hing, and some curry leaves. Sauté them.

Then, add ¼ tsp turmeric powder and mix well.

Stand the stuffed brinjals upright in the pan with the tempering. Keep the flame low and cover the pan with a thali (plate). Add some water to the thali.

Cook on low flame for 8 minutes, until the brinjals are 40% cooked.

Remove the plate, shake the pan, cover it again, and cook on low flame for another 10 minutes until the brinjals are 90% cooked.

Sprinkle the remaining masala on the cooked brinjals. Do not mix it. Add 2-3 tbsp hot water and cover the pan with the thali.

Cover and cook on low flame for 3 minutes, allowing the masala to stick to the brinjals.

Finally, mix the masala with the brinjals and sprinkle some coriander leaves on top.

Your Bharela dry ringan sabzi is ready to be served with roti or chapati.
Notes
Choose small-sized and fresh eggplants for the sabzi.
Make cross slits on the upper part of the eggplant. To prevent oxidation, soak the eggplant in salt water.
Roast gram flour (besan) on low-medium flame until it slightly changes color and becomes aromatic.
Crush peanuts and sesame seeds coarsely; do not grind them into a fine powder.
Oil provides binding and increases the shelf life of the masala.
Place a plate with water in it to generate steam for cooking the sabzi inside the pan.
Cook the sabzi on low-medium flame; avoid cooking it on high flame.
Bharela dry ringan sabzi tastes great the next day as it allows the masala to be absorbed well.
Subscribe to our Youtube Channel
Click here to subscribe our Youtube Channel and stay updated with our latest video recipes