Today I share some helpful kitchen tips and tricks that save you time and money. It is easy, quick, and worth knowing. Do try this.
Please do visit my other related recipe collection like
Recipe video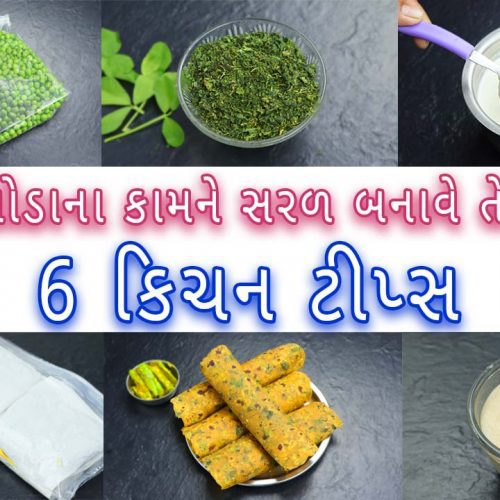 6 useful kitchen tips for daily life | time saving kitchen hacks | kitchen tips and tricks
Ingredients
How to store green peas
½

kg

fresh peas

-

in pod

1

tsp

salt

1

tsp

sugar
How to store green garlic
How to make dhokla batter
1

cup

dhokla flour

2-3

tbsp

curd

¼

tsp

methi dana

Salt to taste

¾

cup

buttermilk
How to make soft methi thepla.
11/4

cup

wheat flour

¼

cup

besan

¼

cup

curd

1

tsp

red chilli powder

1.5

tsp

coriander powder

¼

tsp

turmeric powder

½

tsp

ajwain

1

tsp

cuminpowder

Salt to taste

¾

cup

methi leaves

¼

cup

coriander leaves

1

tsp

ginger-green chilli paste

1

tsp

white sesame seeds

3

tbsp

oil
Instructions
How to store green peas
Take cold water in a large bowl and wash the peas well. Discard small peas on top of the water. drain water from the peas.

Heat water in a large pot. Once it comes to a rolling boil, add 1 tsp salt and 1 tsp sugar to it. Add the shelled peas and cook for 3-4 minutes. Do not overcook otherwise the peas will become mushy. Also, blanch the peas in batches. Do not overcrowd the pan otherwise some peas will be overcooked and some will be undercooked. Blanch them in batches.

Add peas into ice-cold water and let them sit in it for 4-5 minutes until they are completely cooled.

Drain the water and spread the peas on a kitchen towel.

Let them dry for a few hours. Drying the peas to get rid of excess water is important otherwise they will stick to each other after freezing. Store the peas in zip-lock bags and freeze until ready to use.
How to make Kasuri methi
Clean the methi leaves and discard the rotten ones and the thick stems.

Wash the leaves well to remove any dirt or impurities.

Drain the leaves well and dry methi leaves for 1 hour.

Heat a pan, and add methi leaves. Stir them continuously till it becomes completely dry.

Rub the leaves between your palms to make a coarse powder.

Store in a dry container and use for upto 6 months.
How to make curd
In a pan boil milk. when the milk starts to boil lower the flame and simmer it for 2 minutes. this helps to get creamy curd.

Turn off the flame and allow it to cool slightly (lukewarm).

transfer the milk into another vessel. you can use the same vessel to set the curd.

now stir in 2 tsp curd into lukewarm milk.

cover and rest in a warm cooker for 4-5 hrs, the milk will be set into curd.

however, to have a very thick and creamy curd, refrigerate for 2 hours before serving.

fresh and thick homemade curd is ready to use.
How to store green garlic
Trim the ends and upper part of the green garlic

Cut it into small pieces

To remove excess water/moisture, transfer the chopped garlic to a paper towel.

Carefully wrap the chopped garlic in a paper towel. Do not make the paper towel drip wet; it should be dry(Cilantro will go bad much faster if garlic is still wet, so you must get as much water off as possible).

Transfer the wrapped green garlic to a ziplock bag or plastic bag or plastic container with an airtight seal. If placing the green garlic in a plastic bag, close the top seal, and gently squeeze out all the air before you finish sealing the bag.

Keep the green garlic bags in the refrigerator. Store in the fridge for 2-3 weeks or so.
How to make dhokla batter
In a bowl, add dhokla flour, curd, methi leaves, and salt. Add buttermilk gradually and make dhokla batter.

Mix batter in a bowl with your hand. Keep the batter for 4 hours in sunlight or any warm place.

When the batter is fermented will stir well and add green chili-ginger paste, turmeric powder, baking powder, sugar, and required water to adjust consistency.

Add batter to a greased plate and stem dhokla on a medium flame for 5-7 minutes.
How to make soft methi thepla.
Take wheat flour, red chili powder, turmeric powder, coriander powder, cumin powder, carom seeds, and salt in a bowl. Add green chilies, ginger paste, methi leaves, coriander leaves, besan, curd, and oil.

Mix it with your fingertips.

Now add little water at a time and knead into a semi-soft dough

Cover it and keep it aside for only 10 minutes. Do not let it rest for more than 15 minutes. If so methi leaves will start leaving the water and the dough will become too soft and sticky.

After 15 minutes, knead the dough once again to smooth it out. Divide it into equal smooth balls. Flatten it out between your palms.

Start rolling the thepla. Take one flattened ball, and dip it into dry flour. Roll it into a 5-6 inch diameter circle using a rolling pin and rolling board.

Heat the tawa and Place rolled thepla on the hot tawa. Let it cook for 30-40 seconds or till you get a few bubbles on the top.

Then flip it with help of a spatula. Drizzle some oil and spread it evenly on it.

Cook thepla till brown spots on both sides. Serve.
Subscribe to our Youtube Channel
Click here to subscribe our Youtube Channel and stay updated with our latest video recipes