Batata poha or aloo poha is a popular street food made with flattened rice flakes (poha) with a delightful mix of spices and crispy potatoes, resulting in a flavorful and satisfying breakfast or snacks. I also share street style masala chai, it is spices tea where tea leaves are brews and blend with spices like ginger, cardamom and cloves. The combination of Street Style Batata Poha with Masala Chai creates a balance of flavors. The spiciness and warmth of the Masala Chai complement the subtle tanginess and savory notes of the Batata Poha. Do try this!
The key to making tasty batata poha and masala chai at home is as follows:
For batata poha:
Firstly, use thick or medium-sized poha. Do not use thin poha for this recipe. Also, make sure to sieve and rinse the poha in water just to remove the dust, and do not soak it.
I made poha with potatoes (aloo) and onions for its authentic flavor. However, you can use different types of vegetables and masala to make poha healthier and tastier.
Fried peanuts and sev give a nice crunch and taste to the poha. Alternatively, you can use chivda or aloo sev instead.
Lastly, poha has a slightly longer shelf life and can be used the next day. If you want to reheat the poha, you can steam it or microwave it for 3 minutes.
For masala chai:
Firstly, for a thick and creamy tea, use full-fat milk. Do not use skim milk for street-style masala chai.
Secondly, for chai masala, use crushed ginger, cardamom, and cloves. You can also add spices like black pepper and cinnamon to enhance the flavor of chai, although it is optional.
Lastly, masala chai tastes great when served immediately. Avoid reheating the chai as it may make its taste bitter.
Please do visit my other related recipe collection like
Recipe video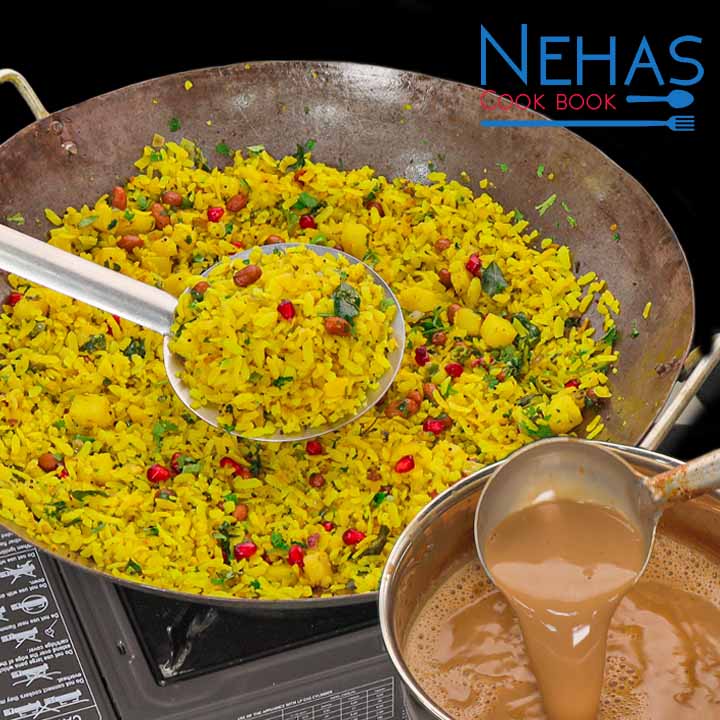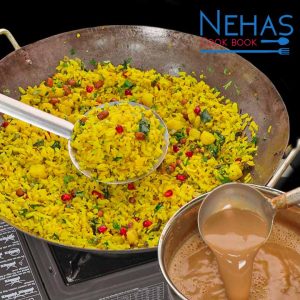 Batata poha recipe | kanda batata poha | aloo poha | masala chai recipe
Ingredients
For batata poha
3

cup

or 250 grm poha

Salt to taste

2

tbsp

sugar

¼

cup

oil

4

tbsp

peanuts

1

tsp

mustard seeds

2

chopped green chilli

Some curry leaves

¾

cup

potato cubes

½

cup

chopped onion

½

tsp

turmeric powder

½

cup

hot water

1

tbsp

lemon juice

Some coriander leaves
For masala chai
3

cup

water

1

–2-inch ginger

2

cardamoms

2

cloves

3

cup

milk

3

tbsp

sugar

3

tsp

tea leaves
Instructions
Making batata poha:
Sieve the poha and rinse it with water.

Add salt and sugar powder, then mix well. Spread the poha onto a sieve and let it dry for 10-12 minutes.

Heat oil in a kadai (pan). Add peanuts and fry them until they turn slightly golden brown. Remove them from the pan and set them aside.

In the remaining oil, add mustard seeds, chopped green chili, and curry leaves. Sauté them.

Add potato cubes and sauté until they become slightly crispy on the outside and are about 80% cooked.

Add chopped onion and sauté until it becomes slightly transparent.

Mix in turmeric powder.

Heat 1/2 cup of water in a separate bowl, then add it to the kadai and boil for 2 minutes.

Add the soaked poha, coriander leaves, and lemon juice. Mix well.

Turn off the heat and cover the poha for 5-7 minutes.

Finally, add the fried peanuts and coriander leaves. Mix well.

Garnish the batata poha with sev and pomegranate seeds.

Serve hot batata poha with masala chai.
Making masala chai:
In a saucepan, add 3 cups of water and bring it to a boil.

In a mortar and pestle, crush ginger, cardamom, and cloves.

Add the crushed mixture to the boiling water and let it boil for 5 minutes.

Add milk and mix well.

When the milk starts to simmer, add sugar powder and tea leaves. Mix well.

Boil the tea for 7-10 minutes on medium-low flame.

Serve hot masala chai with batata poha.
Notes
For batata poha
Moist poha easily absorbs the flavors of salt and sugar.
Adding sugar balances, the taste of poha.
Adding turmeric powder enhances its flavor.
When hot water is added, it easily absorbs into the poha, and the water vapor helps keep the poha moist for a longer time.
Add peanuts at the end to maintain their crunchy taste.
Batata poha tastes great when it is served hot.
For masala chai
Freshly grated masala enhances the flavor of chai.
Boil water with masala for at least 5 minutes to allow the flavors to absorb.
Simmer chai on medium-low flame for 10-12 minutes.
Subscribe to our Youtube Channel
Click here to subscribe our Youtube Channel and stay updated with our latest video recipes