Fulwadi, also known as "Phoolwadi," is a traditional Gujarati snack that tantalizes taste buds with its crunchy texture and aromatic spices. The name "Fulwadi" originates from the Gujarati word "ful," which means "crunchy" or "flaky." This snack is typically made using a mixture of chickpea flour (besan), spices, sesame seeds, and other aromatic ingredients. The mixture is then shaped into cylindrical rolls and deep-fried until they turn golden brown and crispy. Fulwadi is both crispy and spicy, making it a delightful treat that is also quite easy to make at home.
I'll be happy to share the perfect ingredient ratio and a few fail-safe tips to help you make the perfect fulwadi on your first attempt. Notably, this snack has an extended shelf life and can be stored in an airtight container for 15-20 days. So, give it a try and enjoy this delicious snack at any time!
The key to making tasty fulwadi at home are
Firstly, you need coarse gram flour (besan) for fulwadi, which is easily available in Indian grocery stores. Alternatively, you can grind chana dal into a mixture to make coarse besan.
Secondly, the dough should have a balanced blend of spiciness, tanginess, and sweetness. You can adjust the spice level according to your taste preferences. Additionally, the dough should have a soft and spreading consistency. Avoid adding too much water while preparing the batter, as it may result in less crisp fulwadi.
Lastly, fry the fulwadi on medium flame until it turns golden brown on both sides. Avoid frying it on high flame. Store the fulwadi in an air-tight container to keep it fresh for up to 2 weeks.
Please do visit my other related recipe collection like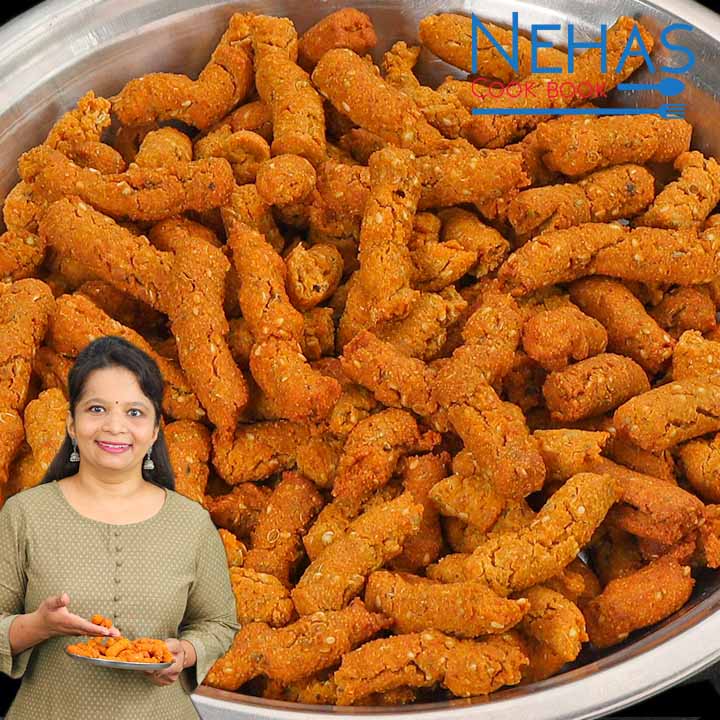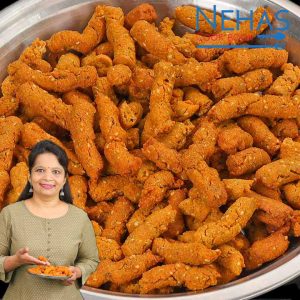 Fulwadi recipe | Gujarati fulvadi recipe | masala fulwadi recipe
Ingredients
500

grm coarse besan

-

gram flour

80

grm oil

-

approx. 6 tbsp

4

tbsp

white sesame seeds

4

tbsp

coriander seeds

1

tbsp

coarsely crushed black pepper

2

tbsp

fennel seeds

Salt to taste

½

tsp

hing

6

tbsp

Kashmiri red chilli powder

½

tsp

papad khar

125

grm or ¾ cup sugar

½

tsp

limbu na phool

-

citric acid

125

grm or ¾ cup curd

½

cup

water or as required

Oil for frying
Instructions
In a mixing bowl, add oil, white sesame seeds, crushed coriander seeds, crushed black pepper, fennel seeds, salt, hing, Kashmiri red chilli powder, papad khar, sugar, limbu na phool (citric acid) and curd. Mix well till sugar is completely dissolve.

Add coarse besan and mix well.

Now add water gradually and knead soft dough.

Cover and rest dough for 35-40 minutes.

Then sprinkle some water and rub the dough for 3-4 minutes (refer video).

Heat oil and using a fulwadi mesh (zara) start making the fulwadi.

Grease the mesh with oil.

Take small amount of fulwadi dough and put it on the fulwadi jaro / mesh then with one hand hold the jaro and with other hand press the dough.

You will see fulwadi dough passing through those big holes and dropping in to the hot oil. (refer video)

As soon as fulwadi floats on the oil, turn the heat slightly low and fry the fulwadi until nice and crispy brown.

If you don't have fulwadi jara, then grease plastic bag with oil. Then add fulwadi dough and make a cone from plastic bag.

Cut the front of cone and make fulwadi with the help of cone and fry them on low heat.

Store in a airtight container once the fulwadi reaches room temperature .
Notes
Use coarse besan for fulwadi dough.
Mix oil and masala until the sugar is completely dissolved.
Papad khar gives a crispy texture to fulwadi; you can use ¼ tsp baking soda instead of it.
Add water gradually and knead a soft dough for fulwadi.
Rest the dough for 30-40 minutes.
Fry fulwadi on a medium flame. Do not fry it on high flame.
Subscribe to our Youtube Channel
Click here to subscribe our Youtube Channel and stay updated with our latest video recipes