Handvo is a popular Gujarati farsan.  Traditionally handvo is baked in a special hadva cooker, but in this recipe, I bake hadva in regular kadai which is an easy and batter option than hadva cooker. Also the prepared hadva is soft, fluffy, and tastes like all Gujarati food. So with a little planning, breakfast or dinner can be made it quickly and served with your favorite chutney. Do try this!
The key to making tasty Gujarati handva at home are
In handva batter, use small grain rice varieties like khichdiya or jeerasar rice. Also, the quantity of rice and dal should be equal.
Handva batter should be medium thick, also whisk the batter well so air particles incorporate into it and hanvo become soft.
The fermentation handva batter is the key step for the soft and crispy handvo. Typically 6 hours or overnight fermentation is more than sufficient in humid weather. But if you live in a cold region, you can keep it under direct sunlight during the day and in a preheated oven during the night.
I add only grated lauki into hadva batter, but you can use different types of vegetables to make handvo healthy and nutritious.
Traditionally hadva is made into a special handva cooker, but I bake handva in kadai for 35-40 minutes on low flame till fluffy and crispy from the lower side.
Please do visit my other related recipe collection like
Recipe video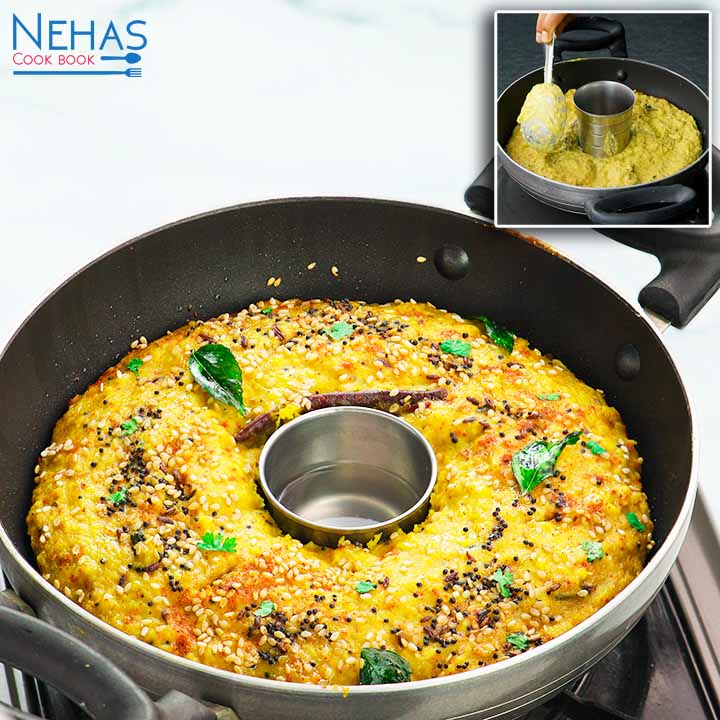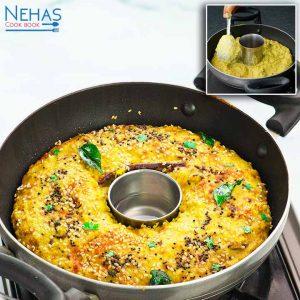 Gujarati handvo | Gujarati handvo in kadai | mixed dal-rice handvo | handva recipe
Ingredients
For handva batter
1

cup

small grain rice

½

cup

chana dal

¼

cup

toor dal

¼

cup

urad dal

¼

tsp

methi dana

½

cup

soar curd

¼

cup

water or as required
For Gujarati handva
Hadva batter

Salt to taste

2

tbsp

green chilli paste

1

tsp

ginger paste

1

tsp

garlic paste

2

cup

grated lauki

dudhi

2

tbsp

crushed peanut

½

tsp

turmeric powder

1

tsp

red chilli powder

½

tsp

black pepper powder

1

tsp

sugar

¼

tsp

baking soda+ water

3

tbsp

oil

¼

tsp

mustard seeds

¼

tsp

cumin seeds

1

tsp

sesame seeds

5-6

curry leaves

Pinch

of hing

1

dry red chilli

Garnish: sesame seeds and red chilli powder
Instructions
In a bowl, add rice, chana dal, toor dal, urad dal, and methi dana. Wash and soak it for 4-5 hrs.

Remove water and add soaked dal and rice into the mixture jar. Also, add ½ cup curd and some water. Do not add more water while grinding the batter.

Grind it into a thick paste. Do not grind it into a smooth paste.

Hadva batter is ready. Cover and ferment batter for 4-5 hrs or overnight in a warm place.

The batter becomes fluffy and properly fermented.

Then in a batter, add salt, green chili paste, ginger paste, garlic paste, grated lauki, crushed peanuts, turmeric powder, red chili powder, black pepper, and sugar. mix well.

Now add baking soda and some water. mix well.

Then in a pan, add oil, mustard seeds, cumin seeds, sesame seeds, curry leaves, a pinch of thing, and dry red chili. Mix well.

Switch off the gas and add tempering into the batter. mix well.

Now, in a kadai add some oil and grease it.

Then, on medium flame heat a tawa and place kadai on it.

Now in the center, place glass and pour handva batter from the sides. (refer to video)

Then add some tempering, sesame seeds, and red chili powder to it.

Cover and bake handva for 35-40 minutes on low-medium flame till it becomes fluffy and properly cooked from the inside.

Remove from pan and cool down cooked handva completely.

De-mould handva and Cut into the desired shape.

Serve with crispy handvo with green chutney.
Notes
use small grain rice for handva batter. the proportion of rice and 3 dal mixture should be equal.
add slightly hot water so the soaking time of grains will reduce.
use sour curd while making handva batter.
make slightly thick and pouring consistency of the batter.
rest batter for 6-8 hrs or overnight, so it will properly be fermented.
addition of baking soda helps to fluffy handvo.
if your pan is not a heavy bottom, then place tawa before baking the handva.
bake handva for 35-40 min on low-medium flame.
hadva taste great when it is served hot.