Potato chips are an all-time favorite snack that almost everyone loves. They are crunchy, salty, and so delicious. In this recipe, I made chips using the cold-water method to achieve maximum crispiness. By soaking the potato slices in cold water, you can remove excess starch, which can prevent the chips from becoming crispy. With a few simple ingredients and some patience, you can enjoy delicious, crispy chips that are healthier and more flavorful than store-bought varieties. Do try this!
The key to making crispy instant potato chips at home are:
Firstly, choose red potatoes, also known as wafer potatoes, for chips because they contain less starch and give a perfect result.
Secondly, use the cold-water method to make the chips crispy. Soak the potato slices in cold water to remove excess starch before frying. Also, add salt water at the time of frying to make the chips crispier and more flavorful.
Thirdly, fry the potato chips on medium flame till they become crisp. Do not fry the chips on high flame. You can add different seasonings to the chips to give them a unique flavor, such as garlic powder, paprika, or chili powder.
Lastly, store the potato chips in an airtight container once cooled completely, or they may turn soggy due to moisture.
Please do visit my other related recipe collection like
Recipe video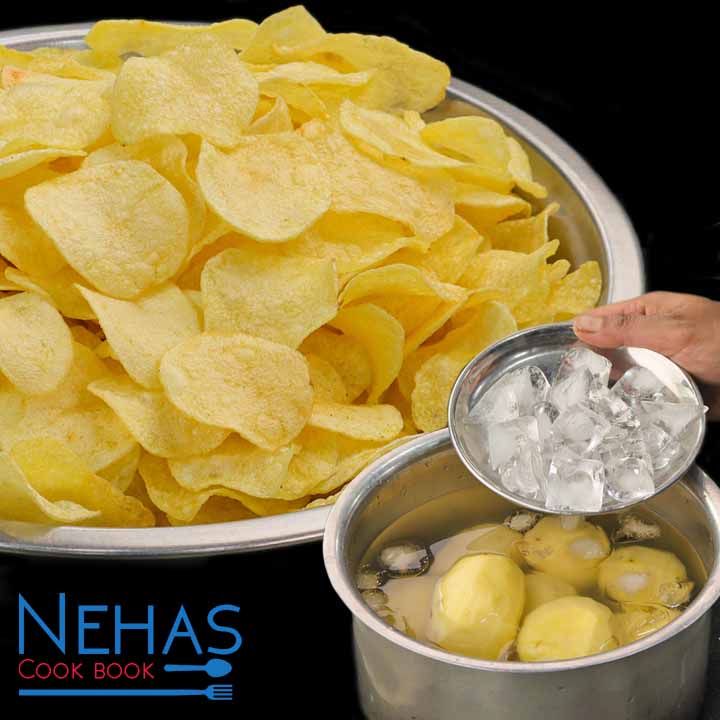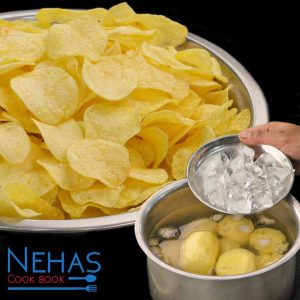 Instant potato chips recipe | instant aloo chips recipe | homemade potato chips | aloo chips
Ingredients
1

kg

red skin potatoes

water as required

some ice cubes

Salt to taste

Oil for frying
For masala potato chips
1

tsp

Kashmiri red chilli powder

½

tsp

black salt

½

tsp

chaat masala
Instructions
Wash and peel the potatoes.

Dip potatoes into water and add some ice cubes to it. cover and rest potatoes for 30-40 minutes.

Now in a bowl, add salt and water. Mix well and keep it aside.

Then take one potato and dry it with kitchen towl. Also, keep other potatoes in ice cold water.

Heat oil in a pan, and slice potato chips directly into the hot oil.

Stir well and add ½ tsp salt water into the hot oil. mix well.

Fry potato chips on medium heat till they become crispy.

Remove fried chips on a wire rack and fry all chips in same way.

Serve or store potato chips in air tight container.

For masala chips, in a bowl add red chilli powder, black salt, and chaat masala. mix well. Add masala to fried chips and mix well.

Masala chips are ready. Store it in air-tight container.
Notes
Choose red skin potatoes or wafer potatoes for chips.
Dip peeled potatoes into water so will not turn black while contact into air.
Soaking potatoes in ice water helps to decrease their starch contain.
Soak for 30-40 minutes.
Salt water helps to make crispy potato chips
Fry potato chips on medium flame.
Subscribe to our Youtube Channel
Click here to subscribe our Youtube Channel and stay updated with our latest video recipes