Khatta meetha chivda is a deep-fried savory mixture of sweet, spicy, and slightly tangy tastes. It is made with gathiya, sev, colorful salted boondi, makai poha, flatten poha, and peanuts mixed with regular spices. It is consumed as an evening snack with a cup of tea. It is easy to prepare and easily lasts longs for a couple of weeks. So, do try it at home and definitely, this homemade snack recipe will be loved by everyone.
Please do visit my other related recipe collection like
Recipe video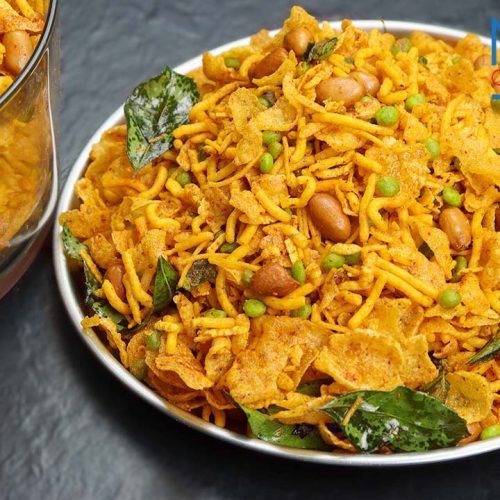 Khatta meetha chivda recipe |khatta meetha poha namkeen |khatta meetha namkeen
Ingredients
For khatta meetha chivda
100

grm makai poha

50

gram

thick or flatten poha

¾

cup

peanuts

10-15

curry leaves

Bhavnagari gathiya

Besan sev

Colorful salted boondi
For masala
5

grm or 1 tbsp turmeric powder

10

grm or 1.5 tbsp red chilli powder

5

grm or 1 tbsp amchur powder

30

grm or 3 tbsp powder sugar

5

grm or 2 tsp salt
For bhavnagari gathiya
125

grm or 1 cup gram flour

½

tsp

crushed black pepper

½

tsp

carom seeds

-

ajwain

¼

cup

water

¼

cup

oil

¼

tsp

papad khar

Salt to taste

Oil for deep frying
For  besan sev
50

grm or ½ cup besan

¼

tsp

turmeric powder

¼

tsp

black pepper powder

Salt to taste

1

tsp

hot oil

5

tbsp

water

Oil for frying
For colorful salted boondi
125

grm or ½ cup besan

-

gram flour

Salt to taste

Pinch

of green food color

¼

cup

+ 3 tbsp water as required

oil for frying
Instructions
For bhavnagari gathiya
In a large mixing bowl take 125 grams of besan.

Then add salt, crushed black pepper, and crushed carom seeds. Mix well

In another bowl, add ¼ cup water, ¼  cup oil, and ¼  tsp papad khar.

Mix with a whisker and make a white fluffy liquid.

Add the oil and water mixture into the flour and knead the semi-soft dough.

Add water little by little and knead the dough till its changes color and become very soft.

The dough will be slightly sticky, grease your hand with oil and combine all dough.

Heat the oil to medium flame. Grease the grater or gathiya zara with oil.

Flip over and fry gathiya on medium-low flame.

Drain crispy gathiya on a plate and repeat making more gathiya with the remaining dough.

Let it cool completely and mix with chivda.
For besan sev
In a bowl add ½ cup besan in it.

Then add turmeric powder, black pepper powder and salt to taste in it.

Also, add hot oil and mix with your fingertips. Now the flour has a crumbly texture.

Then make the dough by adding little water at a time and make a soft, smooth dough.

Then grease the hand with little oil then smooth out the dough.

Add sev dough into sev maker machine with a tiny small holes disk. Grease the inside of it with little oil.

Now fill the container with prepared dough and close it tightly.

Now heat the oil. Once the oil is hot enough hold the machine over the pan. Turn the handle and a thin sev will come out. As the sev falls into the oil, slowly move the machine into a circular motion.

As you complete one circle, stop there and reverse the handle a bit to stop the sev from coming out.

Fry sev from both sides and then remove from oil and place it on the paper towel-lined plate.

Let it cool completely and mix with chivda.
For colourful salted boondi
In a mixing bowl add gram flour and salt. Mix well.

Then gradually add water and make thin and pouring consistency of the batter. Add green food color and mix well.

Rest batter for 10 minutes.

Now, heat the oil in a pan. hold the grater above it.  Pour batter on it up and down quickly. A small tiny ball add to oil

Let the boondis cook in hot ghee for 30 to 40 seconds only.

Remove the fried boondi from the large sieve and repeat until all tiny boondis are fried and the batter is over. Make sure to clear greater or jhara after every batch.

Then remove from the oil and Let it cool completely. Mix with chivda.
For masala
In a mixing bowl, add turmeric powder, red chilli powder, powdered sugar, amchur powder and salt. Mix well.  Keep it aside.
For khatta-meetha chivda
Heat oil for frying in a pan. When the oil is hot, simmer the heat to medium and fry the makai poha until crisp. Take out fried poha in a mixing bowl.

Deep fry the peanuts in the same oil until browned and crisp. Drain out into mixing bowl.

Deep fry thick and flatten poha and curry leave separately and drain out into a mixing bowl.

Add bhavnagari gathiya, besan sev, and colorful salted boondi into a mixing bowl.

Add spice mix or masala with all fried ingredients and mix well.

Khatta meetha chivda is ready. Store it in an airtight container.
Subscribe to our Youtube Channel
Click here to subscribe our Youtube Channel and stay updated with our latest video recipes